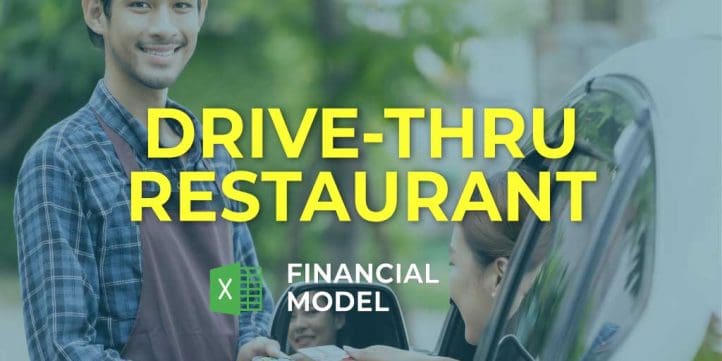 F&B (Food & Beverages), Financial Model, Hospitality, Restaurant
5-year financial projections, Business Valuation, Financial Model, Financial Modeling, Financial Projection, Financial Projections, Pro-Forma, Startup Financial Models, Three Statement Model | Three Financial Statements
NOTE: Single-User pertains to a limited Single User License where the template can only be used by one single user; while Multi-User is a license for users sharing the template with up to 20 members. Please refer to Terms of Use and License and Permitted Use for clarification.
DRIVE THRU RESTAURANT FINANCIAL MODEL IN EXCEL KEY FEATURES
Video tutorial:
Manage accounts receivable.
By creating a cash flow pro forma that takes invoices and bills into account, you'll be more easily able to identify who is systematically paying late. You could even go on to model different payment dates on overdue invoices to see the real effect of late payments on your cash flow.
Identify cash gaps and surpluses before they happen.
Forecasting your future cash balance helps you see well in advance when you may have a cash deficit that could hurt your business. Projected Cash Flow Statement will give you enough time to take action to prevent a crisis. It will enable you to access better loan rates or speed up incoming payments to bridge the gap. On the other side, if you know ahead of time that the large lump of cash will lay in your bank account within the next three months. In this case, you might need to explore options to reinvest it in your business to drive growth.
Save Time and Money
Drive Thru Restaurant Profit Loss Projection allows you to start planning with minimum fuss and maximum of help. No writing formulas, no formatting, no programming, no charting, and no expensive external consultants. Plan the growth of your business instead of fiddling around with expensive techy things.
Convenient, All-In-One Dashboard
Includes all required forecasting reports, including assumptions, proforma income statement, cash flow statement by month, balance sheets, performance reviews, and summaries for months and years (incl. numerous graphs and KPIs).
Predict the Influence of Upcoming Changes
Does your company plan to purchase new equipment or to launch a new product? Startup Cash Flow Projection enables you to obtain a complete picture of the effect that specific changes will have on your Startup Cash Flow Projection. When planning your finances in the Cash Flow Statement, you will forecast cash inflows and outflows based on future invoices, bills due, and payroll. You can then create multiple 'what if' scenarios, such as buying new equipment to choose the best way for you. Forecasting shows you how the upcoming changes will affect your cash balance.
Get a robust, powerful financial model which is fully expandable
This well-tested, robust and powerful Drive Thru Restaurant Profit Loss Projection is your solid foundation to plan drive thru restaurant business model. Advanced users are free to expand and tailor all sheets as desired, to handle specific requirements or to get into greater detail.
REPORTS and INPUTS
CAPEX
Capital expenditures reflect the company's amount on long-term assets expected to bring value for more than one year. For example, the cost of a computer may be capital expenditure included in the balance sheet. In contrast, the electricity cost to run this computer is an expense included in the forecasted income statement
.
All long-term assets have a useful life, and part of the cost of the asset is written off each year to the p&l proforma as an expense. Users can find these expenses in the pro forma income statement for a startup under the heading of depreciation. The depreciation expense amount reduces the value of the asset shown in the balance sheet for the year.
Simultaneously, the CAPEX report shows the company's stakeholders the full picture of the company's expenditures on assets.
Profitability KPIs
Earnings growth. The Drive Thru Restaurant P&L Projection has many financial metrics, including the earning growth and growth of net income. Starting the company, we want to see its growth, and the profit and loss pro forma is the best way to monitor such development and to be sure that the company is developing in the right way. In particular, we can monitor sales and revenue growth reflected in the earnings growth.
Financial Statements
The Drive Thru Restaurant Financial Projection Model has pre-built proformas for the balance sheet, the pro forma profit and loss statement, and the cash flow statement projection. These proformas allow users to create statements both on a monthly and annual basis.
Users can create detailed financial statements using the financial assumptions inputted in the Budget Financial Model.
All in One Place
Our integrated Drive Thru Restaurant P&L Projection includes and connects everything you need for investors' meeting. It has financial assumptions, proformas, calculations, cash flow forecasts, and other templates. Moreover, our Financial Projection Template presents it in an investor-friendly way.
Operational KPIs
Our Drive Thru Restaurant Pro Forma has various operational performance graphs that will help business owners manage their business' finances and measure their overall performance. These operational performance graphs also help in making wise business decisions that consider the company's financial capability.
The financial graphs in this Drive Thru Restaurant Financial Model help measure the company's financial health showing the operating cash flows' analysis, return on investment, debt to equity ratio, liquidity ratios, and other relevant financial information. Business owners can use these operational performance graphs both for internal and external purposes.
In particular, they can use these graphs to assess the company's overall financial performance or for the assessment of the project's financial feasibility. Such an approach will improve the financial management efficiency of the company. Business owners can also use these charts and graphs for presentations for potential investors and bankers. The operational performance graphs have all the necessary pre-built formulas, and they are fully formatted. So, the users can just print out them and bring to the meeting with investors.
Performance KPIs
Lead-to-client conversion rate. Lead-to-Client Conversion Rate is an essential metric for businesses that attract new clients with the Internet, social media, and other similar channels. Leads do not turn into customers automatically. Company's sale team need to convert these leads into actual customers.
The Lead-to-Conversion business metric is a good measure of the sales team's performance. Moreover, it indicates the quality of your product. If you have a low conversion rate, it may sign that your product is not attractive to the customers.
Liquidity KPIs
Liquidity Position. The liquidity position of a company is an essential indication of the financial health of the enterprise. To assess the liquidity position of the company, it is necessary to calculate the liquidity ratio. Many companies set a target liquidity ratio that reflects the specifics of their business and industry. Such target liquidity ratios ensure that companies have enough cash to meet their obligations. Therefore, we recommend setting a target liquidity ratio for your Financial Model Excel Spreadsheet.
File types:
Excel – Single-User: .xlsx
Excel – Multi-User: .xlsx
Free Demo – .xlsx