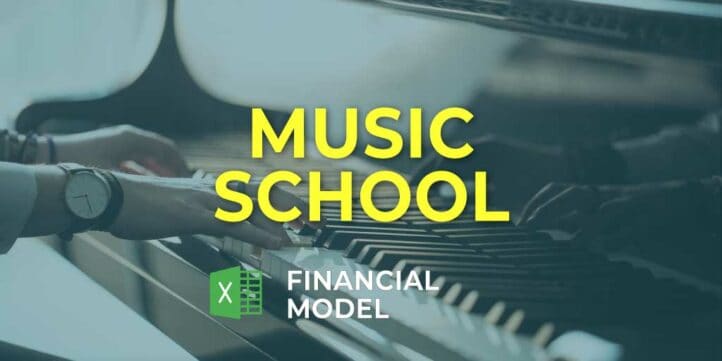 Education, Financial Model
5-year financial projections, Business Valuation, Financial Model, Financial Modeling, Financial Projection, Financial Projections, Free Financial Model Templates, Pro-Forma, Startup Financial Models, Three Statement Model | Three Financial Statements
NOTE: Single-User pertains to a limited Single User License where the template can only be used by one single user; while Multi-User is a license for users sharing the template with up to 20 members. Please refer to Terms of Use and License and Permitted Use for clarification.
MUSIC SCHOOL PRO FORMA TEMPLATE KEY FEATURES
Video tutorial:
Avoid Cash Flow Shortfalls
Unexpected Pro Forma Cash Flow Projection shortfalls can cause significant damage to your business, and it may take months to recover. Negative Cash Flow can appear if you don't continuously track the incoming cash and outgoing of your business. Fortunately, you can solve Startup Cash Flow Projection shortfalls with a bit of effort. Forecasting your Cash Flow Projection will help you identify — and plan for — market fluctuations, sales seasonality, and other cases that can lead to unpredictable Startup Cash Flow Statements. Cash Flow Statement Proforma can even help you visualize Startup Cash Flow Projection trends with the help of automatically generated charts and graphs.
Saves you time
Allows you to spend less time on Pro Forma Cash Flow Projection and more time on your products, customers, and business development
All necessary reports
When creating a Music School Financial Model Excel, you will not need to independently prepare financial reports and study the requirements for them. Our Excel template contains all the necessary reports and calculations that correspond with the lenders' demand.
Build your plan and pitch for funding
Impress bankers and investors with a proven, solid music school financial model that impresses every time.
External stakeholders, such as banks, may require a regular forecast.
If the business has a bank loan, the bank will ask for a Music School Budget Spreadsheet regularly.
Update anytime
You can easily adjust inputs at the launch stage and throughout the further activities of your business to refine your Music School Three Statement Financial Model Template.
REPORTS and INPUTS
CAPEX
CapEx (short for capital expenditures) is the company's expenses related to the acquisition, maintenance, or improvement of fixed assets such as property, buildings, factories, equipment, and technology. CapEx is included in the balance sheet, and it also can be reflected partially in the profit and loss proforma and cash flow statement projection.
Financial KPIs
The Music School 3 Way Financial Model has key financial indicators (KPIs) that show sales and profitability performance: revenue growth rate, gross margin, and EBITDA margin.
It also has KPIs related to cash flows and raising investment: the cash burn rate, runway, and funding need. You can choose the KPIs relevant to your company and industry, and monitor your company's performance. For example, SaaS companies typically monitor and manage customer lifetime value (LTV), customer acquisition costs (CAC), LTV/CAC ratio, and the churn rate. For SaaS businesses, these KPIs are crucial.
Profitability KPIs
Gross profit margin. A gross profit margin is a measure of a company's profitability, which is calculated by dividing gross profit by net sales.
Top Revenue
The Top revenue tab in the Cashflow Projection shows off the financial information regarding each of your offerings. In particular, with the help of this Music School Startup Financial Model, you can obtain an annual breakdown of your revenue streams, including the revenue depth and revenue bridge.
Performance KPIs
Sales growth is year-to-date. Every entrepreneur wants to see the company grow month-over-month. In some industries, sales depend on the season or other external factors. The sales growth year-to-date metric shows the pace at which the company's sales revenue increases or decreases.
Users can monitor sales volumes over various periods – daily, weekly, monthly, or yearly. Sales growth metric helps to manage sales growth goals in the form of a percentage of last month's sales volume or others. If the company has several sales teams, the management can monitor this metric for each team separately. It will help to monitor better each team's achievements.
Loan opt-in
A loan amortization schedule template reflects the company's schedule to which it repays its loans.
Our Music School Pro Forma Template has a loan amortization schedule with pre-built formulas that shows the amount of each installment and much principal and interest the company should repay each month, quarter, or year.
Operational KPIs
Our Music School Cash Flow Proforma Template has various operational performance graphs that will help business owners manage their business' finances and measure their overall performance. These operational performance graphs also help in making wise business decisions that consider the company's financial capability.
The financial graphs in this Music School Financial Model In Excel Template help measure the company's financial health showing the operating cash flows' analysis, return on investment, debt to equity ratio, liquidity ratios, and other relevant financial information. Business owners can use these operational performance graphs both for internal and external purposes.
In particular, they can use these graphs to assess the company's overall financial performance or for the assessment of the project's financial feasibility. Such an approach will improve the financial management efficiency of the company. Business owners can also use these charts and graphs for presentations for potential investors and bankers. The operational performance graphs have all the necessary pre-built formulas, and they are fully formatted. So, the users can just print out them and bring them to the meeting with investors.
File types:
Excel – Single-User: .xlsx
Excel – Multi-User: .xlsx
Free Demo – .xlsx