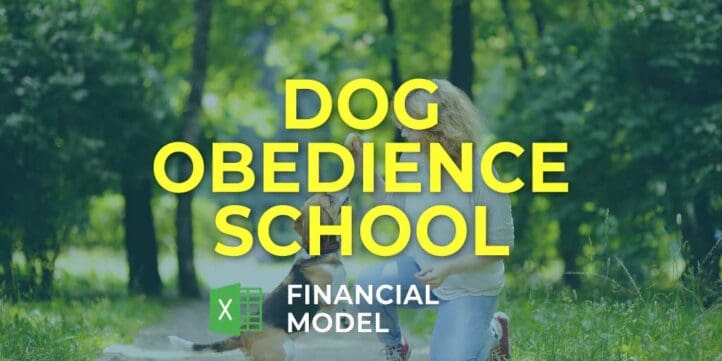 Education, Financial Model, Schools
5-year financial projections, Business Valuation, Financial Model, Financial Modeling, Financial Projection, Financial Projections, Free Financial Model Templates, Pro-Forma, Startup Financial Models, Three Statement Model | Three Financial Statements
NOTE: Single-User pertains to a limited Single User License where the template can only be used by one single user; while Multi-User is a license for users sharing the template with up to 20 members. Please refer to Terms of Use and License and Permitted Use for clarification.
DOG OBEDIENCE SCHOOL EXCEL PRO FORMA TEMPLATE KEY FEATURES
Video tutorial:
Get a Robust, Powerful and Flexible Financial Model
This well-tested, robust and powerful Dog Obedience School Startup Financial Model is your solid foundation to plan a business model. Advanced users are free to expand and tailor all sheets as desired, to handle specific requirements or to get into greater detail.
Gaining trust from stakeholders
Investors and financing providers tend to think in terms of the big picture. They want the c-level of the companies they invest in to do the same to ensure they maintain a clear idea of the future. Providing stakeholders with a monthly cash flow pro forma will demonstrate a level of awareness that leads to confidence and trust and will make it easier to raise more investment.
Get it Right the First Time
Funding is a binary event: either you succeed or you fail. If you fail, most investors won't give you a second chance. Learn about the pros and cons with Dog Obedience School Financial Model Excel Template.
Investors ready
Print ready (including a proforma income statement, a Startup Cash Flow Projection, a balance sheet, and a complete set of financial ratios).
Generate growth inspiration
By running various scenarios and looking at the effects they could have on your cash balance, you will begin to see which options are best for your business. Ones that are possible, and what is involved in making them work. Organic growth isn't the only option – there are growing funding options becoming available, and Projected Cashflow Statement could be a way of looking at the impact an injection of cash could have on your business and its growth plans.
5 years forecast horizon
Generate fully-integrated Dog Obedience School Budget Spreadsheet for 5 years (on a monthly basis). Automatic aggregation of annual summaries on outputs tabs.
REPORTS and INPUTS
Costs
A Dog Obedience School Budget Financial Model is an important financial tool that enables users to identify actual and forecasted expenditures, as well as financial resources needed to cover these costs. With a well-developed cost budget, you can see the areas where you can save money and the areas of high priority. As a part of a business plan, the cost budget supports the process of pitching to investors and loan applications.
CAPEX
CapEx (short for capital expenditures) is the company's expenses related to the acquisition, maintenance, or improvement of fixed assets such as property, buildings, factories, equipment, and technology. CapEx is included in the balance sheet, and it also can be reflected partially in the pro forma profit and loss statement and cash flow statement.
Valuation
With our pre-built valuation template in the Dog Obedience School Budget Financial Model, you will receive all the data your investors might need.
The weighted average cost of capital (WACC) will show your stakeholders the minimum return on enterprise funds invested in its activities capital. Free cash flow valuation will show a cash flow available to all investors, including shareholders and creditors. Discounted cash flow will reflect the value of future cash flows in relation to the current time.
Financial Statements
Our Dog Obedience School 3 Way Forecast Model has pre-built consolidated financial statements: projected income statement, Balance Sheet, and cash flow statement for 5 years. These financial statements can be presented on a monthly, quarterly, and annual basis.
Users can also import existing financial statements and reports from Quickbooks, Xero, Freshbooks, and other accounting software to create rolling forecasts and to make actuals vs. forecasts comparisons.
Top Revenue
The Top revenue tab in the P&L Projection shows off the financial information regarding each of your offerings. In particular, with the help of this Dog Obedience School Budget Financial Model, you can obtain an annual breakdown of your revenue streams, including the revenue depth and revenue bridge.
Performance KPIs
Return on equity. The return on equity financial metric can be calculated based on the information both from the Balance Sheet and p&l forecast. It measures the correspondence of earnings to the equity, i.e., the amount of money used to get profits.
Benchmarks
Three Statement Financial Model benchmark tab calculates the company's key performance indicators, either business or financial, and finds an industry-wide average as a comparison. The industry average metrics are then used to determine the relative value for benchmarking analysis.
Financial benchmarks are essential for the financial planning of companies, especially for start-ups. These studies help companies determine the 'best practice' companies within the industry and compare their own financial results with these best practices. It is a useful financial and strategic management tool.
File types:
Excel – Single-User: .xlsx
Excel – Multi-User: .xlsx
Free Demo – .xlsx