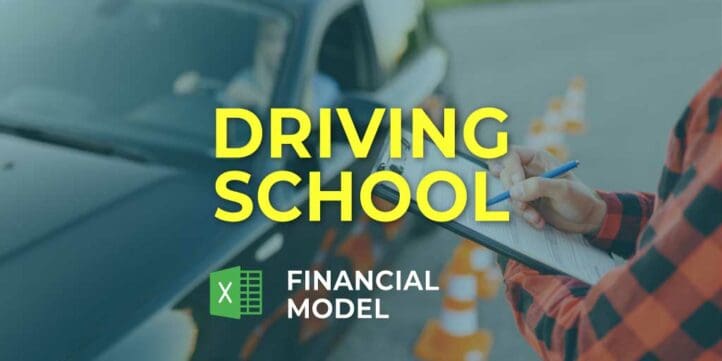 Education, Financial Model, Schools, Transport
5-year financial projections, Business Valuation, Financial Model, Financial Modeling, Financial Projection, Financial Projections, Free Financial Model Templates, Pro-Forma, Startup Financial Models, Three Statement Model | Three Financial Statements
NOTE: Single-User pertains to a limited Single User License where the template can only be used by one single user; while Multi-User is a license for users sharing the template with up to 20 members. Please refer to Terms of Use and License and Permitted Use for clarification.
DRIVING SCHOOL 3 WAY FORECAST KEY FEATURES
Video tutorial:
Saves you time
Allows you to spend less time on Startup Cash Flow Projection and more time on your products, customers, and business development
Investors ready
Print-ready (including a pro forma p&l statement, a Cash Flow Pro Forma, a balance sheet, and a complete set of financial ratios).
Get Investors to Notice
Most entrepreneurs can't get investors to return their calls. With the Driving School Financial Projection Excel, you will secure meetings with potential investors easily.
Simple-to-use
A very sophisticated Driving School Budget Financial Model, whatever size and stage of development your business is. Minimal previous planning experience and very basic knowledge of Excel are required: however, fully sufficient to get quick and reliable results.
Build your plan and pitch for funding
Impress bankers and investors with a proven, solid driving school financial model that impresses every time.
Simple and Incredibly Practical
Simple-to-use yet very sophisticated Driving School P&L Projection. Whatever size and stage of development your business is, with minimal planning experience and very basic knowledge of Excel you can get complete and reliable results.
REPORTS and INPUTS
Financial Statements
The Driving School Budget Financial Model has pre-built proformas for the balance sheet, the pro forma profit and loss statement, and the cash flow statement. These proformas allow users to create statements both on a monthly and annual basis.
Users can create detailed financial statements using the financial assumptions inputted in the Pro Forma.
Performance KPIs
Return on capital. The return on capital reflects the correspondence of the Balance Sheet and Income Statement. Return on capital measures the accomplishment of earnings to the capital employed.
Companies with good financial management have good returns.
Top Expenses
This Driving School Three Statement Financial Model has a Top expenses tab that displays your company's four most significant expense categories and the rest of the expenses as the 'other'.
Profitability KPIs
EBITDA. Earnings before interest, tax, depreciation, and amortization (EBITDA) is the primary measure of a company's operating performance.
Dashboard
In this Financial Model In Excel, users will find a Dashboard with core financial metrics relevant to their business. This financial dashboard is a snapshot of all critical financial metrics at a particular point in time. In particular, on this dashboard, you will see your core financials, such as revenue breakdown by years, statement of cash flows, profitability forecasts, and cumulative cash flows.
Cash Flow KPIs
Operating cash flow. The operating cash flow calculation shows how much cash the company generates from the business operations. This calculation does not include secondary sources of revenue, like interest or investments.
Operational KPIs
Our Driving School 3 Way Forecast has convenient, informative, and easy-to-use operational performance graphs. Here you may visually track your company's key operational performance indicators (KPIs) in the form of charts. These operational performance graphs show the stakeholders the financial information related to the company's liquidity, revenues, expenses, cash flows, and other financial metrics. This financial information in the form of graphs will help a business owner to create presentations for banks and investors with minimum effort.
File types:
Excel – Single-User: .xlsx
Excel – Multi-User: .xlsx
Free Demo – .xlsx