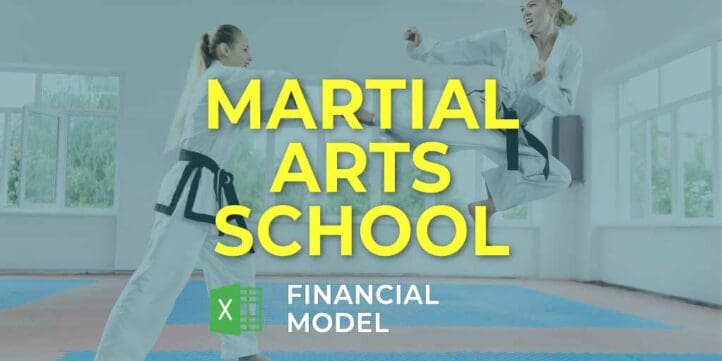 Education, Financial Model, Schools, Sports & Fitness, Sports Classes, Wellness
5-year financial projections, Business Valuation, Financial Model, Financial Modeling, Financial Projection, Financial Projections, Free Financial Model Templates, Pro-Forma, Startup Financial Models, Three Statement Model | Three Financial Statements
NOTE: Single-User pertains to a limited Single User License where the template can only be used by one single user; while Multi-User is a license for users sharing the template with up to 20 members. Please refer to Terms of Use and License and Permitted Use for clarification.
MARTIAL ARTS SCHOOL FINANCE PROJECTION KEY FEATURES
Video tutorial:
Get a robust, powerful financial model which is fully expandable
This well-tested, robust and powerful Martial Arts School Three Way Financial Model is your solid foundation to plan martial arts school business model. Advanced users are free to expand and tailor all sheets as desired, to handle specific requirements or to get into greater detail.
Get it Right the First Time
Funding is a binary event: either you succeed or you fail. If you fail, most investors won't give you a second chance. Learn about the pros and cons with Martial Arts School Pro Forma Projection.
Identify potential shortfalls in cash balances in advance.
The Martial Arts School Three Way Financial Model works like an 'early warning system.' It is, by far, the most significant reason for a Projected Cashflow Statement.
Track your spending and staying within budget
Have you written a vague idea of cash inflows and cash outflows on the back of a napkin? All is well and good. Looking at the profit and loss statement will give you a snapshot of the past business performance, but it won't show the future in terms of the Startup Cash Flow Statement. With a startup cash flow projection, you can plan future cash inflows and cash outflows and compare them to the budget, which can be invaluable information.
Avoid Cash Flow Shortfalls
Unexpected Cash Flow Statement By Month shortfalls can cause significant damage to your business, and it may take months to recover. Negative Cash Flow can appear if you don't continuously track the incoming cash and outgoing of your business. Fortunately, you can solve Pro Forma Cash Flow Projection shortfalls with a bit of effort. Forecasting your Cash Flow Projection will help you identify — and plan for — market fluctuations, sales seasonality, and other cases that can lead to unpredictable Startup Cash Flow Statements. Cash Flow Statement Projection can even help you visualize Statement Of Cash Flows trends with the help of automatically generated charts and graphs.
It is part of the reports set you need.
It doesn't matter you are worried about cash or not, setting up, and managing a Martial Arts School 3 Way Forecast should be a cornerstone of your reporting set. It's the main report of your business that must have in place to grow sustainably. Before you rush into rent more office space or making a new hire, you should always run a Cash Flow Statement For 5 Years scenario. You can model how that action would impact your cash balance in the nearest future. Knowing whether or not plans are possible is crucial to minimizing risk.
REPORTS and INPUTS
Loan opt-in
Similar to the amortization of the Martial Arts School 3 Way Forecast Excel Template assets, a loan amortization reflects the spreading out the repayment of a loan for a certain period that covers several reporting periods. The process of loan amortization includes a series of fixed payments over time. Usually, companies make these payments on a monthly basis, but there may also be quarterly or annual payments.
Top Revenue
This 3 Way Financial Model has a tab for a detailed analysis of the company's revenue streams. With this template, users can analyze the revenue streams by each product or service category separately.
Sources and Uses
As you can understand from the title, a Sources and Uses of Funds statement represents the company's financing sources and spending policies.
In respect of the 'Sources', this statement shows the company's money for its business activities and how it gets this money. Usually, companies have a mix of funding sources, such as business loans, investors' money, share issue, and others.
The 'Uses' section of the Sources and Uses statement shows the stakeholders how the company spends its money. For example, this statement may reflect the cost of land, building, or equipment the company plans to acquire. It also may reflect the start-up costs.
Financial Statements
With our Financial Model Excel, you can easily create a profit and loss projection, a Balance Sheet, and a cash flow statement proforma for your company. You can choose these statements' format and make any financial statement with a monthly or annual breakdown, or for five years.
Financial KPIs
A Martial Arts School Financial Projection Excel outputs include both company and sector-specific key performance indicators KPIs. These KPIs include profitability metrics, cash flow metrics, and liquidity metrics. It also has KPIs crucial for the attraction of investments.
CAPEX
CapEx (short for capital expenditures) is the company's expenses related to the acquisition, maintenance, or improvement of fixed assets such as property, buildings, factories, equipment, and technology. CapEx is included in the balance sheet, and it also can be reflected partially in the pro forma profit and loss and cash flow statement.
Burn and Runway
The cash burn rate is one of the tabs your future investors may be very interested in. This metrics shows the time left to a complete cash burn. Also, this template shows a cash burn ratio. The calculation is based on your average annual cash balance and average monthly operating cash outflows.
File types:
Excel – Single-User: .xlsx
Excel – Multi-User: .xlsx
Free Demo – .xlsx