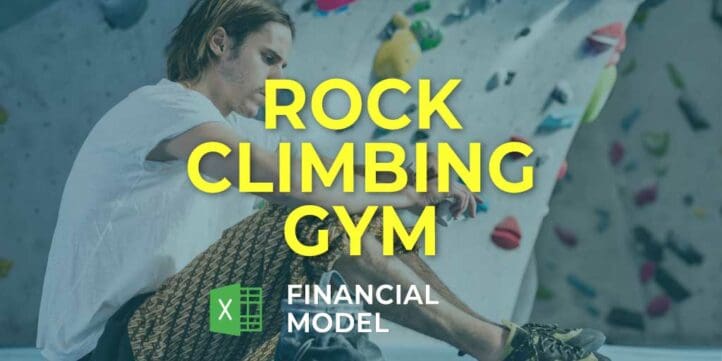 Financial Model, Sports & Fitness, Sports Classes, Wellness
5-year financial projections, Business Valuation, Financial Model, Financial Modeling, Financial Projection, Financial Projections, Free Financial Model Templates, Pro-Forma, Startup Financial Models, Three Statement Model | Three Financial Statements
NOTE: Single-User pertains to a limited Single User License where the template can only be used by one single user; while Multi-User is a license for users sharing the template with up to 20 members. Please refer to Terms of Use and License and Permitted Use for clarification.
ROCK CLIMBING GYM FINANCIAL MODEL EXCEL KEY FEATURES
Video tutorial:
Gaining trust from stakeholders
Investors and financing providers tend to think in terms of the big picture. They want the c-level of the companies they invest in to do the same to ensure they maintain a clear idea of the future. Providing stakeholders with a monthly cash flow statement projection will demonstrate a level of awareness that leads to confidence and trust and will make it easier to raise more investment.
Update anytime
With Cash Flow Format In Excel, you can easily adjust inputs at the launch stage and throughout the further activities of your store to refine your forecast.
Easy to follow
Clear and transparent Rock Climbing Gym Financial Projection Template Excel structure (15+ separate tabs, each focusing on a specific planning category, color-coded => input, calculation, and report sheets).
Identify cash gaps and surpluses before they happen.
Forecasting your future cash balance helps you see well in advance when you may have a cash deficit that could hurt your business. The projected Cashflow Statement will give you enough time to take action to prevent a crisis. It will enable you to access better loan rates or speed up incoming payments to bridge the gap. On the other side, if you know ahead of time that the large lump of cash will lay in your bank account within the next three months. In this case, you might need to explore options to reinvest it in your business to drive growth.
Get a robust, powerful financial model which is fully expandable
This well-tested, robust and powerful Rock Climbing Gym Financial Model Excel Spreadsheet is your solid foundation to plan a rock climbing gym business model. Advanced users are free to expand and tailor all sheets as desired, to handle specific requirements or to get into greater detail.
Works for startups
Financial Model Excel Spreadsheet creates a financial summary formatted for your pitch deck
REPORTS and INPUTS
CAPEX
Detailed capital expenditure (i.e., CAPEX ) planning and automatic calculation of depreciation is an essential part of any Financial Projection Template. Our CAPEX calculation template allows users to apply straight-line or double-declining balance depreciation for financial planning purposes.
Profitability KPIs
EBIT. Earnings before interest and tax (EBIT) is a financial metric that subtracts the cost of sales and other operating expenses from revenues.
Operational KPIs
Our Rock Climbing Gym Cash Flow Proforma Template has convenient, informative, and easy-to-use operational performance graphs. Here you may visually track your company's key operational performance indicators (KPIs) in the form of charts. These operational performance graphs show the stakeholders the financial information related to the company's liquidity, revenues, expenses, cash flows, and other financial metrics. This financial information in the form of graphs will help a business owner to create presentations for banks and investors with minimum effort.
Break-Even
This Rock Climbing Gym Financial Projection Template has a breakeven analysis tab that predicts the period within which the company is supposed to move to a new level, i.e., start to bring profits to its owners. break-even point analysis uses forecasted revenues and expenses and makes Cash Flow Proforma Template on the period when its overall revenues become significantly bigger than costs.
Burn and Runway
This Rock Climbing Gym Financial Projection Excel automatically calculates the cash burn rate based on the inputs from other spreadsheets, in particular, from the cash flow forecast.
Costs
A Rock Climbing Gym Excel Financial Model is an important financial tool that enables users to identify actual and forecasted expenditures, as well as financial resources needed to cover these costs. With a well-developed cost budget, you can see the areas where you can save money and the areas of high priority. As a part of a business plan, the cost budget supports the process of pitching to investors and loan applications.
Sources and Uses
The Sources and Uses statement in our Rock Climbing Gym Financial Projection Template shows users that financial planning does not have to be complicated. This statement shows the company's stakeholders, e.g., lenders, how much financing the company needs, and how it plans to get it. There may be cases when the company does not need more funding. It wants to show its current investors that it has additional or alternative funding sources it can attract in case of unexpected events. These additional sources of funding may be interesting for banks, for example.
While putting together the Sources and Uses statement, companies and especially start-ups can include alternative funding sources, such as crowdfunding campaigns.
Another part of the Sources and Uses statement is the ways the company plans to use obtained funds. The total figure in this section should balance with the figure if the 'Sources' section, i.e., both parts of the Sources and Uses section, should balance.
File types:
Excel – Single-User: .xlsx
Excel – Multi-User: .xlsx
Free Demo – .xlsx