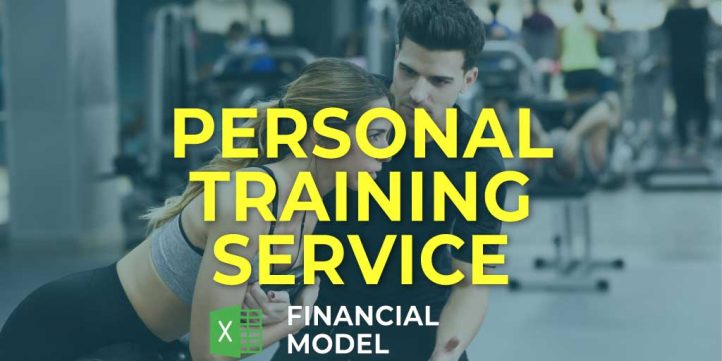 Financial Model, Gyms & Fitness Centers, Service Businesses, Sports & Fitness, Sports Classes, Wellness
5-year financial projections, Business Valuation, Excel, Financial Model, Financial Modeling, Financial Projection, Financial Projections, Pro-Forma, Startup Financial Models, Three Statement Model | Three Financial Statements
NOTE: Single-User pertains to a limited Single User License where the template can only be used by one single user; while Multi-User is a license for users sharing the template with up to 20 members. Please refer to Terms of Use and License and Permitted Use for clarification.
PERSONAL TRAINING SERVICE PRO FORMA TEMPLATE EXCEL KEY FEATURES
Video tutorial:
Plan for Future Growth
Cash Flow Statement Proforma can help you plan for future growth and expansion. No matter you're extending your company with new employees and need to take into account increased staff expenses. Or to scale production to keep up with increased sales, future projections help you see accurately where you're running — and how you'll get there. Forecasting is also a well-known goal-setting framework to help you plan out the financial steps your company has to take to reach targets. There's power in Startup Cash Flow Projection and the insight they can provide your business. Fortunately, this competitive advantage comes with little effort when you use the Projected Cashflow Statement.
Manage surplus cash
Most companies don't have excess cash in the bank. It is a well-known situation. But managing surplus cash for reinvestment in new market opportunities, or debt repayments can be essential to keeping stay in the business. Managers are entirely ready to plan for what to do with the cash surplus if they have the forecast of when and where the business will have surplus cash in the bank account. Cash Flow Pro Forma will provide supplementary guidance on what to do with a cash surplus.
Build your plan and pitch for funding
Impress bankers and investors with a proven, strategic Personal Training Service Pro Forma Projection that impresses every time.
All necessary reports
When creating a Personal Training Service Pro Forma Projection, you will not need to independently prepare financial reports and study the requirements for them. Our Excel template contains all the necessary reports and calculations that correspond with the lender's demand.
Identify potential shortfalls in cash balances in advance.
The Personal Training Service Five Year Financial Projection Template works like an 'early warning system.' It is, by far, the most significant reason for a Pro Forma Cash Flow Projection.
Spot problems with customer payments
Preparing the Cash Flow Statement Forecast encourages the business to look at how quickly customers are paying their debts. Identify unpaid invoices and take necessary actions to make them pay.
REPORTS and INPUTS
Liquidity KPIs
Liquidity Position. The liquidity position of a company is an essential indication of the financial health of the enterprise. To assess the liquidity position of the company, it is necessary to calculate the liquidity ratio. Many companies set a target liquidity ratio that reflects the specifics of their business and industry. Such target liquidity ratios ensure that companies have enough cash to meet their obligations. Therefore, we recommend setting a target liquidity ratio for your Financial Projection Model Excel.
Sources and Uses
The sources and uses statement in this Personal Training Service Cash Flow Proforma describes all of the company's funding sources and the ways it spends these funds.
Top Revenue
This Financial Projection has a tab for a detailed analysis of the company's revenue streams. With this template, users can analyze the revenue streams by each product or service category separately.
Profitability KPIs
Internal rate of return (IRR). An internal rate of return or IRR is the interest rate or such type of discount rate that yields a net present value of the net cash flow stream from different kinds of investments and actions. IRR financial metric is very important for investors and analysts. IRR is usually shown as a percentage.
Loan opt-in
Calculating the necessary payments related to the obtained loan or mortgage is essential, especially for start-ups. At the same time, many companies may find this calculation to be a difficult task. In this case, our Financial Model has a loan amortization schedule with an amortization calculator will help to plan and list these loan payments.
Costs
Start-up costs are an essential part of any Excel Pro Forma Template. They begin to accrue before actual operations start, so it is crucial to monitor them early to avoid overspendings and underfunding. Our Personal Training Service Financial Model Excel Template has the proforma for start-up costs that show both funding and expenses. You can use this proforma to monitor your expenses and create cost budgets.
Burn and Runway
The cash burn rate shows the difference between the cash inflows and cash outflows of the company. It is essential to monitor this metric because it shows how long the company will last with its current funding level. Business owners can also see a clear picture of how various business strategies change the cash burn rate.
File types:
Excel – Single-User: .xlsx
Excel – Multi-User: .xlsx
Free Demo – .xlsx