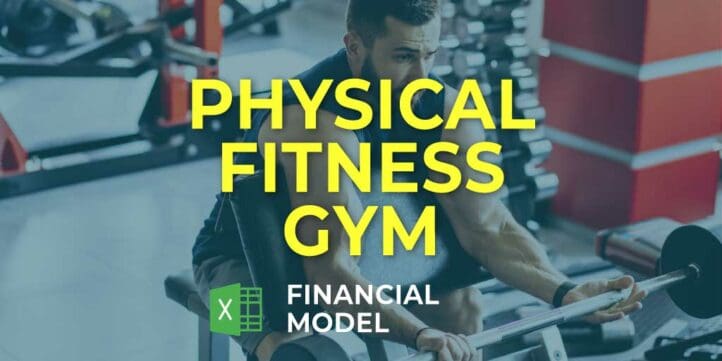 Commercial Properties, Financial Model, Gyms & Fitness Centers, Sports & Fitness, Wellness
5-year financial projections, Business Valuation, Financial Model, Financial Modeling, Financial Projection, Financial Projections, Free Financial Model Templates, Pro-Forma, Startup Financial Models, Three Statement Model | Three Financial Statements
NOTE: Single-User pertains to a limited Single User License where the template can only be used by one single user; while Multi-User is a license for users sharing the template with up to 20 members. Please refer to Terms of Use and License and Permitted Use for clarification.
PHYSICAL FITNESS GYM FINANCIAL PROJECTION TEMPLATE EXCEL KEY FEATURES
Video tutorial:
Avoid Cash Flow Shortfalls
Unexpected Statement Of Cash Flows shortfalls can cause significant damage to your business, and it may take months to recover. Negative Cash Flow can appear if you don't continuously track the incoming cash and outgoing of your business. Fortunately, you can solve Projected Cashflow Statement shortfalls with a bit of effort. Forecasting your Cash Flow Statement Proforma will help you identify — and plan for — market fluctuations, sales seasonality, and other cases that can lead to unpredictable Startup Cash Flow Statement. Cashflow Forecast can even help you visualize Startup Cash Flow Projection trends with the help of automatically generated charts and graphs.
Identify potential shortfalls in cash balances in advance.
The Physical Fitness Gym Pro Forma Template works like an 'early warning system.' It is, by far, the most significant reason for a Cash Flow Pro Forma.
Currency for inputs and denomination
In Excel Pro Forma Template define any currency code or symbol and preferred denomination (e.g. 000s) to reflect your preferences.
Generate growth inspiration
By running various scenarios and looking at the effects they could have on your cash balance, you will begin to see which options are best for your business. Ones that are possible, and what is involved in making them work. Organic growth isn't the only option – there are growing funding options becoming available, and Cash Flow Statement Projection could be a way of looking at the impact an injection of cash could have on your business and its growth plans.
Gaining trust from stakeholders
Investors and financing providers tend to think in terms of the big picture. They want the c-level of the companies they invest in to do the same to ensure they maintain a clear idea of the future. Providing stakeholders with a monthly cash flow statement for 5 years will demonstrate a level of awareness that leads to confidence and trust and will make it easier to raise more investment.
Simple-to-use
A very sophisticated Physical Fitness Gym Financial Model Excel Template, whatever size and stage of development your business is. Minimal previous planning experience and very basic knowledge of Excel are required: however, fully sufficient to get quick and reliable results.
REPORTS and INPUTS
Dashboard
Our Financial Projection has an all-in-one dashboard. This dashboard is a useful financial planning tool that helps financial professionals create fast, reliable, and transparent financial reports to the management and other company stakeholders.
With this financial dashboard's help, users can assess the company's financial data, drill into financial details, or validate figures fast and easily. Our specialists understand that the company's financial management, especially the start-up's management, is under pressure to deliver fast decisions and results. This all-in-one financial dashboard is an effective financial tool that will help with these tasks.
With this dashboard, you will get data at your fingertips. You will be able to perform financial analysis, assess key performance indicators (KPIs), and other financial information you may need to generate actionable insights and make wise financial decisions.
Performance KPIs
Lead-to-client conversion rate. Lead-to-Client Conversion Rate is an essential metric for businesses that attract new clients with the Internet, social media, and other similar channels. Leads do not turn into customers automatically. Company's sale team need to convert these leads into actual customers.
The Lead-to-Conversion business metric is a good measure of the sales team's performance. Moreover, it indicates the quality of your product. If you have a low conversion rate, it may sign that your product is not attractive to the customers.
Financial Statements
Our Physical Fitness Gym 3 Way Forecast has a pre-built integrated financial summary that contains all the financial information from other spreadsheets, including the primary financial statements: Balance Sheet, Statement of financial position, and projected cash flow statement. Our specialists have already formatted this financial summary for your pitch deck.
Profitability KPIs
Net present value (NPV). Present value (PV) is a financial metric that reflects discounted cash flows and addresses the type of questions like 'What is the value today of a $1 to be received several years from now?'. The sum of such present values for a multi-period cash inflow stream is called Net present value or NPV.
Cap Table
The Cap table template in our Physical Fitness Gym Finance Projection includes four rounds of financing, and it shows how the shares issued to new investors impact the investment income. After each round of financing, the Cap table shows users the ownership structure and the percentage of changes, i.e., the dilution.
Break Even
This Physical Fitness Gym 3 Way Forecast Model has a break even point analysis tab that predicts the period within which the company is supposed to move to a new level, i.e., start to bring profits to its owners. break even point analysis uses forecasted revenues and expenses and makes 3 Way Forecast on the period when its overall revenues become significantly bigger than costs.
Top Expenses
This Physical Fitness Gym Financial Projection has a Top expenses tab that displays your company's four most significant expense categories and the rest of the expenses as the 'other'.
File types:
Excel – Single-User: .xlsx
Excel – Multi-User: .xlsx
Free Demo – .xlsx