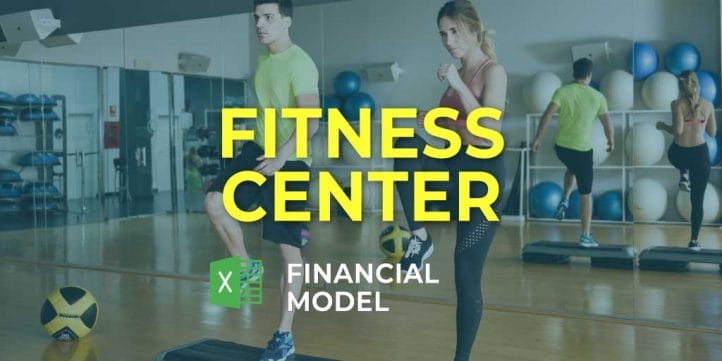 Financial Model, Sports & Fitness, Wellness
5-year financial projections, Business Valuation, Financial Model, Financial Modeling, Financial Projection, Financial Projections, Free Financial Model Templates, Pro-Forma, Startup Financial Models, Three Statement Model | Three Financial Statements
FITNESS CENTER EXCEL PRO FORMA KEY FEATURES
Video tutorial:
Manage surplus cash
Most companies don't have excess cash in the bank. It is a well-known situation. But managing surplus cash for reinvestment in new market opportunities, or debt repayments can be essential to keeping stay in the business. Managers are entirely ready to plan for what to do with the cash surplus if they have the forecast of when and where the business will have surplus cash in the bank account. Startup Cash Flow Statement will provide supplementary guidance on what to do with a cash surplus.
Simple-to-use
A very sophisticated Fitness Center Pro Forma Template Excel, whatever size and stage of development your business is. Minimal previous planning experience and very basic knowledge of Excel is required: however, fully sufficient to get quick and reliable results.
Build your plan and pitch for funding
Impress bankers and investors with a proven, strategic Fitness Center Three Statement Financial Model that impresses every time.
Simple and Incredibly Practical
Simple-to-use yet very sophisticated Fitness Center Financial Projection Template Excel tool. Whatever size and stage of development your business is, with minimal planning experience and very basic knowledge of Excel you can get complete and reliable results. Additionally, you will receive uncompromised after-sales service and access to valuable tutorial videos and blog posts.
Avoid Cash Flow Shortfalls
Unexpected Cashflow Forecast shortfalls can cause significant damage to your business, and it may take months to recover. Negative Cash Flow can appear if you don't continuously track the incoming cash and outgoing of your business. Fortunately, you can solve Projected Cashflow Statement shortfalls with a bit of effort. Forecasting your Cash Flow Projection will help you identify — and plan for — market fluctuations, sales seasonality, and other cases that can lead to unpredictable Projected Cash Flow Statement Format. Cash Flow Statement can even help you visualize Cash Flow Forecast trends with the help of automatically generated charts and graphs.
Gaining trust from stakeholders
Investors and financing providers tend to think in terms of the big picture. They want the c-level of the companies they invest in to do the same to ensure they maintain a clear idea of the future. Providing stakeholders with a monthly cashflow forecast will demonstrate a level of awareness that leads to confidence and trust and will make it easier to raise more investment.
REPORTS and INPUTS
Dashboard
Our Financial Model In Excel Template has an all-in-one dashboard. This dashboard is a useful financial planning tool that helps financial professionals create fast, reliable, and transparent financial reports to the management and other company's stakeholders.
With this financial dashboard's help, users can assess the company's financial data, drill into financial details, or validate figures fast and easy. Our specialists understand that the company's financial management, especially the start-up's management, is under pressure to deliver fast decisions and results. This all-in-one financial dashboard is an effective financial tool that will help with these tasks.
With this dashboard, you will get data at your fingertips. You will be able to perform financial analysis, assess key performance indicators (KPIs), and other financial information you may need to generate actionable insights and make wise financial decisions.
Cash Flow KPIs
Cash balance. The cash balance shows the total amount of money in a financial account of the company. Any company needs to hold in reserve enough amount of cash to meet current obligations.
Top Expenses
It is very important for a start-up and existing company to monitor, plan, and manage its costs and expenses to maintain a good profitability level.
For this purpose, it is necessary to analyze the highest costs and always work on their optimization. In our Excel Financial Model Template we have created a Top expense report helps users with this task. It summarizes the four biggest expense categories and the rest of the expenses as the 'other', so the users can easily monitor these expenses and track the tendencies related to their increase or decrease from year to year.
Burn and Runway
The cash burn rate is one of the tabs your future investors may be very interested in. This metrics shows the time left to a complete cash burn. Also, this template shows a cash burn ratio. The calculation is based on your average annual cash balance and average monthly operating cash outflows.
Financial KPIs
With the help of the financial key performance indicators (KPIs), you can track your company's performance and improve its financial health. This Fitness Center Excel Financial Model allows showing the key performance indicators in the form of charts.
CAPEX
CapEx (short for capital expenditures) is the company's expenses related to the acquisition, maintenance, or improvement of fixed assets such as property, buildings, factories, equipment, and technology. CapEx is included in the balance sheet, and it also can be reflected partially in the profit and loss statement and projected cash flow statement format.
Sources and Uses
Sources and Uses of Funds Statement is a critical financial spreadsheet in our Fitness Center Pro Forma Projection. Business owners will need this statement for bank loan applications and the meeting with potential investors. Many banks include this statement in the application process for a business loan. The Sources and Uses statement is equally important both for large companies and for start-ups.
Large companies include Sources and Uses statement into their annual report for investors. The start-ups need to manage each source of funding and control each separate expense.
Lenders appreciate Sources and Uses of Funds Statement because it excellently summarizes its financial plans and financial management strategies. This statement puts together the company's vision regarding the financing of the start-up or future expansion.