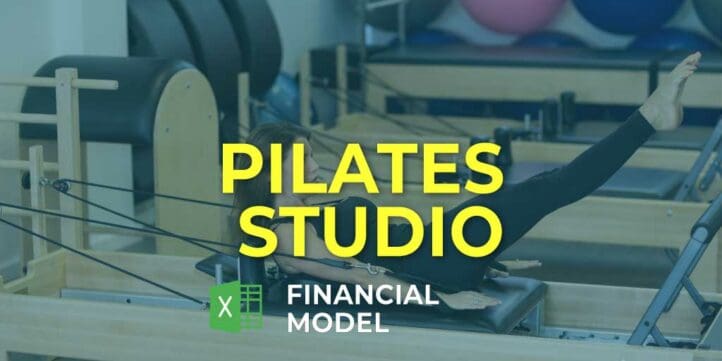 Financial Model, Gyms & Fitness Centers, Sports & Fitness, Wellness
5-year financial projections, Business Valuation, Financial Model, Financial Modeling, Financial Projection, Financial Projections, Free Financial Model Templates, Pro-Forma, Startup Financial Models, Three Statement Model | Three Financial Statements
NOTE: Single-User pertains to a limited Single User License where the template can only be used by one single user; while Multi-User is a license for users sharing the template with up to 20 members. Please refer to Terms of Use and License and Permitted Use for clarification.
PILATES STUDIO EXCEL FINANCIAL MODEL TEMPLATE KEY FEATURES
Video tutorial:
We do the math
Financial Projection has all the required features ready with no formula writing, no formatting, no programming, no charting, and no expensive external consultants! Concentrate on the task of planning rather than programming.
Predict the Influence of Upcoming Changes
Does your company plan to purchase new equipment or to launch a new product? Cash Flow Statement Forecast enable you to obtain a complete picture of the effect that specific changes will have on your Cash Flow Statement For 5 Years. When planning your finances in the Cash Flow Projection, you will forecast cash inflows and outflows based on future invoices, bills due, and payroll. You can then create multiple 'what if' scenarios, such as buying new equipment to choose the best way for you. Forecasting shows you how the upcoming changes will affect your cash balance.
Key Metrics Analysis
Creates 5-year Pilates Studio Cash Flow Proforma, proforma, financial statements, and financial ratios in GAAP or IFRS formats on the fly.
5 years forecast horizon
Generate fully-integrated Pilates Studio Three Statement Financial Model Template for 5 years (on a monthly basis). Automatic aggregation of annual summaries on outputs tabs.
Saves you time
3 Way Financial Model allows you to spend less time on finances and more time on your products, customers and business development
Run different scenarios
A Cash Flow Statement shows you what your cash balance will look like taking into account the numbers you put into the template. It means you can play with the various variables that impact your cash flow forecast, i.e., wages, sales inflow, supplier payments, taxes, and so on. By adjusting the input amounts, you will be able to see what impact they will have on your businesses' cash flow and when this impact is likely to occur. A well-known example of this is the ability to forecast the effect a new member of staff might have on your cash flow over different periods. Increase the wage costs and see what happens to your cash flow. Running different scenarios in your Cash Flow Pro Forma can have several benefits.
REPORTS and INPUTS
Valuation
With our Pilates Studio Pro Forma Template, you will get proformas for valuation analysis. You will be able to perform a Discounted Cash Flow (DCF) valuation analysis and other valuations you may need.
All in One Place
This Pilates Studio Pro Forma Budget reflects all the main aspects of your business. It will be a roadmap that enables entrepreneurs to understand their business and their perspectives. As a start-up Financial Model In Excel, it will help understand cash flows and determine the cash burn rate. This is very important for any business because it shows how long money will last and which milestones the business owner can achieve with these expenditures.
Financial KPIs
With the help of the financial key performance indicators (KPIs), you can track your company's performance and improve its financial health. This Pilates Studio Pro Forma Budget allows showing the key performance indicators in the form of charts.
Top Revenue
The top line and bottom line are two of the most important lines on a company's profit and loss projection. Investors and analysts pay special attention to the company's revenue and profits and carefully monitor any changes regarding these financial metrics from quarter to quarter and year to year.
The top line of the profit and loss projection refers to a company's revenues or gross sales. Therefore, when somebody says that the company has 'top-line growth,' it means that the company is experiencing an increase in gross sales or revenues, which should positively impact other company's financials and overall performance.
Dashboard
The financial dashboard in our Financial Projection Excel is a great financial planning tool that helps to display the results of financial analysis. This financial summary in the form of charts and graphs will help analysts to explain clearly the numbers from the financial statements.
With this dashboard's help, users can analyze and present to other stakeholders' revenue forecasts, financial margins, profit charts, and separate items from the balance sheet, projected p&l statement, and cash flow forecast.
Cash Flow KPIs
Cash conversion cycle (CCC). The cash conversion cycle (CCC) is a financial metric that expresses the time it takes for a company to convert its resources in the form of inventory and other resources into cash flows. The cash conversion cycle is also called the Net Operating Cycle.
CCC measures how long each dollar that the company inputted is tied up in the production and sales process before it gets converted into cash.
The cash conversion cycle metric accounts for various factors, such as how much time it takes to sell inventory, how much time it takes to collect accounts receivable, and how much time it takes to pay obligations.
Profitability KPIs
The Pilates Studio Financial Projection contains all performance metrics that correspond with pre-built templates and financial reports. It also has pre-built proformas for the pro forma income statement, Balance Sheet, and cash flow statement proforma, which you can use both for financial planning and presentations for investors.
With these reports, you can easily monitor your company's cash flows, revenues, costs, and profitability, including profitability margins, liquidity analysis, sources and uses, and others. The model calculates profitability ratios and other performance metrics, e.g., customer acquisition costs, and SaaS metrics, if applicable.
File types:
Excel – Single-User: .xlsx
Excel – Multi-User: .xlsx
Free Demo – .xlsx