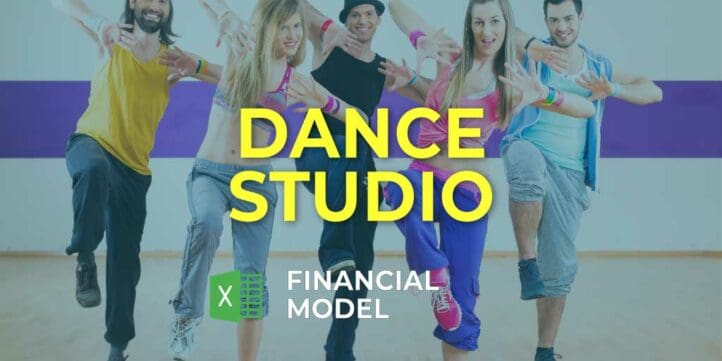 Financial Model, Gyms & Fitness Centers, Schools, Sports Classes, Wellness
5-year financial projections, Business Valuation, Financial Model, Financial Modeling, Financial Projection, Financial Projections, Free Financial Model Templates, Pro-Forma, Startup Financial Models, Three Statement Model | Three Financial Statements
NOTE: Single-User pertains to a limited Single User License where the template can only be used by one single user; while Multi-User is a license for users sharing the template with up to 20 members. Please refer to Terms of Use and License and Permitted Use for clarification.
DANCE STUDIO PRO FORMA TEMPLATE EXCEL KEY FEATURES
Video tutorial:
Saves you time
P&L Projection allows you to spend less time on finances and more time on your products, customers, and business development
Get a Robust, Powerful, and Flexible Financial Model
This well-tested, robust and powerful Dance Studio Financial Projection Model Excel is your solid foundation to plan a business model. Advanced users are free to expand and tailor all sheets as desired, to handle specific requirements, or to get into greater detail.
Investors ready
Print-ready (including a pro forma profit and loss statement, a Startup Cash Flow Statement, a balance sheet, and a complete set of financial ratios).
Simple and Incredibly Practical
Simple-to-use yet very sophisticated Dance Studio Cash Flow Proforma Template. Whatever size and stage of development your business is, with minimal planning experience and very basic knowledge of Excel you can get complete and reliable results.
Generate growth inspiration
By running various scenarios and looking at the effects they could have on your cash balance, you will begin to see which options are best for your business. Ones that are possible, and what is involved in making them work. Organic growth isn't the only option – there are growing funding options becoming available, and Cash Flow Projection could be a way of looking at the impact an injection of cash could have on your business and its growth plans.
Confidence in the future
Using our financial model, you can effectively plan, prevent risks, manage stocks and Projected Cash Flow Statement and foresee your prospects for the next 5 years.
REPORTS and INPUTS
Top Revenue
The top line and bottom line are two of the most important lines on a company's proforma income statement. Investors and analysts pay special attention to the company's revenue and profits and carefully monitor any changes regarding these financial metrics from quarter to quarter and year to year.
The top line of the forecasted income statement refers to a company's revenues or gross sales. Therefore, when somebody says that the company has 'top-line growth,' it means that the company is experiencing an increase in gross sales or revenues, which should positively impact other company's financials and overall performance.
Burn and Runway
Our Dance Studio Financial Model In Excel automatically creates cash runway and cash burn analysis based on the forecasted revenues and expenses that, in their turn, show net loss, net profit, cash on hand, and break-even point analysis. You can also forecast funding requirements using a set of parameters around funding (e.g., equity, debt, grants) and expected runway to raise (for example, 18 months of forecasted expenses).
Performance KPIs
Return on equity. The return on equity financial metric can be calculated based on the information both from the Balance Sheet and p&l projection. It measures the correspondence of earnings to the equity, i.e., the amount of money used to get profits.
Operational KPIs
Our Dance Studio Financial Model has convenient, informative, and easy-to-use operational performance graphs. Here you may visually track your company's key operational performance indicators (KPIs) in the form of charts. These operational performance graphs show the stakeholders the financial information related to the company's liquidity, revenues, expenses, cash flows, and other financial metrics. This financial information in the form of graphs will help a business owner to create presentations for banks and investors with minimum effort.
Profitability KPIs
Return on investment (ROI). ROI is an essential measure of profitability. Return on investment (ROI) shows a ratio between cash inflows and cash outflows that follow from the investments. The ROI ratio can be calculated as net investment gains divided by total investment costs.
Costs
Our Dance Studio Pro Forma Template Excel has a well-developed methodology for creating a cost budget. You can plan and forecast your costs from operations and other expenses for up to 72 months. The cost budget has a detailed hiring plan while also automatically handling the expenses' accounting treatment. You can set salaries, job positions, and the time of hiring.
Moreover, the model allows users to calculate hiring as the company scales automatically. Pre-built expense forecasting curves enable users to set how an expense changes over time. These pre-built options include % of revenues, % of salaries, % of any revenue category, growth (or decline) rates that stay the same or change over time, ongoing expenses, expenses that periodically reoccur, expenses that regularly change, and many more. Costs can be allocated to key expense areas and labeled for accounting treatment as SG&A, COGS, or CAPEX.
Valuation
This Dance Studio Three Statement Financial Model contains a valuation analysis template that will allow users to perform a Discounted Cash Flow valuation (DCF). It will also help users analyze such financial metrics as residual value, replacement costs, market comparables, recent transaction comparables, etc.
File types:
Excel – Single-User: .xlsx
Excel – Multi-User: .xlsx
Free Demo – .xlsx