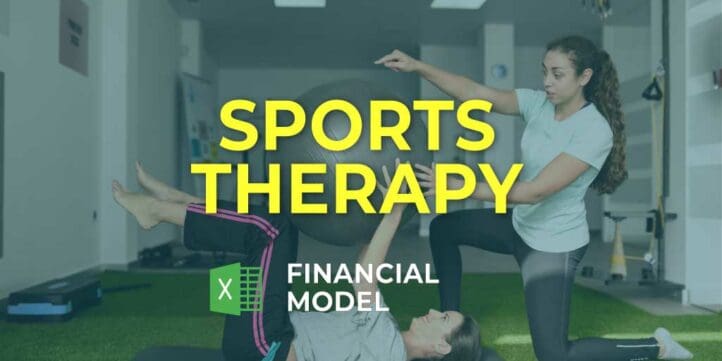 Financial Model, Gyms & Fitness Centers, Health Care, Sports Classes, Wellness
5-year financial projections, Business Valuation, Financial Model, Financial Modeling, Financial Projection, Financial Projections, Free Financial Model Templates, Pro-Forma, Startup Financial Models, Three Statement Model | Three Financial Statements
NOTE: Single-User pertains to a limited Single User License where the template can only be used by one single user; while Multi-User is a license for users sharing the template with up to 20 members. Please refer to Terms of Use and License and Permitted Use for clarification.
SPORTS THERAPY THREE WAY FINANCIAL MODEL KEY FEATURES
Video tutorial:
Confidence in the future
Using our financial model, you can effectively plan, prevent risks, manage stocks and Statement Of Cash Flows and foresee your prospects for the next 5 years.
Saves you time
Allows you to spend less time on Cash Flow Statement and more time on your products, customers, and business development
Simple-to-use
A very sophisticated Sports Therapy Financial Model, whatever size and stage of development your business is. Minimal previous planning experience and very basic knowledge of Excel is required: however, fully sufficient to get quick and reliable results.
Print-ready Reports
Solid package of print-ready reports, including a pro forma p&l statement, projected cashflow statement, a balance sheet, and a complete set of financial ratios.
Save Time and Money
Sports Therapy 3 Way Financial Model allows you to start planning with minimum fuss and maximum of help. No writing formulas, no formatting, no programming, no charting, and no expensive external consultants. Plan the growth of your business instead of fiddling around with expensive techy things.
Update anytime
With 3 Way Financial Model Template you can easily adjust inputs at the launch stage and throughout the further activities of your store to refine your forecast.
REPORTS and INPUTS
Costs
Start-up costs are an essential part of any Financial Model Excel Spreadsheet. They begin to accrue before actual operations start, so it is crucial to monitor them early to avoid overspendings and underfunding. Our Sports Therapy Pro Forma has the proforma for start-up costs that show both funding and expenses. You can use this proforma to monitor your expenses and create cost budgets.
CAPEX
CapEx (short for capital expenditures) is the company's expenses related to the acquisition, maintenance, or improvement of fixed assets such as property, buildings, factories, equipment, and technology. CapEx is included in the balance sheet, and it also can be reflected partially in the profit and loss statement proforma and cash flow statement projection.
Operational KPIs
Our Sports Therapy Pro Forma Projection has various operational performance graphs that will help business owners manage their business' finances and measure their overall performance. These operational performance graphs also help in making wise business decisions that consider the company's financial capability.
The financial graphs in this Sports Therapy 3 Way Financial Model help measure the company's financial health showing the operating cash flows' analysis, return on investment, debt to equity ratio, liquidity ratios, and other relevant financial information. Business owners can use these operational performance graphs both for internal and external purposes.
In particular, they can use these graphs to assess the company's overall financial performance or for the assessment of the project's financial feasibility. Such an approach will improve the financial management efficiency of the company. Business owners can also use these charts and graphs for presentations for potential investors and bankers. The operational performance graphs have all the necessary pre-built formulas, and they are fully formatted. So, the users can just print out them and bring them to the meeting with investors.
Cap Table
A capitalization table or the cap table is an essential financial tool for start-up companies. A cap table in our Sports Therapy Financial Projection Model Template has four rounds of raising funding. This approach will help users anticipate the company's ownership stakes by its shareholders, which will lead to dilution of existing shares. A cap table considers equity shares, preferred shares, share options, employee stock options, convertible bonds, and others.
Financial Statements
With our Financial Projection Template, you can easily create a profit and loss pro forma, a Balance Sheet, and a cash flow statement projection for your company. You can choose these statements' format and make any financial statement with a monthly or annual breakdown, or for five years.
Top Revenue
When the company's management starts to make a Financial Projection Template, revenue is the most crucial component in the Financial Projection Template Excel. Revenue is one of the main drivers of the enterprise's value in the Three Statement Financial Model. That is why financial analysts must pay special attention to planning and devising the best strategy to approach modeling future revenue streams.
Revenue forecasts should also have assumptions about the growth rate based on historical financial data. Users can find all the components of wise financial planning of the revenue streams in our Sports Therapy Financial Projection Model.
Liquidity KPIs
Working Capital. The working capital financial metric reflects the money you need for short-term operations. Working capital shows the difference between current assets and current liabilities.
File types:
Excel – Single-User: .xlsx
Excel – Multi-User: .xlsx
Free Demo – .xlsx