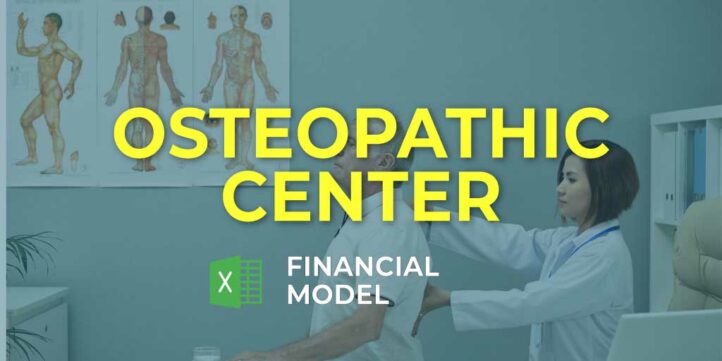 Financial Model, Gyms & Fitness Centers, Health Care, Wellness
5-year financial projections, Business Valuation, Financial Model, Financial Modeling, Financial Projection, Financial Projections, Free Financial Model Templates, Pro-Forma, Startup Financial Models, Three Statement Model | Three Financial Statements
NOTE: Single-User pertains to a limited Single User License where the template can only be used by one single user; while Multi-User is a license for users sharing the template with up to 20 members. Please refer to Terms of Use and License and Permitted Use for clarification.
OSTEOPATHIC CENTER FINANCE PROJECTION KEY FEATURES
Video tutorial:
Simple and Incredibly Practical
Simple-to-use yet very sophisticated Osteopathic Center 3 Way Forecast. Whatever size and stage of development your business is, with minimal planning experience and very basic knowledge of Excel you can get complete and reliable results.
Predict the Influence of Upcoming Changes
Does your company plan to purchase new equipment or to launch a new product? Cash Flow Statement enable you to obtain a complete picture of the effect that specific changes will have on your Cash Flow Forecast. When planning your finances in the Cash Flow Pro Forma, you will forecast cash inflows and outflows based on future invoices, bills due, and payroll. You can then create multiple 'what if' scenarios, such as buying new equipment to choose the best way for you. Forecasting shows you how the upcoming changes will affect your cash balance.
Identify cash gaps and surpluses before they happen.
Forecasting your future cash balance helps you see well in advance when you may have a cash deficit that could hurt your business. Startup Cash Flow Projection will give you enough time to take action to prevent a crisis. It will enable you to access better loan rates or speed up incoming payment to bridge the gap. On the other side, if you know ahead of time that the large lump of cash will lay in your bank account within the next three months. In this case, you might need to explore options to reinvest it in your business to drive growth.
We do the math
Excel Pro Forma Template has all the required features ready with no formula writing, no formatting, no programming, no charting, and no expensive external consultants! Concentrate on the task of planning rather than programming.
Simple and Incredibly Practical
Simple-to-use yet very sophisticated Osteopathic Center Pro Forma Budget tool. Whatever size and stage of development your business is, with minimal planning experience and very basic knowledge of Excel you can get complete and reliable results. Additionally, you will receive uncompromised after-sales service and access to valuable tutorial videos and blog posts.
Simple-to-use
A very sophisticated Osteopathic Center Financial Model Excel Spreadsheet, whatever size and stage of development your business is. Minimal previous planning experience and very basic knowledge of Excel is required: however, fully sufficient to get quick and reliable results.
REPORTS and INPUTS
Operational KPIs
Our Osteopathic Center 3 Way Forecast Excel Template has various operational performance graphs that will help business owners manage their business' finances and measure their overall performance. These operational performance graphs also help in making wise business decisions that consider the company's financial capability.
The financial graphs in this Osteopathic Center Budget Spreadsheet help measure the company's financial health showing the operating cash flows' analysis, return on investment, debt to equity ratio, liquidity ratios, and other relevant financial information. Business owners can use these operational performance graphs both for internal and external purposes.
In particular, they can use these graphs to assess the company's overall financial performance or for the assessment of the project's financial feasibility. Such an approach will improve the financial management efficiency of the company. Business owners can also use these charts and graphs for the presentations for potential investors and bankers. The operational performance graphs have all the necessary pre-built formulas, and they are fully formatted. So, the users can just print out them and bring for the meeting with investors.
All in One Place
This Osteopathic Center Cashflow Projection is key for investors. You will need a Financial Projection Model to validate how much money you need to start-up with and how much your investor can make on this investment. Remember that investors are not tolerant to start-ups that do not have a business plan or a 3 Way Forecast.
Burn and Runway
This Osteopathic Center Pro Forma Template Excel automatically calculates the cash burn rate based on the inputs from other spreadsheets, in particular, from the cash flow projection.
Financial Statements
With our Financial Model In Excel, you can easily create an forecasted income statement, a Balance Sheet, and a cash flow statement forecast for your company. You can choose these statements' format and make any financial statement with a monthly or annual breakdown, or for five years.
Break Even
Break Even Point Excel in economics, business, and cost accounting helps calculate the point of time in which the company's total cost and total revenue are expected to become equal. Companies use a breakeven analysis to determine the number of product units they need to sell or revenue needed to cover total (fixed and variable) costs.
This Osteopathic Center Budget Spreadsheet will also help determine the sales prices for the company's products. Sales cost per unit less variable cost per unit shows the contribution margin and the contribution margin impacts company's profitability.
CAPEX
This Financial Model In Excel Template has a template for the automatic calculation of capital requirements and funding based on an implied cash flow waterfall (different equity and debt tranches with alternative funding priorities).
Top Expenses
The Top expenses tab of the Osteopathic Center Five Year Financial Projection Template reflects your company's annual expenses, both total and grouped by four categories.
This Excel Financial Model Template provides an overview of annual expenses on customer acquisition, COSS placeholders, wages & salaries, fixed and variable expenses, and all other expenses.
File types:
Excel – Single-User: .xlsx
Excel – Multi-User: .xlsx
Free Demo – .xlsx