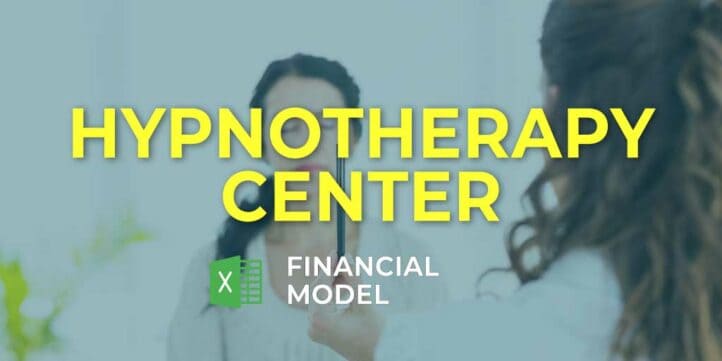 Financial Model, Gyms & Fitness Centers, Health Care, Wellness
5-year financial projections, Business Valuation, Financial Model, Financial Modeling, Financial Projection, Financial Projections, Free Financial Model Templates, Pro-Forma, Startup Financial Models, Three Statement Model | Three Financial Statements
NOTE: Single-User pertains to a limited Single User License where the template can only be used by one single user; while Multi-User is a license for users sharing the template with up to 20 members. Please refer to Terms of Use and License and Permitted Use for clarification.
HYPNOTHERAPY CENTER PRO FORMA KEY FEATURES
Video tutorial:
Confidence in the future
Using our financial model, you can effectively plan, prevent risks, manage stocks and Cash Flow Statement Proforma and foresee your prospects for the next 5 years.
Print-ready Reports
Solid package of print-ready reports, including a p&l proforma, projected cash flow statement, a balance sheet, and a complete set of financial ratios.
It is part of the reports set you need.
It doesn't matter you are worried about cash or not, setting up, and managing a Hypnotherapy Center Three Statement Financial Model Template should be a cornerstone of your reporting set. It's the main report of your business that must have in place to grow sustainably. Before you rush into rent more office space or making a new hire, you should always run a Projected Cash Flow Statement scenario. You can model how that action would impact your cash balance in the nearest future. Knowing whether or not plans are possible is crucial to minimizing risk.
Simple and Incredibly Practical
Simple-to-use yet very sophisticated Hypnotherapy Center Financial Projection Model Template. Whatever size and stage of development your business is, with minimal planning experience and very basic knowledge of Excel you can get complete and reliable results.
Build your plan and pitch for funding
Impress bankers and investors with a proven, solid hypnotherapy center financial model that impresses every time.
Get a robust, powerful financial model which is fully expandable
This well-tested, robust and powerful Hypnotherapy Center Finance Projection is your solid foundation to plan hypnotherapy center business model. Advanced users are free to expand and tailor all sheets as desired, to handle specific requirements or to get into greater detail.
REPORTS and INPUTS
Costs
Start-up costs are an essential part of any Financial Model Excel. They begin to accrue before actual operations start, so it is crucial to monitor them early to avoid overspendings and underfunding. Our Hypnotherapy Center Financial Projection Template has the proforma for start-up costs that show both funding and expenses. You can use this proforma to monitor your expenses and create cost budgets.
Liquidity KPIs
Current Ratio. The current ratio is a liquidity ratio that helps users measure a company's ability to meet short-term obligations that should be paid within a year. This financial metric tells investors how a company can maximize the current assets on its balance sheet to cover its current debts.
Performance KPIs
Return on assets. The return on assets financial metric can be calculated based on the information from two main financial statements: Balance Sheet and proforma income statement. Return on assets measures the accomplishment of earnings to the assets, i.e., the amount of money used to get those earnings.
Financial KPIs
Key performance indicators (KPIs) in the Pro Forma are crucial for both the company owner and for an investor. With the help of these metrics, you track your company's financial performance and assess the efficiency of business models and cost structures. You can use them to make you and your co-founders laser-focused on the targets you set.
Profitability KPIs
EBITDA. Earnings before interest, tax, depreciation, and amortization (EBITDA) measures a company's operating performance based on the Income Statement figures. It is calculated by deduction from the earnings such expenses as interest, taxes, depreciation, and amortization. The formula is: EBITDA = Revenue – Expenses (excluding interest, taxes, depreciation, and amortization).
Break Even
Break Even Excel studies the volume of sales or units the company needs to break even to cover its variable and fixed costs. This Hypnotherapy Center Financial Model Excel Template helps companies determine the period when it is supposed to become profitable.
The calculation of the break-even point helps financial specialists in several ways. First of all, it shows the company's owners if this type of business is worthy of starting up. It also helps the company's managers determine the price for its products or services that will help cover all company's costs, both fixed and variable.
Sources and Uses
The statement of the sources and uses of cash gives users a summary of where capital will come from (the ""Sources"") and how this capital will be spent (the ""Uses""). The statement is structured in the way that the total amounts of the sources and uses accounts should equal each other.
The sources and uses statement is critical for the situations when the company considers recapitalization, restructuring, or mergers & acquisitions (M&A) procedures.
File types:
Excel – Single-User: .xlsx
Excel – Multi-User: .xlsx
Free Demo – .xlsx