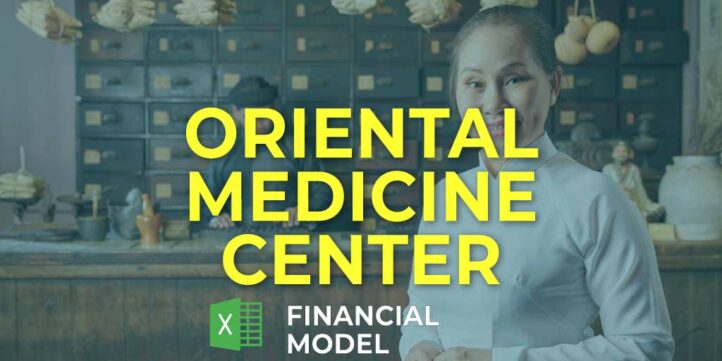 Financial Model, Gyms & Fitness Centers, Health Care, Wellness
5-year financial projections, Business Valuation, Financial Model, Financial Modeling, Financial Projection, Financial Projections, Free Financial Model Templates, Pro-Forma, Startup Financial Models, Three Statement Model | Three Financial Statements
NOTE: Single-User pertains to a limited Single User License where the template can only be used by one single user; while Multi-User is a license for users sharing the template with up to 20 members. Please refer to Terms of Use and License and Permitted Use for clarification.
ORIENTAL MEDICINE CENTER FINANCIAL PROJECTION KEY FEATURES
Video tutorial:
We do the math
Pro Forma Template has all the required features ready with no formula writing, no formatting, no programming, no charting, and no expensive external consultants! Concentrate on the task of planning rather than programming.
Identify potential shortfalls in cash balances in advance.
The Oriental Medicine Center 3 Way Forecast Model works like an 'early warning system.' It is, by far, the most significant reason for a Projected Cash Flow Statement Format.
Predict the Influence of Upcoming Changes
Does your company plan to purchase new equipment or to launch a new product? Cash Flow Forecast enable you to obtain a complete picture of the effect that specific changes will have on your Cash Flow Statement Proforma. When planning your finances in the Cash Flow Statement Proforma, you will forecast cash inflows and outflows based on future invoices, bills due, and payroll. You can then create multiple 'what if' scenarios, such as buying new equipment to choose the best way for you. Forecasting shows you how the upcoming changes will affect your cash balance.
It is part of the reports set you need.
It doesn't matter you are worried about cash or not, setting up, and managing a Oriental Medicine Center Financial Projection should be a cornerstone of your reporting set. It's the main report of your business that must have in place to grow sustainably. Before you rush into rent more office space or making a new hire, you should always run a Cash Flow Forecast scenario. You can model how that action would impact your cash balance in the nearest future. Knowing whether or not plans are possible is crucial to minimizing risk.
Simple and Incredibly Practical
Simple-to-use yet very sophisticated Oriental Medicine Center Excel Financial Model Template tool. Whatever size and stage of development your business is, with minimal planning experience and very basic knowledge of Excel you can get complete and reliable results. Additionally, you will receive uncompromised after-sales service and access to valuable tutorial videos and blog posts.
Convince investors and lenders
Enhance your pitches and impress potential financiers with a Financial Projection Template delivering the right information and expected financial and operational metrics. Facilitate your negotiations with investors for successful funding. Raise money more quickly and refocus on your core business.
REPORTS and INPUTS
Cash Flow KPIs
Operating cash flow. Operating cash flow calculation shows how much cash the company generates from the business operations. This calculation does not include secondary sources of revenue, like interest or investments.
Liquidity KPIs
Accounts payable turnover (APT). The accounts payable turnover ratio (APT) is a short-term liquidity metric that helps to quantify the rate at which a company pays off its suppliers. Accounts payable turnover shows how many times a company pays off its accounts payable within a certain period.
This financial metric is a short-term debt of a company, and the accounts payable turnover ratio shows how efficiently a company pays its debts.
Top Expenses
This Oriental Medicine Center Pro Forma Template has a Top expenses tab that displays your company's four most significant expense categories and the rest of the expenses as the 'other'.
Break Even
The break even analysis (BEA) is a useful financial tool that helps companies study the relationship between fixed and variable costs and revenue. This analysis calculates the break-even point (BEP), indicating when an investment in the start-up will generate a positive return.
Our Oriental Medicine Center 3 Way Forecast represents the break even analysis graphically and as a mathematical calculation. It calculates the required sales volume at a certain sales price that will cover its overall costs.
Burn and Runway
This Oriental Medicine Center 3 Way Forecast automatically calculates the cash burn rate based on the inputs from other spreadsheets, in particular, from the cash flow forecast.
CAPEX
This Oriental Medicine Center Excel Pro Forma consist a CapEx calculation with pre-built formulas helps users calculate the volume of capital expenditures using numbers in the p&l proforma and balance sheet.
Cap Table
The capitalization table helps business owners to calculate shareholder's ownership dilution. The Cap table in our Oriental Medicine Center Financial Projection Model Template has four rounds of funding, and users can apply all of them or one or two rounds for their financial projections.
File types:
Excel – Single-User: .xlsx
Excel – Multi-User: .xlsx
Free Demo – .xlsx