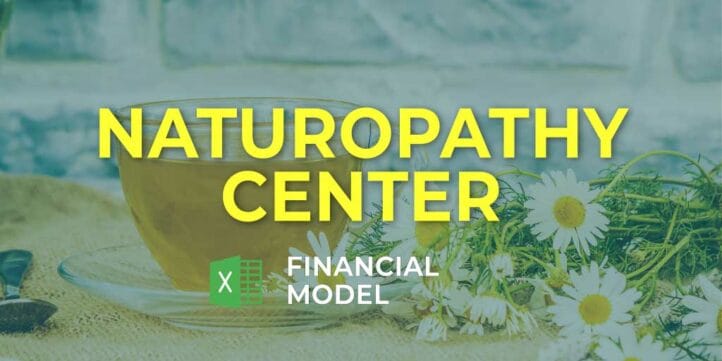 Financial Model, Gyms & Fitness Centers, Health Care, Wellness
5-year financial projections, Business Valuation, Financial Model, Financial Modeling, Financial Projection, Financial Projections, Free Financial Model Templates, Pro-Forma, Startup Financial Models, Three Statement Model | Three Financial Statements
NOTE: Single-User pertains to a limited Single User License where the template can only be used by one single user; while Multi-User is a license for users sharing the template with up to 20 members. Please refer to Terms of Use and License and Permitted Use for clarification.
NATUROPATHY CENTER FINANCIAL MODEL EXCEL SPREADSHEET KEY FEATURES
Video tutorial:
Save Time and Money
Naturopathy Center 3 Way Financial Model Template allows you to start planning with minimum fuss and maximum of help. No writing formulas, no formatting, no programming, no charting, and no expensive external consultants. Plan the growth of your business instead of fiddling around with expensive techy things.
Identify potential shortfalls in cash balances in advance.
The Naturopathy Center Financial Projection Template Excel works like an 'early warning system.' It is, by far, the most significant reason for a Cash Flow Statement Proforma.
Saves you time
Three Statement Financial Model allows you to spend less time on finances and more time on your products, customers and business development
We do the math
Excel Pro Forma has all the features above ready with no formula writing, no formatting, no programming, no charting, and no expensive external consultants!
Get a Robust, Powerful and Flexible Financial Model
This well-tested, robust and powerful Naturopathy Center Pro Forma is your solid foundation to plan a business model. Advanced users are free to expand and tailor all sheets as desired, to handle specific requirements or to get into greater detail.
External stakeholders, such as banks, may require a regular forecast.
If the business has a bank loan, the bank will ask for a Naturopathy Center Financial Projection Model Template regularly.
REPORTS and INPUTS
Performance KPIs
Return on equity. The return on equity financial metric can be calculated based on the information both from the Balance Sheet and pro forma p&l statement. It measures the correspondence of earnings to the equity, i.e., the amount of money used to get profits.
Loan opt-in
Our Naturopathy Center Pro Forma has a loan amortization schedule that will help users track everything related to their loans. You can find this template in the 'Capital' tab.
The loan amortization schedule has proformas with pre-built formulas for internal calculations of the loans, interest, and equity.
Benchmarks
Our Financial Model Excel has the proforma for industry benchmark analysis. Industry benchmarks, including the financial benchmarks, show users the comparison of performance indicators, e.g., financial indicators, with similar performance indicators of the other companies in the same industry.
Dashboard
Our Naturopathy Center Financial Model Excel Spreadsheet has an integrated all-in-one dashboard. This dashboard consists of projected cash flow statement, Balance Sheet, and statement of cash flows, and users can perform the monthly or annual breakdown for these statements. Users can also obtain information from the dashboard, both in the form of figures and charts.
Profitability KPIs
EBITDA. Earnings before interest, tax, depreciation, and amortization (EBITDA) is the primary measure of a company's operating performance.
Financial KPIs
With the help of the financial key performance indicators (KPIs), you can track your company's performance and improve its financial health. This Naturopathy Center P&L Projection allows showing the key performance indicators in the form of charts.
Operational KPIs
Our Naturopathy Center 3 Way Forecast has various operational performance graphs that will help business owners manage their business' finances and measure their overall performance. These operational performance graphs also help in making wise business decisions that consider the company's financial capability.
The financial graphs in this Naturopathy Center Three Way Financial Model help measure the company's financial health showing the operating cash flows' analysis, return on investment, debt to equity ratio, liquidity ratios, and other relevant financial information. Business owners can use these operational performance graphs both for internal and external purposes.
In particular, they can use these graphs to assess the company's overall financial performance or for the assessment of the project's financial feasibility. Such an approach will improve the financial management efficiency of the company. Business owners can also use these charts and graphs for the presentations for potential investors and bankers. The operational performance graphs have all the necessary pre-built formulas, and they are fully formatted. So, the users can just print out them and bring for the meeting with investors.
File types:
Excel – Single-User: .xlsx
Excel – Multi-User: .xlsx
Free Demo – .xlsx