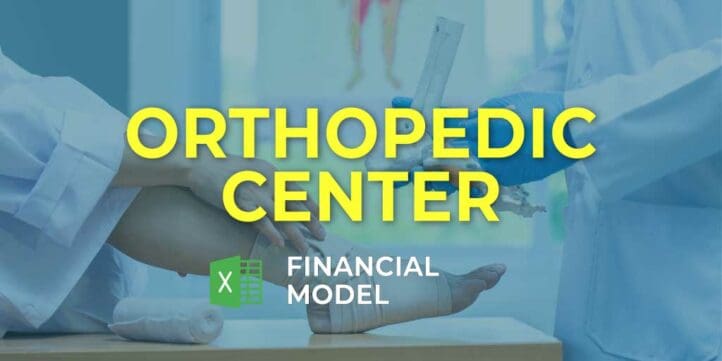 Financial Model, Gyms & Fitness Centers, Health Care, Wellness
5-year financial projections, Business Valuation, Financial Model, Financial Modeling, Financial Projection, Financial Projections, Free Financial Model Templates, Pro-Forma, Startup Financial Models, Three Statement Model | Three Financial Statements
NOTE: Single-User pertains to a limited Single User License where the template can only be used by one single user; while Multi-User is a license for users sharing the template with up to 20 members. Please refer to Terms of Use and License and Permitted Use for clarification.
ORTHOPEDIC CENTER CASH FLOW PROFORMA KEY FEATURES
Video tutorial:
Manage accounts receivable.
By creating a statement of cash flows that takes invoices and bills into account, you'll be more easily able to identify who is systematically paying late. You could even go on to model different payment dates on overdue invoices to see the real effect of late payments on your cash flow.
Save time and money
Via Financial Projection Model you can without effort and special education get all the necessary calculations and you will not need to spend money on expensive financial consultants. Your task is building a strategy, evolution, and creativity, and we have already done the routine calculations instead of you.
Generate growth inspiration
By running various scenarios and looking at the effects they could have on your cash balance, you will begin to see which options are best for your business. Ones that are possible, and what is involved in making them work. Organic growth isn't the only option – there are growing funding options becoming available, and Cash Flow Forecast could be a way of looking at the impact an injection of cash could have on your business and its growth plans.
Saves you time
Financial Projection Model Excel allows you to spend less time on finances and more time on your products, customers and business development
Spot problems with customer payments
Preparing the Cash Flow Projection encourages the business to look at how quickly customers are paying their debts. Identify unpaid invoices and take necessary actions to make them pay.
Build your plan and pitch for funding
Impress bankers and investors with a proven, solid orthopedic center financial model that impresses every time.
REPORTS and INPUTS
Cash Flow KPIs
Cash balance. The cash balance shows the total amount of money in a financial account of the company. Any company needs to hold in reserve enough amount of cash to meet current obligations.
Dashboard
Our Orthopedic Center 3 Way Forecast Model has an integrated all-in-one dashboard. This dashboard consists of cash flow statement for 5 years, Balance Sheet, and cash flow statement projection, and users can perform the monthly or annual breakdown for these statements. Users can also obtain information from the dashboard, both in the form of figures and charts.
Financial Statements
Our Orthopedic Center Pro Forma Template has a pre-built integrated financial summary that contains all the financial information from other spreadsheets, including the primary financial statements: Balance Sheet, Statement of financial position, and startup cash flow projection. Our specialists have already formatted this financial summary for your pitch deck.
Burn and Runway
Our Orthopedic Center 3 Way Financial Model automatically creates cash runway and cash burn analysis based on the forecasted revenues and expenses that, in their turn, show net loss, net profit, cash on hand, and break even analysis. You can also forecast funding requirements using a set of parameters around funding (e.g., equity, debt, grants) and expected runway to raise (for example, 18 months of forecasted expenses).
Benchmarks
This Excel Financial Model Template has a tab for financial benchmarking study. This study involves a financial analysis performance and comparing the company's results with other companies' financial indicators in the industry. Conduction of the financial benchmarking study helps users assess a company's overall competitiveness, efficiency, and productivity.
Financial KPIs
In the Financial Projection you can visually track your key financial indicators (KPIs) for 24 months and up to five years.
The model all KPIs you might need for your company:
– EBITDA/EBIT shows your company's operational performance;
– CASH FLOWS show your company's inflows and outflows;
– CASH BALANCE this is the forecast of cash in hand you will have.
Cap Table
The Excel Pro Forma Template and its Capitalization table (or Cap table) summarizes your investors' information, their share in the company, and how much they have paid for these shares.
File types:
Excel – Single-User: .xlsx
Excel – Multi-User: .xlsx
Free Demo – .xlsx