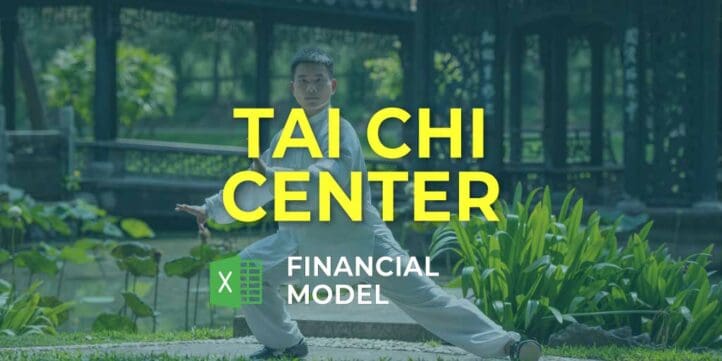 Financial Model, Gyms & Fitness Centers, Health Care, Sports Classes, Wellness
5-year financial projections, ARPU, Business Valuation, Financial Model, Financial Modeling, Financial Projection, Financial Projections, Free Financial Model Templates, Pro-Forma, Startup Financial Models, Three Statement Model | Three Financial Statements
NOTE: Single-User pertains to a limited Single User License where the template can only be used by one single user; while Multi-User is a license for users sharing the template with up to 20 members. Please refer to Terms of Use and License and Permitted Use for clarification.
TAI CHI CENTER FIVE YEAR FINANCIAL PROJECTION TEMPLATE KEY FEATURES
Video tutorial:
Get it Right the First Time
Funding is a binary event: either you succeed or you fail. If you fail, most investors won't give you a second chance. Learn about the pros and cons with Tai Chi Center Cash Flow Proforma.
Convince investors and lenders
Enhance your pitches and impress potential financiers with a Budget Spreadsheet delivering the right information and expected financial and operational metrics. Facilitate your negotiations with investors for successful funding. Raise money more quickly and refocus on your core business.
Saves you time
Excel Financial Model allows you to spend less time on finances and more time on your products, customers and business development
Graphical visualization in a convenient dashboard all in one
All necessary reports and calculations, including variable data for your easement, are displayed on a convenient Cash Flow Proforma dashboard tab. You do not need to move between sheets to compare important data – everything is visible immediately.
Easy to follow
Clear and transparent Tai Chi Center Pro Forma structure (15+ separate tabs, each focusing on a specific planning category, colour coded => input, calculation and report sheets).
Save time and money
Via Financial Projection Model you can without effort and special education get all the necessary calculations and you will not need to spend money on expensive financial consultants. Your task is building a strategy, evolution, and creativity, and we have already done the routine calculations instead of you.
REPORTS and INPUTS
Financial Statements
Our Tai Chi Center Excel Pro Forma has pre-built consolidated financial statements: projected income statement, Balance Sheet, and projected cash flow statement. These financial statements can be presented on a monthly, quarterly, and annual basis.
Users can also import existing financial statements and reports from Quickbooks, Xero, Freshbooks, and other accounting software to create rolling forecasts and to make actuals vs. forecasts comparison.
Financial KPIs
In the P&L Projection you can visually track key financial indicators over the five years period as well as 24 months period.
– EBITDA/EBIT shows your company's operational performance
– CASH FLOWS shows your company's inflows and outflows
– CASH BALANCE this is the forecast of cash in hand you will have.
Burn and Runway
Our Tai Chi Center Finance Projection automatically creates cash runway and cash burn analysis based on the forecasted revenues and expenses that, in their turn, show net loss, net profit, cash on hand, and break even point analysis. You can also forecast funding requirements using a set of parameters around funding (e.g., equity, debt, grants) and expected runway to raise (for example, 18 months of forecasted expenses).
Sources and Uses
The sources and uses statement in this Tai Chi Center 3 Way Financial Model describes all of the company's funding sources and the ways it spends these funds.
Top Expenses
It is very important for a start-up and existing company to monitor, plan, and manage its costs and expenses to maintain a good profitability level.
For this purpose, it is necessary to analyze the highest costs and always work on their optimization. In our Pro Forma we have created a Top expense report helps users with this task. It summarizes the four biggest expense categories and the rest of the expenses as the 'other', so the users can easily monitor these expenses and track the tendencies related to their increase or decrease from year to year.
Top Revenue
The Top revenue tab in the P&L Projection shows off the financial information regarding each of your offerings. In particular, with the help of this Tai Chi Center 3 Way Forecast Excel Template, you can obtain an annual breakdown of your revenue streams, including the revenue depth and revenue bridge.
Dashboard
In this Financial Projection Model Template, users will find a Dashboard with core financial metrics relevant to their business. This financial dashboard is a snapshot of all critical financial metrics at a particular point in time. In particular, on this dashboard, you will see your core financials, such as revenue breakdown by years, cash flow statement forecast, profitability forecasts, and cumulative cash flows.
File types:
Excel – Single-User: .xlsx
Excel – Multi-User: .xlsx
Free Demo – .xlsx