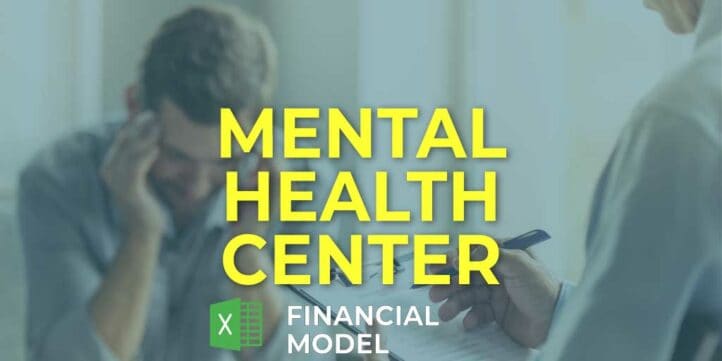 Financial Model, Gyms & Fitness Centers, Health Care, Wellness
5-year financial projections, Business Valuation, Financial Model, Financial Modeling, Financial Projection, Financial Projections, Free Financial Model Templates, Pro-Forma, Startup Financial Models, Three Statement Model | Three Financial Statements
NOTE: Single-User pertains to a limited Single User License where the template can only be used by one single user; while Multi-User is a license for users sharing the template with up to 20 members. Please refer to Terms of Use and License and Permitted Use for clarification.
MENTAL HEALTH CENTER 3 WAY FINANCIAL MODEL TEMPLATE KEY FEATURES
Video tutorial:
Easy to follow
Clear and transparent Mental Health Center Finance Projection structure (15+ separate tabs, each focusing on a specific planning category, colour coded => input, calculation and report sheets).
All necessary reports
When creating a Mental Health Center Cash Flow Proforma, you will not need to independently prepare financial reports and study the requirements for them. Our Excel template contains all the necessary reports and calculations that correspond with the lenders demand.
Currency for inputs and denomination
In 3 Way Financial Model Template define any currency code or symbol and preferred denomination (e.g. 000s) to reflect your preferences.
Simple-to-use
A very sophisticated Mental Health Center Three Statement Financial Model Template, whatever size and stage of development your business is. Minimal previous planning experience and very basic knowledge of Excel is required: however, fully sufficient to get quick and reliable results.
Saves you time
Financial Model allows you to spend less time on finances and more time on your products, customers and business development
We do the math
3 Way Financial Model Template has all the required features ready with no formula writing, no formatting, no programming, no charting, and no expensive external consultants! Concentrate on the task of planning rather than programming.
REPORTS and INPUTS
Burn and Runway
The cash burn rate is one of the tabs your future investors may be very interested in. This metrics shows the time left to a complete cash burn. Also, this template shows a cash burn ratio. The calculation is based on your average annual cash balance and average monthly operating cash outflows.
Cash Flow KPIs
Cash conversion cycle (CCC). The cash conversion cycle (CCC) is a financial metric that expresses the time it takes for a company to convert its resources in the form of inventory and other resources into cash flows. The cash conversion cycle is also called the Net Operating Cycle.
CCC measures how long each dollar that the company inputted is tied up in the production and sales process before it gets converted into cash.
The cash conversion cycl metric accounts for various factors, such as how much time it takes to sell inventory, how much time it takes to collect accounts receivable, and how much time it takes to pay obligations.
Break Even
The break even formula excel (BEA) is a useful financial tool that helps companies study the relationship between fixed and variable costs and revenue. This analysis calculates the break-even point (BEP), indicating when an investment in the start-up will generate a positive return.
Our Mental Health Center Financial Model Excel Spreadsheet represents the break even formula excel graphically and as a mathematical calculation. It calculates the required sales volume at a certain sales price that will cover its overall costs.
Valuation
This 3 Way Forecast Excel Template has a valuation report template that will allow users to perform a Discounted Cash Flow valuation with just a few rate inputs in the Cost of Capital.
Operational KPIs
Financial graphs and charts in this Mental Health Center Cashflow Projection help the stakeholders visually track liquidity, budgets, expenses, cash flow, and many other company financial metrics. These graphs will also help a company's management avoid problems by reflecting its financial data in real-time, with a comprehensive financial information overview.
These operational performance graphs will help the business owners and financial managers ensure the best possible performance and financial health of their company because regular financial analytics procedures and the highest quality of financial data are the company's top priorities.
Our financial graphs will also help the company's financial specialists raise financial issues at the general meetings and deliver understandable financial information to other departments and external stakeholders.
Financial KPIs
A Mental Health Center Financial Projection Template Excel outputs include both company and sector-specific key performance indicators KPIs. These KPIs include profitability metrics, cash flow metrics, and liquidity metrics. It also has KPIs crucial for the attraction of investments.
Cap Table
The Cap table template in our Mental Health Center Startup Financial Model includes four rounds of financing, and it shows how the shares issued to new investors impact the investment income. After each round of financing, the Cap table shows users the ownership structure and the percentage of changes, i.e., the dilution.
File types:
Excel – Single-User: .xlsx
Excel – Multi-User: .xlsx
Free Demo – .xlsx