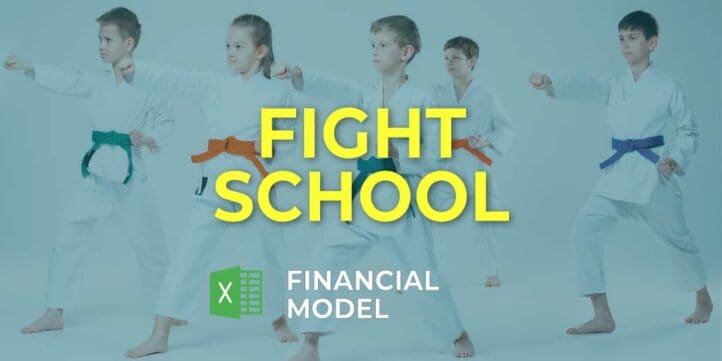 Education, Financial Model, Schools, Sports Classes
5-year financial projections, Business Valuation, Financial Model, Financial Modeling, Financial Projection, Financial Projections, Free Financial Model Templates, Pro-Forma, Startup Financial Models, Three Statement Model | Three Financial Statements
NOTE: Single-User pertains to a limited Single User License where the template can only be used by one single user; while Multi-User is a license for users sharing the template with up to 20 members. Please refer to Terms of Use and License and Permitted Use for clarification.
FIGHT SCHOOL FINANCIAL PROJECTION MODEL EXCEL KEY FEATURES
Video tutorial:
Graphical visualization in a convenient dashboard all in one
All necessary reports and calculations, including variable data for your easement, are displayed on a convenient Financial Projection Model Template dashboard tab. You do not need to move between sheets to compare important data – everything is visible immediately.
Save time and money
Via Profit Loss Projection you can without effort and special education get all the necessary calculations and you will not need to spend money on expensive financial consultants. Your task is building a strategy, evolution, and creativity, and we have already done the routine calculations instead of you.
Identify potential shortfalls in cash balances in advance.
The Fight School Pro Forma Template Excel works like an 'early warning system.' It is, by far, the most significant reason for a Cash Flow Statement By Month.
Avoid cash flow problems.
Cash flow, and especially Startup Cash Flow Statement from operations, is the lifeblood of your business – do not ignore it! The level of cash flow in your company dictates the decisions you can make and how quickly you can grow your business. So you should monitor and manage cash flow regularly. Monthly cash flow forecasting will give you a current view of the cash inflows and outflows within your business and also what the next period looks like. Regular Cash Flow Pro Forma forecasting can highlight where cash gaps will be in the future and where there could be improvements made. Most importantly, a Projected Cash Flow Statement will give you a good idea of the health of your business cash flow at a glance. Finding potential cash flow gaps ahead of time can save you and your business both time and money. You can make decisions and take actions before things get too bad, ensuring your Statement Of Cash Flows is maintained, based on your forecasts.
Convenient, All-In-One Dashboard
Includes all required forecasting reports, including assumptions, statement of profit and loss proforma, cash flow projection, balance sheets, performance reviews and summaries for months and years (incl. numerous graphs and KPIs).
Print-ready Reports
Solid package of print-ready reports, including a projected p&l statement, pro forma cash flow projection, a balance sheet, and a complete set of financial ratios.
REPORTS and INPUTS
Costs
Start-up costs are an essential part of any Cash Flow Proforma. They begin to accrue before actual operations start, so it is crucial to monitor them early to avoid overspendings and underfunding. Our Fight School Financial Projection Template has the proforma for start-up costs that show both funding and expenses. You can use this proforma to monitor your expenses and create cost budgets.
Sources and Uses
The sources and uses statement presented in this Fight School Financial Projection Model show where a company is making money and spending those funds.
Liquidity KPIs
Quick Ratio or Acid-Test Ratio. The quick ratio or acid-test ratio uses a firm's balance sheet data to analyze if it has sufficient short-term assets to cover its short-term liabilities. This metric ignores less liquid assets like such as inventory.
Loan opt-in
A Fight School Pro Forma Template consist a table that provides the stakeholders with the information about the periodic payments for an amortizing loan.
The loan amortization schedule includes information about the loan amount, interest rate, term to maturity, payment periods, and amortization method. In particular, loan amortization methods include the straight line, declining balance, annuity, bullet, balloon, and negative amortization.
Financial Statements
The Fight School Financial Model In Excel Template has pre-built proformas for the balance sheet, the projected income statement, and the cash flow forecast. These proformas allow users to create statements both on a monthly and annual basis.
Users can create detailed financial statements using the financial assumptions inputted in the Financial Model Excel Spreadsheet.
Performance KPIs
Return on equity. The return on equity financial metric can be calculated based on the information both from the Balance Sheet and profit and loss statement. It measures the correspondence of earnings to the equity, i.e., the amount of money used to get profits.
Cap Table
The capitalization table helps business owners to calculate shareholder's ownership dilution. The Cap table in our Fight School 3 Way Forecast has four rounds of funding, and users can apply all of them or one or two rounds for their financial projections.
File types:
Excel – Single-User: .xlsx
Excel – Multi-User: .xlsx
Free Demo – .xlsx