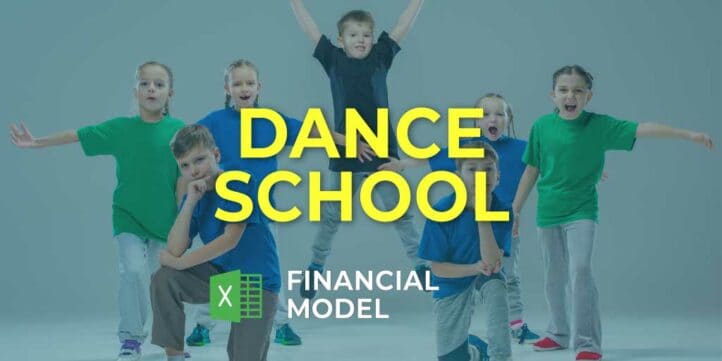 Education, Financial Model, Schools, Sports Classes
5-year financial projections, Business Valuation, Financial Model, Financial Modeling, Financial Projection, Financial Projections, Pro-Forma, Startup Financial Models, Three Statement Model | Three Financial Statements
NOTE: Single-User pertains to a limited Single User License where the template can only be used by one single user; while Multi-User is a license for users sharing the template with up to 20 members. Please refer to Terms of Use and License and Permitted Use for clarification.
DANCE SCHOOL EXCEL FINANCIAL MODEL TEMPLATE KEY FEATURES
Video tutorial:
Easy to follow
Clear and transparent Dance School Excel Financial Model structure (15+ separate tabs, each focusing on a specific planning category, color-coded => input, calculation, and report sheets).
Build your plan and pitch for funding
Impress bankers and investors with a proven, solid dance school financial model that impresses every time.
Graphical visualization in a convenient dashboard all in one
All necessary reports and calculations, including variable data for your easement, are displayed on a convenient Financial Projection Model dashboard tab. You do not need to move between sheets to compare important data – everything is visible immediately.
Get a Robust, Powerful, and Flexible Financial Model
This well-tested, robust and powerful Dance School Budget Spreadsheet is your solid foundation to plan a business model. Advanced users are free to expand and tailor all sheets as desired, to handle specific requirements, or to get into greater detail.
Investors ready
Print-ready (including a projected p&l statement, a Cash Flow Statement By Month, a balance sheet, and a complete set of financial ratios).
Print-ready Reports
Solid package of print-ready reports, including a statement of profit and loss proforma, startup cash flow projection, a balance sheet, and a complete set of financial ratios.
REPORTS and INPUTS
Break-Even
Break Even Excel integrated into this Dance School Financial Model Excel shows the sales volume or amount of units sold required to break even after all costs, including fixed and variable expenses related to the business operations.
The excel break-even formula calculation is a critical business and financial planning tool because financial assumptions involved in these calculations determine the company's ability to bring profits.
Valuation
With our pre-built valuation template in the Dance School P&L Projection, you will receive all the data your investors might need.
The weighted average cost of capital (WACC) will show your stakeholders the minimum return on enterprise funds invested in its activities capital. Free cash flow valuation will show a cash flow available to all investors, including shareholders and creditors. Discounted cash flow will reflect the value of future cash flows in relation to the current time.
Dashboard
The All-in-one dashboard in this Dance School Pro Forma Budget contains all core financial inputs and core start-up metrics critical for the companies' financial analysis. It reflects the financial data from a Balance Sheet, a p&l proforma, and a cash flow statement projection. Moreover, users can obtain financial information in the form of graphs or charts.
Cash Flow KPIs
Operating cash flow. Operating cash flow calculation shows how much cash the company generates from the business operations. This calculation does not include secondary sources of revenue, like interest or investments.
Performance KPIs
Lead-to-client conversion rate. Lead-to-Client Conversion Rate is an essential metric for businesses that attract new clients with the Internet, social media, and other similar channels. Leads do not turn into customers automatically. Company's sale team need to convert these leads into actual customers.
The Lead-to-Conversion business metric is a good measure of the sales team's performance. Moreover, it indicates the quality of your product. If you have a low conversion rate, it may sign that your product is not attractive to the customers.
Financial KPIs
In the Pro Forma Template, you can visually track key financial indicators over the five years period as well as 24 months period.
– EBITDA/EBIT shows your company's operational performance
– CASH FLOWS shows your company's inflows and outflows
– CASH BALANCE this is the forecast of cash in hand you will have.
Costs
Start-up costs are an essential part of any 3 Way Financial Model. They begin to accrue before actual operations start, so it is crucial to monitor them early to avoid overspendings and underfunding. Our Dance School Pro Forma Template has the proforma for start-up costs that show both funding and expenses. You can use this proforma to monitor your expenses and create cost budgets.
File types:
Excel – Single-User: .xlsx
Excel – Multi-User: .xlsx
Free Demo – .xlsx