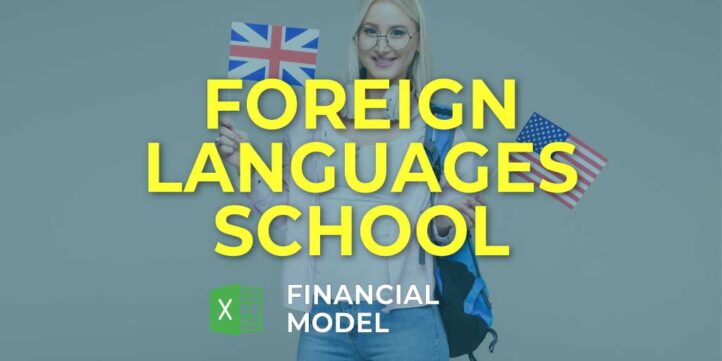 Education, Financial Model, Schools
5-year financial projections, Business Valuation, Financial Model, Financial Modeling, Financial Projection, Financial Projections, Free Financial Model Templates, Pro-Forma, Startup Financial Models, Three Statement Model | Three Financial Statements
NOTE: Single-User pertains to a limited Single User License where the template can only be used by one single user; while Multi-User is a license for users sharing the template with up to 20 members. Please refer to Terms of Use and License and Permitted Use for clarification.
FOREIGN LANGUAGES SCHOOL EXCEL PRO FORMA KEY FEATURES
Video tutorial:
5 years forecast horizon
Generate fully-integrated Foreign Languages School Financial Projection Excel for 5 years (on a monthly basis). Automatic aggregation of annual summaries on outputs tabs.
It is part of the reports set you need.
It doesn't matter you are worried about cash or not, setting up, and managing a Foreign Languages School Five Year Financial Projection Template should be a cornerstone of your reporting set. It's the main report of your business that must have in place to grow sustainably. Before you rush into rent more office space or making a new hire, you should always run a Cash Flow Statement For 5 Years scenario. You can model how that action would impact your cash balance in the nearest future. Knowing whether or not plans are possible is crucial to minimizing risk.
Predict the Influence of Upcoming Changes
Does your company plan to purchase new equipment or to launch a new product? Projected Cash Flow Statement enables you to obtain a complete picture of the effect that specific changes will have on your Projected Cashflow Statement. When planning your finances in the Cash Flow Pro Forma, you will forecast cash inflows and outflows based on future invoices, bills due, and payroll. You can then create multiple 'what if' scenarios, such as buying new equipment to choose the best way for you. Forecasting shows you how the upcoming changes will affect your cash balance.
Save time and money
Via 3 Way Forecast Model you can without effort and special education get all the necessary calculations and you will not need to spend money on expensive financial consultants. Your task is building a strategy, evolution, and creativity, and we have already done the routine calculations instead of you.
Saves you time
Allows you to spend less time on Cash Flow Projection and more time on your products, customers, and business development
Graphical visualization in a convenient dashboard all in one
All necessary reports and calculations, including variable data for your easement, are displayed on a convenient 3 Way Financial Model Template dashboard tab. You do not need to move between sheets to compare important data – everything is visible immediately.
REPORTS and INPUTS
Dashboard
Our 3 Way Financial Model has an all-in-one dashboard. This dashboard is a useful financial planning tool that helps financial professionals create fast, reliable, and transparent financial reports to the management and other company stakeholders.
With this financial dashboard's help, users can assess the company's financial data, drill into financial details, or validate figures fast and easily. Our specialists understand that the company's financial management, especially the start-up's management, is under pressure to deliver fast decisions and results. This all-in-one financial dashboard is an effective financial tool that will help with these tasks.
With this dashboard, you will get data at your fingertips. You will be able to perform financial analysis, assess key performance indicators (KPIs), and other financial information you may need to generate actionable insights and make wise financial decisions.
Break-Even
Break-Even Formula Excel in economics, business, and cost accounting helps calculate the point of time in which the company's total cost and total revenue are expected to become equal. Companies use a break-even analysis to determine the number of product units they need to sell or revenue needed to cover total (fixed and variable) costs.
This Foreign Languages School Financial Projection Model will also help determine the sales prices for the company's products. Sales cost per unit less variable cost per unit shows the contribution margin and the contribution margin impacts company's profitability.
Performance KPIs
Payback period. The cost of acquiring new customers should be compared to the profits that these customers generate. When these two numbers are divided, the result is called a payback period.
Top Expenses
The Top expenses tab of the Foreign Languages School Three Statement Financial Model reflects your company's annual expenses, both total and grouped by four categories.
This Financial Model Excel provides an overview of annual expenses on customer acquisition, COSS placeholders, wages & salaries, fixed and variable expenses, and all other expenses.
Cash Flow KPIs
Operating cash flow. Operating cash flow calculation shows how much cash the company generates from the business operations. This calculation does not include secondary sources of revenue, like interest or investments.
CAPEX
Capex, or capital expenditures, represents the total company's expenditures on purchasing assets in a given period. These expenditures include both assets acquired and built by the company.
Usually, the company's investments, or expenditures, related to these assets are significant. These capital assets provide value to the company over a more extended period than one reporting period. Therefore, the company reflects these CapEX calculations in the Balance Sheet and does not recognize the whole amount of investments in the proforma income statement in one reporting period.
Burn and Runway
This Foreign Languages School Financial Model In Excel automatically calculates the cash burn rate based on the inputs from other spreadsheets, in particular, from the statement of cash flows.
File types:
Excel – Single-User: .xlsx
Excel – Multi-User: .xlsx
Free Demo – .xlsx