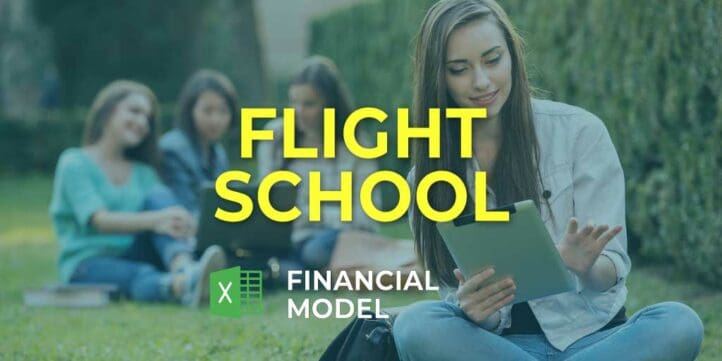 Airlines, Education, Financial Model, Transport
5-year financial projections, Business Valuation, Financial Model, Financial Modeling, Financial Projection, Financial Projections, Pro-Forma, Startup Financial Models, Three Statement Model | Three Financial Statements
NOTE: Single-User pertains to a limited Single User License where the template can only be used by one single user; while Multi-User is a license for users sharing the template with up to 20 members. Please refer to Terms of Use and License and Permitted Use for clarification.
FLIGHT SCHOOL EXCEL PRO FORMA KEY FEATURES
Video tutorial:
Key Metrics Analysis
Creates 5-year Flight School Financial Model, proforma, financial statements, and financial ratios in GAAP or IFRS formats on the fly.
Spot problems with customer payments
Preparing the Cash Flow Statement Forecast encourages the business to look at how quickly customers are paying their debts. Identify unpaid invoices and take necessary actions to make them pay.
Manage surplus cash
Most companies don't have excess cash in the bank. It is a well-known situation. But managing surplus cash for reinvestment in new market opportunities, or debt repayments can be essential to keeping stay in the business. Managers are entirely ready to plan for what to do with the cash surplus if they have the forecast of when and where the business will have surplus cash in the bank account. Startup Cash Flow Statement will provide supplementary guidance on what to do with a cash surplus.
Investors ready
Print-ready (including a profit and loss statement, a Pro Forma Cash Flow Projection, a balance sheet, and a complete set of financial ratios).
Manage accounts receivable.
By creating a cash flow projection that takes invoices and bills into account, you'll be more easily able to identify who is systematically paying late. You could even go on to model different payment dates on overdue invoices to see the real effect of late payments on your cash flow.
Great Value for Money
Use a robust and proven Flight School Financial Projection Model Template based on years of experience at an affordable price. This cash flow proforma template has a one-off payment and absolutely no hidden fees or monthly payments.
REPORTS and INPUTS
Valuation
With our Flight School Financial Model In Excel, you will get proformas for valuation analysis. You will be able to perform a Discounted Cash Flow (DCF) valuation analysis and other valuations you may need.
Liquidity KPIs
Accounts receivable turnover (ART). In the Financial Model In Excel, the accounts receivables turnover ratio (ART) calculates a metric that assesses a company's effectiveness in collecting its receivables. This ratio shows how successful the company is in managing its debts.
All in One Place
This Flight School Pro Forma will give the entrepreneurs financial assumptions regarding costs and income that can be brought together to get the business's full picture.
CAPEX
This Pro Forma Budget has a template for the automatic calculation of capital requirements and funding based on an implied cash flow waterfall (different equity and debt tranches with alternative funding priorities).
Dashboard
This Flight School Pro Forma has an all-in-one dashboard. This tab is a snapshot of a business's start-up metrics at a particular point in time. You can see your core start-up financials, revenue breakdown by years, startup cash flow projection data, profitability forecasts, and cumulative cash flow on this dashboard in the form of charts and graphs.
Operational KPIs
Our Flight School Budget Financial Model has convenient, informative, and easy-to-use operational performance graphs. Here you may visually track your company's key operational performance indicators (KPIs) in the form of charts. These operational performance graphs show the stakeholders the financial information related to the company's liquidity, revenues, expenses, cash flows, and other financial metrics. This financial information in the form of graphs will help a business owner to create presentations for banks and investors with minimum effort.
Sources and Uses
The Five Year Financial Projection Template Sources and Uses (or so-called S&U) statement shows the stakeholders how the company plans to finance its project or overall business activities and where the capital will go.
The Sources and Uses of the cash statement's primary rule are that the funds' sources must balance with the combined uses. This report can have a basic format, or you can extend it and change it in a way that fits best with your company's needs.
In the Sources part of the statement, the business owner should mention the funding sources on a line-by-line basis. Similarly, the Uses section should reflect on a line-by-line basis the company's plan on how to use these funds.
Ideally, the Sources and Uses section of this statement should match, or the Sources section should be bigger.
If the Sources section is bigger than the Uses section, it means that the company has more funds than it needs for the current business activities. In this case, the company may plan an extension of the business or other cash flow distribution ways.
Otherwise, if the Uses section is bigger than the Sources section, it means that the company requires additional equity.
File types:
Excel – Single-User: .xlsx
Excel – Multi-User: .xlsx
Free Demo – .xlsx