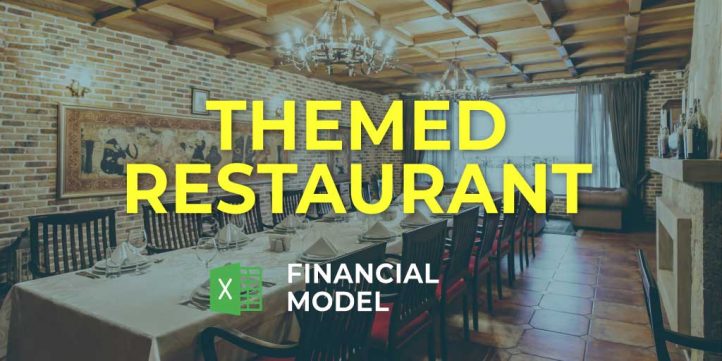 Financial Model, Hospitality, Restaurant
5-year financial projections, Business Valuation, Financial Model, Financial Modeling, Financial Projection, Financial Projections, Pro-Forma, Startup Financial Models, Three Statement Model | Three Financial Statements
NOTE: Single-User pertains to a limited Single User License where the template can only be used by one single user; while Multi-User is a license for users sharing the template with up to 20 members. Please refer to Terms of Use and License and Permitted Use for clarification.
THEMED RESTAURANT 3 WAY FORECAST MODEL KEY FEATURES
Video tutorial:
Great Value for Money
Use a robust and proven Themed Restaurant Cashflow Projection based on years of experience at an affordable price. This three way financial model has a one-off payment and absolutely no hidden fees or monthly payments.
Identify potential shortfalls in cash balances in advance.
The Themed Restaurant 3 Way Forecast works like an 'early warning system.' It is, by far, the most significant reason for a Startup Cash Flow Projection.
Spot problems with customer payments
Preparing the Cash Flow Statement For 5 Years encourages the business to look at how quickly customers are paying their debts. Identify unpaid invoices and take necessary actions to make them pay.
Print-ready Reports
Solid package of print-ready reports, including a pro forma profit and loss, cash flow statement for 5 years, a balance sheet, and a complete set of financial ratios.
Convenient, All-In-One Dashboard
Includes all required forecasting reports, including assumptions, projected income statement, startup cash flow projection, balance sheets, performance reviews and summaries for months and years (incl. numerous graphs and KPIs).
Save Time and Money
Themed Restaurant Pro Forma allows you to start planning with minimum fuss and maximum of help. No writing formulas, no formatting, no programming, no charting, and no expensive external consultants. Plan the growth of your business instead of fiddling around with expensive techy things.
REPORTS and INPUTS
Cap Table
A Cap table is a critical spreadsheet for any start-up company that shows all the company's shares, who owns them, and the investors' prices for these shares. The 3 Way Forecast Excel Template (cap table tab) also reflects each investor's percentage of ownership in the company and its dilution.
Loan opt-in
Our Themed Restaurant Three Way Financial Model has a pre-built feature for automatic loan calculation. This Financial Model Excel includes the fees, interest, and principal payments.
Operational KPIs
Our Themed Restaurant Finance Projection has convenient, informative, and easy-to-use operational performance graphs. Here you may visually track your company's key operational performance indicators (KPIs) in the form of charts. These operational performance graphs show the stakeholders the financial information related to the company's liquidity, revenues, expenses, cash flows, and other financial metrics. This financial information in the form of graphs will help a business owner to create presentations for banks and investors with minimum efforts.
Valuation
Our Themed Restaurant Three Way Financial Model has two integrated valuation methods. It has a discounted cash flow (DCF) and the weighted average cost of capital (WACC) calculations to show a company's forecasted financial performance.
Dashboard
The All-in-one dashboard in this Themed Restaurant Financial Model In Excel contains all core financial inputs and core start-up metrics critical for the companies' financial analysis. It reflects the financial data from a Balance Sheet, an income statement projection, and a cash flow statement projection. Moreover, users can obtain financial information in the form of graphs or charts.
Benchmarks
Financial Model In Excel benchmark tab calculates the company's key performance indicators, either business or financial, and finds an industry-wide average as a comparison. The industry average metrics are then used to determine the relative value for benchmarking analysis.
Financial benchmarks are essential for the financial planning of the companies, especially for start-ups. These studies help companies determine the 'best practice' companies within the industry and compare their own financial results with these best practices. It is a useful financial and strategic management tool.
All in One Place
A well-developed and easy-to-use Pro Forma Template Excel. You do not to be a financial expert to design your start-up Pro Forma Budget. Everything you need is the right set of financial tools, and our Themed Restaurant Cashflow Projection will give you them.
File types:
Excel – Single-User: .xlsx
Excel – Multi-User: .xlsx
Free Demo – .xlsx