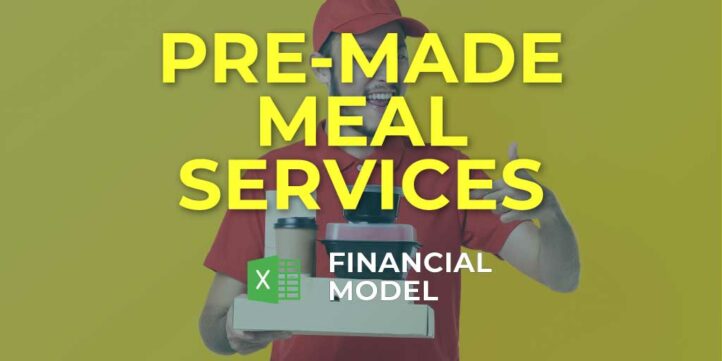 Financial Model, Online Businesses & IT, Retail, SaaS, Service Businesses
5-year financial projections, Business Valuation, Financial Model, Financial Modeling, Financial Projection, Financial Projections, Free Financial Model Templates, Pro-Forma, Startup Financial Models, Three Statement Model | Three Financial Statements
NOTE: Single-User pertains to a limited Single User License where the template can only be used by one single user; while Multi-User is a license for users sharing the template with up to 20 members. Please refer to Terms of Use and License and Permitted Use for clarification.
PRE-MADE MEAL SUBSCRIPTION BOX FINANCIAL PROJECTION KEY FEATURES
Video tutorial:
Update anytime
With Financial Model Excel Template you can easily adjust inputs at the launch stage and throughout the further activities of your store to refine your forecast.
Spot problems with customer payments
Preparing the Startup Cash Flow Projection encourages the business to look at how quickly customers are paying their debts. Identify unpaid invoices and take necessary actions to make them pay.
Great Value for Money
Use a robust and proven Pre-Made Meal Subscription Box Financial Model In Excel based on years of experience at an affordable price. This cash flow proforma template has a one-off payment and absolutely no hidden fees or monthly payments.
Manage surplus cash
Most companies don't have excess cash in the bank. It is a well-known situation. But managing surplus cash for reinvestment in new market opportunities, or debt repayments can be essential to keeping stay in the business. Managers are entirely ready to plan for what to do with the cash surplus if they have the forecast of when and where the business will have surplus cash in the bank account. Cash Flow Statement For 5 Years will provide supplementary guidance on what to do with a cash surplus.
Update anytime
You can easily adjust inputs at the launch stage and throughout the further activities of your business to refine your Pre-Made Meal Subscription Box Financial Projection Model.
It is part of the reports set you need.
It doesn't matter you are worried about cash or not, setting up, and managing a Pre-Made Meal Subscription Box P&L Projection should be a cornerstone of your reporting set. It's the main report of your business that must have in place to grow sustainably. Before you rush into rent more office space or making a new hire, you should always run a Startup Cash Flow Statement scenario. You can model how that action would impact your cash balance in the nearest future. Knowing whether or not plans are possible is crucial to minimizing risk.
REPORTS and INPUTS
Benchmarks
A benchmarking study as the element of the P&L Projection is usually used to evaluate a business's performance by focusing on one or more particular indicators and comparing them with similar indicators of other companies in the industry.
In respect of the financial benchmarking study, these indicators could be profit margins, cost margins, cost per unit, productivity margins, or others. Later the company's performance indicators should be compared to that of other companies within the same industry.
Benchmarking is a useful strategic management tool, which is essential for start-ups. Companies can evaluate any economic, business, or financial metric or process and compare them to the processes of 'best practice' companies within the same field or industry.
Cash Flow KPIs
Cash conversion cycle (CCC). The cash conversion cycle (CCC) is a financial metric that expresses the time it takes for a company to convert its resources in the form of inventory and other resources into cash flows. The cash conversion cycle is also called the Net Operating Cycle.
CCC measures how long each dollar that the company inputted is tied up in the production and sales process before it gets converted into cash.
The cash conversion cycl metric accounts for various factors, such as how much time it takes to sell inventory, how much time it takes to collect accounts receivable, and how much time it takes to pay obligations.
Top Expenses
In the Top expenses section of our Pre-Made Meal Subscription Box Pro Forma Projection, you can track your more significant expenses divided into four categories. The model also has an 'other' category, and you can expand or change this table according to your needs.
You can reflect your company's historical data or make a Financial Model In Excel for the five years.
Cap Table
In our Pre-Made Meal Subscription Box Financial Model In Excel, a Capitalization table, or Cap table is a spreadsheet critical for start-ups that shows the company's ownership structure. It lists your company's shares and options, if any. It also shows the prices your investors have paid for these shares and each investor's percentage of ownership in the company.
Liquidity KPIs
Accounts payable turnover (APT). The accounts payable turnover ratio (APT) is a short-term liquidity metric that helps to quantify the rate at which a company pays off its suppliers. Accounts payable turnover shows how many times a company pays off its accounts payable within a certain period.
This financial metric is a short-term debt of a company, and the accounts payable turnover ratio shows how efficiently a company pays its debts.
Profitability KPIs
EBITDA. Earnings before interest, tax, depreciation, and amortization (EBITDA) is a financial metric that shows a company's profitability. This metric includes both monetary and non-monetary items and, therefore, differs from cash flows. EBITDA shows the potential profitability of leveraged buyouts and is widely used in various industries.
Sources and Uses
The sources and uses of funds proforma in this Pre-Made Meal Subscription Box Pro Forma Projection tell stakeholders the sources where a company obtains its money and how it spends it.
File types:
Excel – Single-User: .xlsx
Excel – Multi-User: .xlsx
Free Demo – .xlsx