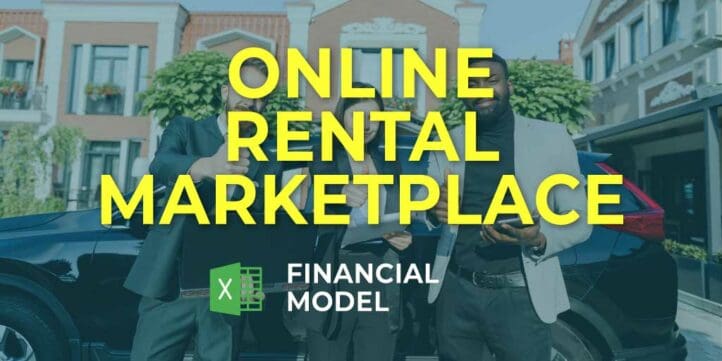 Financial Model, Marketplaces, Online Businesses & IT
5-year financial projections, Business Valuation, Financial Model, Financial Modeling, Financial Projection, Financial Projections, Pro-Forma, Startup Financial Models, Three Statement Model | Three Financial Statements
NOTE: Single-User pertains to a limited Single User License where the template can only be used by one single user; while Multi-User is a license for users sharing the template with up to 20 members. Please refer to Terms of Use and License and Permitted Use for clarification.
ONLINE RENTAL MARKETPLACE FINANCIAL PROJECTION TEMPLATE KEY FEATURES
Integrated Model to convince Investors
Finance Projection includes and connects everything (assumptions, calculations, outputs) and presents it in an investor-friendly, deal-proven way.
Currency for inputs and denomination
In the Five Year Financial Projection Template define any currency code or symbol and preferred denomination (e.g. 000s) to reflect your preferences.
We do the math
Startup Financial Model has all the required features ready with no formula writing, no formatting, no programming, no charting, and no expensive external consultants! Concentrate on the task of planning rather than programming.
Predict the Influence of Upcoming Changes
Does your company plan to purchase new equipment or to launch a new product? Cash Flow Statement By Month enables you to obtain a complete picture of the effect that specific changes will have on your Cash Flow Forecast. When planning your finances in the Cash Flow Pro Forma, you will forecast cash inflows and outflows based on future invoices, bills due, and payroll. You can then create multiple 'what if' scenarios, such as buying new equipment to choose the best way for you. Forecasting shows you how the upcoming changes will affect your cash balance.
Convince investors and lenders
Enhance your pitches and impress potential financiers with a Financial Projection Model Template delivering the right information and expected financial and operational metrics. Facilitate your negotiations with investors for successful funding. Raise money more quickly and refocus on your core business.
Get a robust, powerful financial model which is fully expandable
This well-tested, robust and powerful Online Rental Marketplace 3 Way Forecast Model is your solid foundation to plan an online rental marketplace business model. Advanced users are free to expand and tailor all sheets as desired, to handle specific requirements, or to get into greater detail.
REPORTS and INPUTS
Costs
Start-up costs are an essential part of any Cash Flow Proforma. They begin to accrue before actual operations start, so it is crucial to monitor them early to avoid overspendings and underfunding. Our Online Rental Marketplace Excel Pro Forma has the proforma for start-up costs that show both funding and expenses. You can use this proforma to monitor your expenses and create cost budgets.
Operational KPIs
Our Online Rental Marketplace Financial Projection Model Excel has convenient, informative, and easy-to-use operational performance graphs. Here you may visually track your company's key operational performance indicators (KPIs) in the form of charts. These operational performance graphs show the stakeholders the financial information related to the company's liquidity, revenues, expenses, cash flows, and other financial metrics. This financial information in the form of graphs will help a business owner to create presentations for banks and investors with minimum effort.
Valuation
This Online Rental Marketplace Financial Model Excel Spreadsheet contains a valuation analysis template that will allow users to perform a Discounted Cash Flow valuation (DCF). It will also help users analyze such financial metrics as residual value, replacement costs, market comparables, recent transaction comparables, etc.
Burn and Runway
The cash burn rate is one of the tabs your future investors may be very interested in. This metrics shows the time left to a complete cash burn. Also, this template shows a cash burn ratio. The calculation is based on your average annual cash balance and average monthly operating cash outflows.
Liquidity KPIs
Working Capital. The working capital financial metric reflects the money you need for short-term operations. Working capital shows the difference between current assets and current liabilities.
All in One Place
Our Online Rental Marketplace P&L Projection has all financial reports crucial for start-ups and existing businesses. It has proformas for profit and loss proforma, startup cash flow projection, and balance sheet. It also has templates for performance reviews and summaries on a monthly, quarterly, and annual basis.
Benchmarks
Excel Financial Model benchmark tab calculates the company's key performance indicators, either business or financial, and finds an industry-wide average as a comparison. The industry average metrics are then used to determine the relative value for benchmarking analysis.
Financial benchmarks are essential for the financial planning of companies, especially for start-ups. These studies help companies determine the 'best practice' companies within the industry and compare their own financial results with these best practices. It is a useful financial and strategic management tool.
File types:
Excel – Single-User: .xlsx
Excel – Multi-User: .xlsx
Free Demo – .xlsx