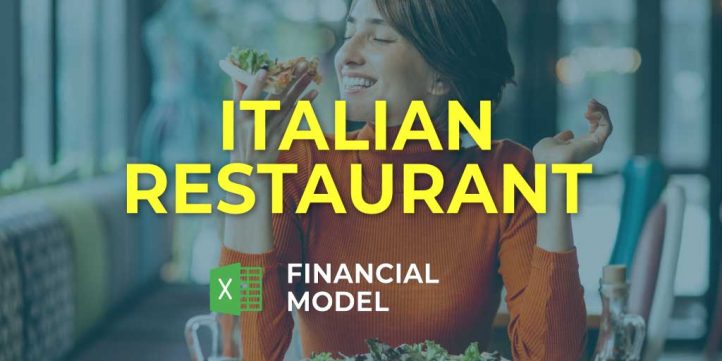 Financial Model, Hospitality, Restaurant
5-year financial projections, Business Valuation, Financial Model, Financial Modeling, Financial Projection, Financial Projections, Pro-Forma, Startup Financial Models, Three Statement Model | Three Financial Statements
NOTE: Single-User pertains to a limited Single User License where the template can only be used by one single user; while Multi-User is a license for users sharing the template with up to 20 members. Please refer to Terms of Use and License and Permitted Use for clarification.
ITALIAN RESTAURANT FINANCE PROJECTION KEY FEATURES
Video tutorial:
Manage surplus cash
Most companies don't have excess cash in the bank. It is a well-known situation. But managing surplus cash for reinvestment in new market opportunities, or debt repayments can be essential to keeping stay in the business. Managers are entirely ready to plan for what to do with the cash surplus if they have the forecast of when and where the business will have surplus cash in the bank account. Pro Forma Cash Flow Projection will provide supplementary guidance on what to do with a cash surplus.
Get Investors to Notice
Most entrepreneurs can't get investors to return their calls. With the Italian Restaurant Cash Flow Proforma, you will secure meetings with potential investors easily.
Get a Robust, Powerful and Flexible Financial Model
This well-tested, robust and powerful Italian Restaurant Budget Financial Model is your solid foundation to plan a business model. Advanced users are free to expand and tailor all sheets as desired, to handle specific requirements or to get into greater detail.
Update anytime
You can easily adjust inputs at the launch stage and throughout the further activities of your business to refine your Italian Restaurant Five Year Financial Projection Template.
Great Value for Money
Use a robust and proven Italian Restaurant Three Statement Financial Model based on years of experience at an affordable price. This financial model has a one-off payment and absolutely no hidden fees or monthly payments.
Predict the Influence of Upcoming Changes
Does your company plan to purchase new equipment or to launch a new product? Cash Flow Statement By Month enable you to obtain a complete picture of the effect that specific changes will have on your Startup Cash Flow Statement. When planning your finances in the Cash Flow Statement, you will forecast cash inflows and outflows based on future invoices, bills due, and payroll. You can then create multiple 'what if' scenarios, such as buying new equipment to choose the best way for you. Forecasting shows you how the upcoming changes will affect your cash balance.
REPORTS and INPUTS
Cash Flow KPIs
Operating cash flow. Operating cash flow calculation shows how much cash the company generates from the business operations. This calculation does not include secondary sources of revenue, like interest or investments.
Operational KPIs
Financial graphs and charts in this Italian Restaurant Cash Flow Format In Excel help the stakeholders visually track liquidity, budgets, expenses, cash flow, and many other company financial metrics. These graphs will also help a company's management avoid problems by reflecting its financial data in real-time, with a comprehensive financial information overview.
These operational performance graphs will help the business owners and financial managers ensure the best possible performance and financial health of their company because regular financial analytics procedures and the highest quality of financial data are the company's top priorities.
Our financial graphs will also help the company's financial specialists raise financial issues at the general meetings and deliver understandable financial information to other departments and external stakeholders.
Cap Table
Our Italian Restaurant Financial Projection Model Templatehas a cap table proforma on a separate Excel spreadsheet. It shows the ownership breakdown of your start-up at different periods. A cap table tells investors how much money they will make if they decide to exit.
Costs
Our Italian Restaurant 3 Way Financial Model has a well-developed methodology for creating a cost budget. You can plan and forecast your costs from operations and other expenses for up to 72 months. The cost budget has a detailed hiring plan while also automatically handling the expenses' accounting treatment. You can set salaries, job positions, and the time of hiring.
Moreover, the model allows users to calculate hiring as the company scales automatically. Pre-built expense forecasting curves enable users to set how an expense changes over time. These pre-built options include % of revenues, % of salaries, % of any revenue category, growth (or decline) rates that stay the same or change over time, ongoing expenses, expenses that periodically reoccur, expenses that regularly change, and many more. Costs can be allocated to key expense areas and labeled for accounting treatment as SG&A, COGS, or CAPEX.
Loan opt-in
A Italian Restaurant Budget Spreadsheet consist a table that provides the stakeholders with the information about the periodic payments for an amortizing loan.
The loan amortization schedule includes information about the loan amount, interest rate, term to maturity, payment periods, and amortization method. In particular, loan amortization methods include the straight line, declining balance, annuity, bullet, balloon, and negative amortization.
All in One Place
Get a sophisticated but easy-to-use Pro Forma that is fully expandable. Our robust and powerful Italian Restaurant Financial Model In Excel Template will be your roadmap for many different business models. If you have financial experience, you can expand and tailor all sheets as desired.
Valuation
With our Italian Restaurant Cash Flow Format In Excel, you will get proformas for valuation analysis. You will be able to perform a Discounted Cash Flow (DCF) valuation analysis and other valuations you may need.
File types:
Excel – Single-User: .xlsx
Excel – Multi-User: .xlsx
Free Demo – .xlsx