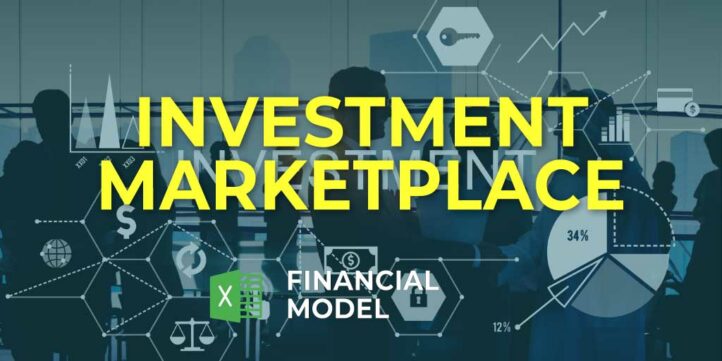 Financial Model, Marketplaces, Online Businesses & IT
5-year financial projections, Business Valuation, Financial Model, Financial Modeling, Financial Projection, Financial Projections, Pro-Forma, Startup Financial Models, Three Statement Model | Three Financial Statements
NOTE: Single-User pertains to a limited Single User License where the template can only be used by one single user; while Multi-User is a license for users sharing the template with up to 20 members. Please refer to Terms of Use and License and Permitted Use for clarification.
INVESTMENT MARKETPLACE THREE WAY FINANCIAL MODEL KEY FEATURES
Easy to follow
Clear and transparent Investment Marketplace Cash Flow Format In Excel structure (15+ separate tabs, each focusing on a specific planning category, color-coded => input, calculation, and report sheets).
Update anytime
You can easily adjust inputs at the launch stage and throughout the further activities of your business to refine your Investment Marketplace 3 Way Forecast.
Save time and money
Via Pro Forma Budget you can without effort and special education get all the necessary calculations and you will not need to spend money on expensive financial consultants. Your task is building a strategy, evolution, and creativity, and we have already done the routine calculations instead of you.
Investors ready
Print-ready (including a p&l proforma, a Startup Cash Flow Projection, a balance sheet, and a complete set of financial ratios).
Get a Robust, Powerful, and Flexible Financial Model
This well-tested, robust and powerful Investment Marketplace Finance Projection is your solid foundation to plan a business model. Advanced users are free to expand and tailor all sheets as desired, to handle specific requirements, or to get into greater detail.
Save Time and Money
Investment Marketplace Excel Pro Forma allows you to start planning with minimum fuss and maximum help. No writing formulas, no formatting, no programming, no charting, and no expensive external consultants. Plan the growth of your business instead of fiddling around with expensive techy things.
REPORTS and INPUTS
Top Revenue
The Top revenue tab in the Cash Flow Format In Excel shows off the financial information regarding each of your offerings. In particular, with the help of this Investment Marketplace 3 Way Forecast, you can obtain an annual breakdown of your revenue streams, including the revenue depth and revenue bridge.
All in One Place
Get a robust and expandable Investment Marketplace Profit Loss Projection. You can say that the Excel Financial Model is robust if it does not break down when you change your assumptions inside the Excel Pro Forma Template. To make our Finance Projection robust and expandable, we have modeled as many scenarios as possible.
We have also foreseen that each business is unique, and users can add, delete, or adjust any financial information in the template.
Sources and Uses
The statement of the sources and uses of cash gives users a summary of where capital will come from (the ""Sources"") and how this capital will be spent (the "Uses"). The statement is structured in the way that the total amounts of the sources and uses accounts should equal each other.
The sources and uses statement are critical for the situations when the company considers recapitalization, restructuring, or mergers & acquisitions (M&A) procedures.
Burn and Runway
Our Investment Marketplace Pro Forma automatically creates cash runway and cash burn analysis based on the forecasted revenues and expenses that, in their turn, show net loss, net profit, cash on hand, and break-even formula excel. You can also forecast funding requirements using a set of parameters around funding (e.g., equity, debt, grants) and expected runway to raise (for example, 18 months of forecasted expenses).
Dashboard
The All-in-one dashboard in this Investment Marketplace Excel Pro Forma Template contains all core financial inputs and core start-up metrics critical for the companies' financial analysis. It reflects the financial data from a Balance Sheet, a profit and loss statement, and a pro forma cash flow projection. Moreover, users can obtain financial information in the form of graphs or charts.
Financial KPIs
Investment Marketplace Financial Model Excel outputs include both company and sector-specific key performance indicators KPIs. These KPIs include profitability metrics, cash flow metrics, and liquidity metrics. It also has KPIs crucial for the attraction of investments.
Benchmarks
3 Way Forecast Excel Template benchmark tab calculates the company's key performance indicators, either business or financial, and finds an industry-wide average as a comparison. The industry average metrics are then used to determine the relative value for benchmarking analysis.
Financial benchmarks are essential for the financial planning of companies, especially for start-ups. These studies help companies determine the 'best practice' companies within the industry and compare their own financial results with these best practices. It is a useful financial and strategic management tool.
File types:
Excel – Single-User: .xlsx
Excel – Multi-User: .xlsx
Free Demo – .xlsx