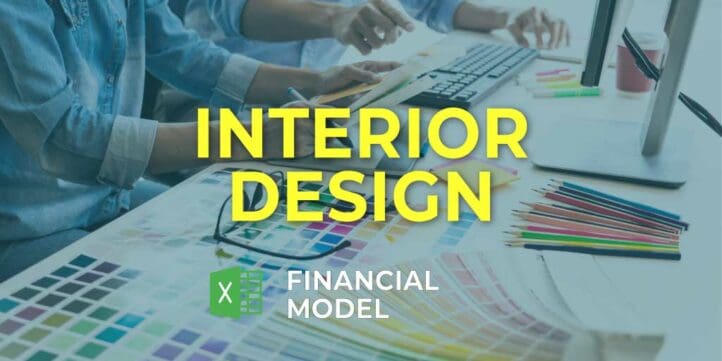 NOTE: Single-User pertains to a limited Single User License where the template can only be used by one single user; while Multi-User is a license for users sharing the template with up to 20 members. Please refer to Terms of Use and License and Permitted Use for clarification.
INTERIOR DESIGN FINANCIAL MODEL KEY FEATURES
Video tutorial:
Gaining trust from stakeholders
Investors and financing providers tend to think in terms of the big picture. They want the c-level of the companies they invest in to do the same to ensure they maintain a clear idea of the future. Providing stakeholders with a monthly cash flow statement forecast will demonstrate a level of awareness that leads to confidence and trust and will make it easier to raise more investment.
Avoid Cash Flow Shortfalls
Unexpected Cash Flow Projection shortfalls can cause significant damage to your business, and it may take months to recover. Negative Cash Flow can appear if you don't continuously track the incoming cash and outgoing of your business. Fortunately, you can solve Projected Cash Flow Statement Format shortfalls with a bit of effort. Forecasting your Cash Flow Projection will help you identify — and plan for — market fluctuations, sales seasonality, and other cases that can lead to unpredictable Projected Cash Flow Statements. Cash Flow Projection can even help you visualize Cash Flow Statement Forecast trends with the help of automatically generated charts and graphs.
Better decision making
Make better operational decisions with the help of creating Cashflow Forecast scenarios in your Excel Template. Perhaps you have to choose between new staff members or investment in equipment, and you are wondering which decision to chose. Variants forecasting will give you the information you need to make these decisions with confidence that you know what impact they will have on your cash balance.
Convince investors and lenders
Enhance your pitches and impress potential financiers with a Three Statement Financial Model Template delivering the right information and expected financial and operational metrics. Facilitate your negotiations with investors for successful funding. Raise money more quickly and refocus on your core business.
Save Time and Money
Interior Design Cash Flow Proforma Template allows you to start planning with minimum fuss and maximum of help. No writing formulas, no formatting, no programming, no charting, and no expensive external consultants. Plan the growth of your business instead of fiddling around with expensive techy things.
Key Metrics Analysis
Creates 5-year Interior Design Excel Pro Forma, proforma, financial statements, and financial ratios in GAAP or IFRS formats on the fly.
REPORTS and INPUTS
Performance KPIs
Return on equity. The return on equity financial metric can be calculated based on the information both from the Balance Sheet and profit and loss statement. It measures the correspondence of earnings to the equity, i.e., the amount of money used to get profits.
Financial KPIs
A Interior Design Three Statement Financial Model Template outputs include both company and sector-specific key performance indicators KPIs. These KPIs include profitability metrics, cash flow metrics, and liquidity metrics. It also has KPIs crucial for the attraction of investments.
Operational KPIs
Our Interior Design Pro Forma Projection has various operational performance graphs that will help business owners manage their business' finances and measure their overall performance. These operational performance graphs also help in making wise business decisions that consider the company's financial capability.
The financial graphs in this Interior Design Pro Forma Projection help measure the company's financial health showing the operating cash flows' analysis, return on investment, debt to equity ratio, liquidity ratios, and other relevant financial information. Business owners can use these operational performance graphs both for internal and external purposes.
In particular, they can use these graphs to assess the company's overall financial performance or for the assessment of the project's financial feasibility. Such an approach will improve the financial management efficiency of the company. Business owners can also use these charts and graphs for presentations for potential investors and bankers. The operational performance graphs have all the necessary pre-built formulas, and they are fully formatted. So, the users can just print out them and bring them to the meeting with investors.
Top Revenue
The Top revenue tab in the 3 Way Financial Model Template shows off the financial information regarding each of your offerings. In particular, with the help of this Interior Design Budget Spreadsheet, you can obtain an annual breakdown of your revenue streams, including the revenue depth and revenue bridge.
Burn and Runway
This Interior Design Cash Flow Proforma Template automatically calculates the cash burn rate based on the inputs from other spreadsheets, in particular, from the cash flow forecast.
Sources and Uses
The Financial Projection Template Sources and Uses (or so-called S&U) statement shows the stakeholders how the company plans to finance its project or overall business activities and where the capital will go.
The Sources and Uses of cash statement's primary rule are that the funds' sources must balance with the combined uses. This report can have a basic format, or you can extend it and change it in a way that fits best with your company's needs.
In the Sources part of the statement, the business owner should mention the funding sources on a line-by-line basis. Similarly, the Uses section should reflect on a line-by-line basis the company's plan on how to use these funds.
Ideally, the Sources and Uses section of this statement should match, or the Sources section should be bigger.
If the Sources section is bigger than the Uses section, it means that the company has more funds than it needs for the current business activities. In this case, the company may plan an extension of the business or other cash flow distribution ways.
Otherwise, if the Uses section is bigger than the Sources section, it means that the company requires additional equity.
Cash Flow KPIs
Cash conversion cycle (CCC). The cash conversion cycle (CCC) is a financial metric that expresses the time it takes for a company to convert its resources in the form of inventory and other resources into cash flows. The cash conversion cycle is also called the Net Operating Cycle.
CCC measures how long each dollar that the company inputted is tied up in the production and sales process before it gets converted into cash.
The cash conversion cycle metric accounts for various factors, such as how much time it takes to sell inventory, how much time it takes to collect accounts receivable, and how much time it takes to pay obligations.
File types:
Excel – Single-User: .xlsx
Excel – Multi-User: .xlsx
Free Demo – .xlsx