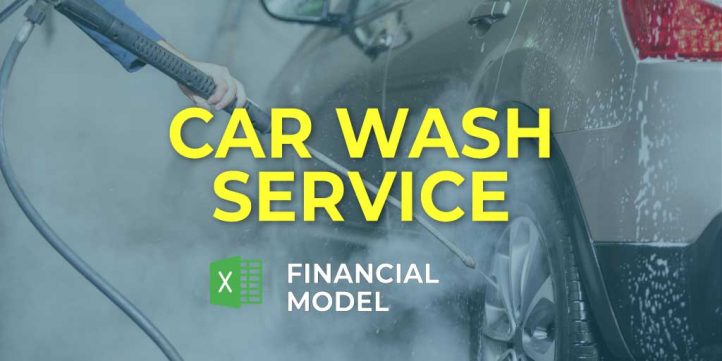 Car Services, Financial Model, Retail, Service Businesses
5-year financial projections, Business Valuation, Financial Model, Financial Modeling, Financial Projection, Financial Projections, Free Financial Model Templates, Pro-Forma, Startup Financial Models, Three Statement Model | Three Financial Statements
CAR WASH SERVICE THREE STATEMENT FINANCIAL MODEL KEY FEATURES
Video tutorial:
Get Investors to Notice
Most entrepreneurs can't get investors to return their calls. With the Car Wash Service Financial Projection Template Excel, you will secure meetings with potential investors easily.
We do the math
Financial Model In Excel Template has all the features above ready with no formula writing, no formatting, no programming, no charting, and no expensive external consultants!
5 years forecast horizon
Generate fully-integrated Car Wash Service Cash Flow Proforma Template for 5 years (on a monthly basis). Automatic aggregation of annual summaries on outputs tabs.
Works for startups
Pro Forma Projection creates a financial summary formatted for your pitch deck
Build your plan and pitch for funding
Impress bankers and investors with a proven, solid car wash service financial model that impresses every time.
Update anytime
You can easily adjust inputs at the launch stage and throughout the further activities of your business to refine your Car Wash Service Financial Projection Excel.
REPORTS and INPUTS
All in One Place
Get a robust and expandable Car Wash Service Profit Loss Projection. You can say that the 3 Way Forecast Excel Template is robust if it does not break down when you change your assumptions inside the Cashflow Projection. To make our Excel Financial Model Template robust and expandable, we have modeled as many scenarios as possible.
We have also foreseen that each business is unique, and users can add, delete, or adjust any financial information in the template.
Sources and Uses
Sources and uses statement is a part of our Car Wash Service Three Statement Financial Model. It shows the company's stakeholders where all the fund sources for a company come from.
This statement also shows how the company uses these funds.
Loan opt-in
Similar to the amortization of the Car Wash Service 3 Way Forecast assets, a loan amortization reflects the spreading out the repayment of a loan for a certain period that covers several reporting periods. The process of loan amortization includes a series of fixed payments over time. Usually, companies make these payments on a monthly basis, but there may also be quarterly or annual payments.
Top Revenue
The top line and bottom line are two of the most important lines on a company's pro forma income statement for startup. Investors and analysts pay special attention to the company's revenue and profits and carefully monitor any changes regarding these financial metrics from quarter to quarter and year to year.
The top line of the forecasted income statement refers to a company's revenues or gross sales. Therefore, when somebody says that the company has 'top-line growth,' it means that the company is experiencing an increase in gross sales or revenues, which should positively impact other company's financials and overall performance.
Dashboard
The All-in-one dashboard in this Car Wash Service Three Statement Financial Model contains all core financial inputs and core start-up metrics critical for the companies' financial analysis. It reflects the financial data from a Balance Sheet, an forecasted income statement, and a cash flow statement for 5 years. Moreover, users can obtain financial information in the form of graphs or charts.
Cap Table
The 3 Way Forecast and its Capitalization table (or Cap table) summarize your investors' information, their share in the company, and how much they have paid for these shares.
Cash Flow KPIs
Operating cash flow. The operating cash flow calculation shows how much cash the company generates from the business operations. This calculation does not include secondary sources of revenue, like interest or investments.