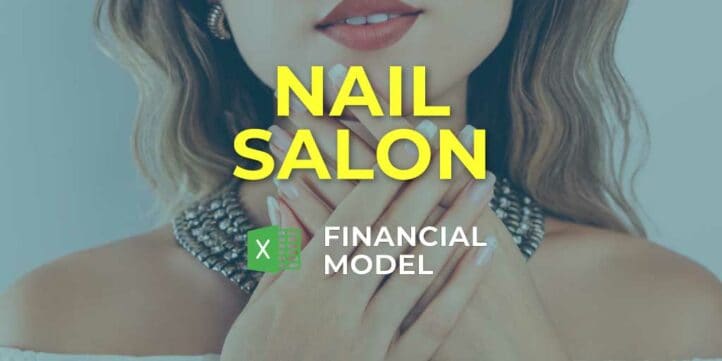 Beauty Shops & Centers, Financial Model, Retail, Service Businesses
5-year financial projections, Break-Even, Budgeting, Business Valuation, Cap Table, Cash Flow Analysis, Cash Flow Projections, Cost Projections, DCF Model, Debt Amortization, Debt Schedule, Economic Indicators, Employee Performance, Excel, Financial Feasibility, Financial Model, Financial Modeling, Financial Planning, Financial Projection, Financial Projections, Financial Statements, Forecast, Forecasting, Free Financial Model Templates, KPIs (Key Performance Indicators), Pro-Forma, Profitability Analysis, Revenue Projections, Scenario Analysis, Sensitivity Analysis, Startup Financial Models, Terminal Value, Three Statement Model | Three Financial Statements, Uses and Sources of Funds, Valuation, WACC (Weighted Average Cost of Capital)
NOTE: Single-User pertains to a limited Single User License where the template can only be used by one single user; while Multi-User is a license for users sharing the template with up to 20 members. Please refer to Terms of Use and License and Permitted Use for clarification.
NAIL SALON PROFIT LOSS PROJECTION KEY FEATURES
Video tutorial:
Update anytime
You can easily adjust inputs at the launch stage and throughout the further activities of your business to refine your Nail Salon Budget Spreadsheet.
Easy to follow
Clear and transparent Nail Salon Financial Projection Template Excel structure (15+ separate tabs, each focusing on a specific planning category, colour coded => input, calculation and report sheets).
Get a Robust, Powerful and Flexible Financial Model
This well-tested, robust and powerful Nail Salon Financial Model is your solid foundation to plan a business model. Advanced users are free to expand and tailor all sheets as desired, to handle specific requirements or to get into greater detail.
Save time and money
Via Pro Forma Template Excel you can without effort and special education get all the necessary calculations and you will not need to spend money on expensive financial consultants. Your task is building a strategy, evolution, and creativity, and we have already done the routine calculations instead of you.
Great Value for Money
Use a robust and proven Nail Salon Pro Forma Template based on years of experience at an affordable price. This three statement financial model template has a one-off payment and absolutely no hidden fees or monthly payments.
Spot problems with customer payments
Preparing the Cash Flow Statement Projection encourages the business to look at how quickly customers are paying their debts. Identify unpaid invoices and take necessary actions to make them pay.
REPORTS and INPUTS
Benchmarks
This Financial Projection Template has a tab for financial benchmarking study. This study involves a financial analysis performance and comparing the company's results with other companies' financial indicators in the industry. Conduction of the financial benchmarking study helps users assess a company's overall competitiveness, efficiency, and productivity.
Loan opt-in
Similar to the amortization of the Nail Salon Financial Projection Template Excel assets, a loan amortization reflects the spreading out the repayment of a loan for a certain period that covers several reporting periods. The process of loan amortization includes a series of fixed payments over time. Usually, companies make these payments on a monthly basis, but there may also be quarterly or annual payments.
Financial KPIs
Key performance indicators (KPIs) in the Pro Forma Budget are crucial for both the company owner and for an investor. With the help of these metrics, you track your company's financial performance and assess the efficiency of business models and cost structures. You can use them to make you and your co-founders laser-focused on the targets you set.
Operational KPIs
Our Nail Salon 3 Way Forecast has various operational performance graphs that will help business owners manage their business' finances and measure their overall performance. These operational performance graphs also help in making wise business decisions that consider the company's financial capability.
The financial graphs in this Nail Salon Financial Projection Model help measure the company's financial health showing the operating cash flows' analysis, return on investment, debt to equity ratio, liquidity ratios, and other relevant financial information. Business owners can use these operational performance graphs both for internal and external purposes.
In particular, they can use these graphs to assess the company's overall financial performance or for the assessment of the project's financial feasibility. Such an approach will improve the financial management efficiency of the company. Business owners can also use these charts and graphs for the presentations for potential investors and bankers. The operational performance graphs have all the necessary pre-built formulas, and they are fully formatted. So, the users can just print out them and bring for the meeting with investors.
Performance KPIs
Return on assets. The return on assets financial metric can be calculated based on the information from two main financial statements: Balance Sheet and profit and loss projection. Return on assets measures the accomplishment of earnings to the assets, i.e., the amount of money used to get those earnings.
Financial Statements
The Nail Salon Pro Forma Template Excel has pre-built proformas for the balance sheet, the income statement projection, and the startup cash flow projection. These proformas allow users to create statements both on a monthly and annual basis.
Users can create detailed financial statements using the financial assumptions inputted in the Financial Projection Model Template.
Sources and Uses
This Nail Salon Financial Model Excel Template has a Sources and Uses template. This tab shows users the company's funding structure and sources and uses of these funds.
File types:
Excel – Single-User: .xlsx
Excel – Multi-User: .xlsx
Free Demo – .xlsx