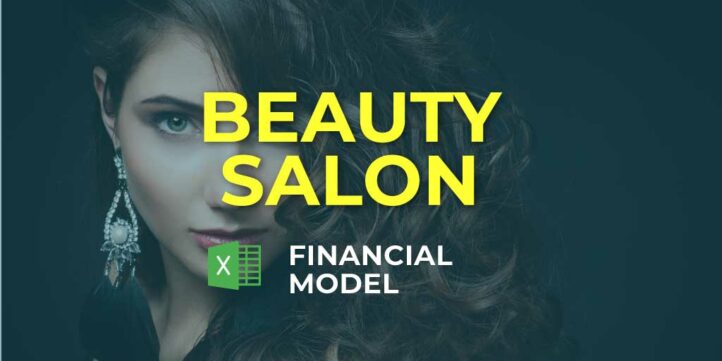 Beauty Shops & Centers, Financial Model, Retail, Service Businesses
5-year financial projections, Break-Even, Budgeting, Business Valuation, Cap Table, Cash Flow Analysis, Cash Flow Projections, Debt Amortization, Debt Schedule, Excel, Financial Feasibility, Financial Model, Financial Modeling, Financial Planning, Financial Projection, Financial Projections, Financial Reporting, Financial Statements, Forecasting, KPIs (Key Performance Indicators), Pre Money Valuation, Pro-Forma, Revenue Projections, Startup Financial Models, Three Statement Model | Three Financial Statements, Uses and Sources of Funds, Valuation, WACC (Weighted Average Cost of Capital)
NOTE: Single-User pertains to a limited Single User License where the template can only be used by one single user; while Multi-User is a license for users sharing the template with up to 20 members. Please refer to Terms of Use and License and Permitted Use for clarification.
BEAUTY SALON FINANCIAL PROJECTION MODEL EXCEL KEY FEATURES
Video tutorial:
Get a robust, powerful financial model which is fully expandable
This well-tested, robust and powerful Beauty Salon Pro Forma Template is your solid foundation to plan beauty salon business model. Advanced users are free to expand and tailor all sheets as desired, to handle specific requirements or to get into greater detail.
Avoid Cash Flow Shortfalls
Unexpected Cash Flow Statement Proforma shortfalls can cause significant damage to your business, and it may take months to recover. Negative Cash Flow can appear if you don't continuously track the incoming cash and outgoing of your business. Fortunately, you can solve Startup Cash Flow Projection shortfalls with a bit of effort. Forecasting your Statement Of Cash Flows will help you identify — and plan for — market fluctuations, sales seasonality, and other cases that can lead to unpredictable Cash Flow Statement For 5 Years. Cash Flow Statement For 5 Years can even help you visualize Cashflow Forecast trends with the help of automatically generated charts and graphs.
We do the math
3 Way Financial Model Template has all the features above ready with no formula writing, no formatting, no programming, no charting, and no expensive external consultants!
Track your spending and staying within budget
Have you written a vague idea of cash inflows and cash outflows on the back of a napkin? All is well and good. Looking at the p&l projection will give you a snapshot of the past business performance, but it won't show the future in terms of the Cash Flow Statement By Month. With a pro forma cash flow projection, you can plan future cash inflows and cash outflows and compare it to the budget, which can be invaluable information.
5 years forecast horizon
Generate fully-integrated Beauty Salon Pro Forma Template Excel for 5 years (on a monthly basis). Automatic aggregation of annual summaries on outputs tabs.
Simple-to-use
A very sophisticated Beauty Salon Financial Projection, whatever size and stage of development your business is. Minimal previous planning experience and very basic knowledge of Excel is required: however, fully sufficient to get quick and reliable results.
REPORTS and INPUTS
Loan opt-in
Calculating the necessary payments related to the obtained loan or mortgage is essential, especially for start-ups. At the same time, many companies may find this calculation to be a difficult task. In this case, our Financial Projection Model has a loan amortization schedule with an amortization calculator will help to plan and list these loan payments.
Costs
Our Beauty Salon 3 Way Forecast Excel Template has a well-developed methodology for creating a cost budget. You can plan and forecast your costs from operations and other expenses for up to 72 months. The cost budget has a detailed hiring plan while also automatically handling the expenses' accounting treatment. You can set salaries, job positions, and the time of hiring.
Moreover, the model allows users to calculate hiring as the company scales automatically. Pre-built expense forecasting curves enable users to set how an expense changes over time. These pre-built options include % of revenues, % of salaries, % of any revenue category, growth (or decline) rates that stay the same or change over time, ongoing expenses, expenses that periodically reoccur, expenses that regularly change, and many more. Costs can be allocated to key expense areas and labeled for accounting treatment as SG&A, COGS, or CAPEX.
Top Expenses
It is very important for a start-up and existing company to monitor, plan, and manage its costs and expenses to maintain a good profitability level.
For this purpose, it is necessary to analyze the highest costs and always work on their optimization. In our Financial Model Excel Template we have created a Top expense report helps users with this task. It summarizes the four biggest expense categories and the rest of the expenses as the 'other', so the users can easily monitor these expenses and track the tendencies related to their increase or decrease from year to year.
All in One Place
A well-developed and easy-to-use 3 Way Forecast. You do not to be a financial expert to design your start-up Financial Model In Excel. Everything you need is the right set of financial tools, and our Beauty Salon Financial Model Excel Spreadsheet will give you them.
Operational KPIs
Financial graphs and charts in this Beauty Salon Financial Projection Model Excel help the stakeholders visually track liquidity, budgets, expenses, cash flow, and many other company financial metrics. These graphs will also help a company's management avoid problems by reflecting its financial data in real-time, with a comprehensive financial information overview.
These operational performance graphs will help the business owners and financial managers ensure the best possible performance and financial health of their company because regular financial analytics procedures and the highest quality of financial data are the company's top priorities.
Our financial graphs will also help the company's financial specialists raise financial issues at the general meetings and deliver understandable financial information to other departments and external stakeholders.
Top Revenue
The top line and bottom line are two of the most important lines on a company's profit and loss statement. Investors and analysts pay special attention to the company's revenue and profits and carefully monitor any changes regarding these financial metrics from quarter to quarter and year to year.
The top line of the projected income statement refers to a company's revenues or gross sales. Therefore, when somebody says that the company has 'top-line growth,' it means that the company is experiencing an increase in gross sales or revenues, which should positively impact other company's financials and overall performance.
Sources and Uses
Sources and Uses of Funds Statement is a critical financial spreadsheet in our Beauty Salon P&L Projection. Business owners will need this statement for bank loan applications and the meeting with potential investors. Many banks include this statement in the application process for a business loan. The Sources and Uses statement is equally important both for large companies and for start-ups.
Large companies include Sources and Uses statement into their annual report for investors. The start-ups need to manage each source of funding and control each separate expense.
Lenders appreciate Sources and Uses of Funds Statement because it excellently summarizes its financial plans and financial management strategies. This statement puts together the company's vision regarding the financing of the start-up or future expansion.
File types:
Excel – Single-User: .xlsx
Excel – Multi-User: .xlsx
Free Demo – .xlsx