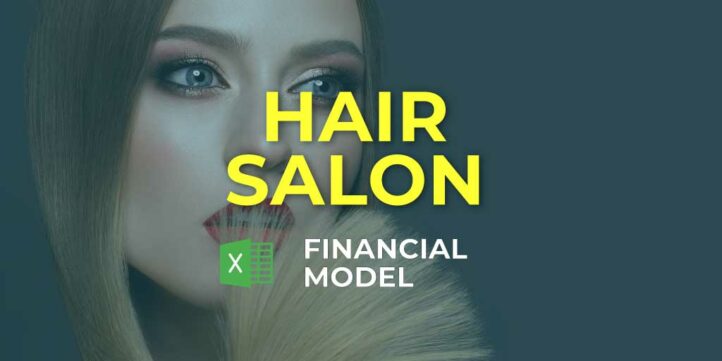 Beauty Shops & Centers, Financial Model, Retail, Service Businesses
5-year financial projections, Break-Even, Budgeting, Business Valuation, Cap Table, Cash Flow Analysis, Cash Flow Projections, DCF Model, Debt Amortization, Debt Schedule, Excel, Financial Feasibility, Financial Model, Financial Modeling, Financial Planning, Financial Projection, Financial Projections, Financial Reporting, Financial Statements, Forecast, Forecasting, Free Financial Model Templates, Investor Cash Flows, KPIs (Key Performance Indicators), Pro-Forma, Revenue Projections, Scenario Analysis, Sensitivity Analysis, Startup Financial Models, Three Statement Model | Three Financial Statements, Uses and Sources of Funds, Valuation, WACC (Weighted Average Cost of Capital)
NOTE: Single-User pertains to a limited Single User License where the template can only be used by one single user; while Multi-User is a license for users sharing the template with up to 20 members. Please refer to Terms of Use and License and Permitted Use for clarification.
HAIR SALON P&L PROJECTION KEY FEATURES
Video tutorial:
Predict the Influence of Upcoming Changes
Does your company plan to purchase new equipment or to launch a new product? Projected Cash Flow Statement enable you to obtain a complete picture of the effect that specific changes will have on your Cash Flow Projection. When planning your finances in the Cash Flow Projection, you will forecast cash inflows and outflows based on future invoices, bills due, and payroll. You can then create multiple 'what if' scenarios, such as buying new equipment to choose the best way for you. Forecasting shows you how the upcoming changes will affect your cash balance.
Run different scenarios
A Cash Flow Pro Forma shows you what your cash balance will look like taking into account the numbers you put into the template. It means you can play with the various variables that impact your cash flow forecast, i.e., wages, sales inflow, supplier payments, taxes, and so on. By adjusting the input amounts, you will be able to see what impact they will have on your businesses' cash flow and when this impact is likely to occur. A well-known example of this is the ability to forecast the effect a new member of staff might have on your cash flow over different periods. Increase the wage costs and see what happens to your cash flow. Running different scenarios in your Statement Of Cash Flows can have several benefits.
Get a Robust, Powerful and Flexible Financial Model
This well-tested, robust and powerful Hair Salon Financial Projection Template is your solid foundation to plan a business model. Advanced users are free to expand and tailor all sheets as desired, to handle specific requirements or to get into greater detail.
Saves you time
Financial Projection Model Excel allows you to spend less time on finances and more time on your products, customers and business development
Avoid Cash Flow Shortfalls
Unexpected Projected Cashflow Statement shortfalls can cause significant damage to your business, and it may take months to recover. Negative Cash Flow can appear if you don't continuously track the incoming cash and outgoing of your business. Fortunately, you can solve Cash Flow Projection shortfalls with a bit of effort. Forecasting your Cash Flow Projection will help you identify — and plan for — market fluctuations, sales seasonality, and other cases that can lead to unpredictable Cash Flow Statement. Cash Flow Pro Forma can even help you visualize Statement Of Cash Flows trends with the help of automatically generated charts and graphs.
Build your plan and pitch for funding
Impress bankers and investors with a proven, strategic Hair Salon Financial Projection Model Template that impresses every time.
REPORTS and INPUTS
Dashboard
Our Financial Projection Template Excel has an all-in-one dashboard. This dashboard is a useful financial planning tool that helps financial professionals create fast, reliable, and transparent financial reports to the management and other company's stakeholders.
With this financial dashboard's help, users can assess the company's financial data, drill into financial details, or validate figures fast and easy. Our specialists understand that the company's financial management, especially the start-up's management, is under pressure to deliver fast decisions and results. This all-in-one financial dashboard is an effective financial tool that will help with these tasks.
With this dashboard, you will get data at your fingertips. You will be able to perform financial analysis, assess key performance indicators (KPIs), and other financial information you may need to generate actionable insights and make wise financial decisions.
Costs
A Hair Salon Budget Financial Model is an important financial tool that enables users to identify actual and forecasted expenditures, as well as financial resources needed to cover these costs. With a well-developed cost budget, you can see the areas where you can save money and the areas of high priority. As a part of a business plan, the cost budget supports the process of pitching to investors and loan applications.
Valuation
With our Hair Salon Cash Flow Format In Excel, you will get proformas for valuation analysis. You will be able to perform a Discounted Cash Flow (DCF) valuation analysis and other valuations you may need.
Cash Flow KPIs
Operating cash flow. Operating cash flow calculation shows how much cash the company generates from the business operations. This calculation does not include secondary sources of revenue, like interest or investments.
Operational KPIs
Financial graphs and charts in this Hair Salon Cashflow Projection help the stakeholders visually track liquidity, budgets, expenses, cash flow, and many other company financial metrics. These graphs will also help a company's management avoid problems by reflecting its financial data in real-time, with a comprehensive financial information overview.
These operational performance graphs will help the business owners and financial managers ensure the best possible performance and financial health of their company because regular financial analytics procedures and the highest quality of financial data are the company's top priorities.
Our financial graphs will also help the company's financial specialists raise financial issues at the general meetings and deliver understandable financial information to other departments and external stakeholders.
Sources and Uses
As you can understand from the title, a Sources and Uses of Funds statement represents the company's financing sources and spending policies.
In respect of the 'Sources', this statement shows the company's money for its business activities and how it gets this money. Usually, companies have a mix of funding sources, such as business loans, investors' money, share issue, and others.
The 'Uses' section of the Sources and Uses statement shows the stakeholders how the company spends its money. For example, this statement may reflect the cost of land, building, or equipment the company plans to acquire. It also may reflect the start-up costs.
Loan opt-in
The loan amortization schedule template in this Hair Salon Financial Projection Template reflects the schedule of repayment of the loan. It shows detailed information about the company's periodic payments or installments that comprise of principal amount and an interest component.
These elements are shown in the loan amortization schedule template for the period till the end of the loan term or up to which the full amount of the loan is paid off.
File types:
Excel – Single-User: .xlsx
Excel – Multi-User: .xlsx
Free Demo – .xlsx