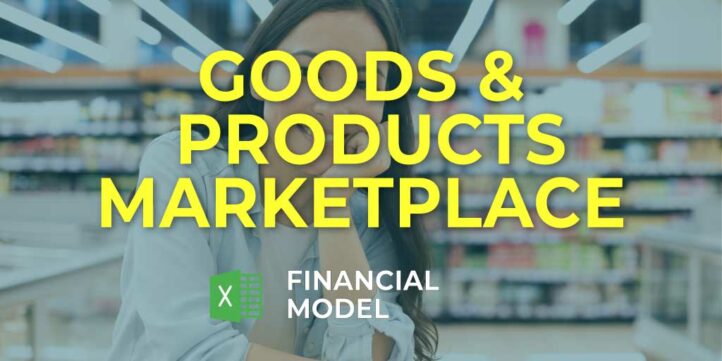 Financial Model, Marketplaces, Online Businesses & IT
5-year financial projections, Business Valuation, Financial Model, Financial Modeling, Financial Projection, Financial Projections, Free Financial Model Templates, Pro-Forma, Startup Financial Models, Three Statement Model | Three Financial Statements
NOTE: Single-User pertains to a limited Single User License where the template can only be used by one single user; while Multi-User is a license for users sharing the template with up to 20 members. Please refer to Terms of Use and License and Permitted Use for clarification.
GOODS AND PRODUCTS MARKETPLACE CASH FLOW PROFORMA KEY FEATURES
Build your plan and pitch for funding
Impress bankers and investors with a proven, strategic Goods And Products Marketplace Cashflow Projection that impresses every time.
Update anytime
With Startup Financial Model you can easily adjust inputs at the launch stage and throughout the further activities of your store to refine your forecast.
Saves you time
Profit Loss Projection allows you to spend less time on finances and more time on your products, customers and business development
Graphical visualization in a convenient dashboard all in one
All necessary reports and calculations, including variable data for your easement, are displayed on a convenient Financial Model In Excel dashboard tab. You do not need to move between sheets to compare important data – everything is visible immediately.
Avoid Cash Flow Shortfalls
Unexpected Cash Flow Statement shortfalls can cause significant damage to your business, and it may take months to recover. Negative Cash Flow can appear if you don't continuously track the incoming cash and outgoing of your business. Fortunately, you can solve Projected Cash Flow Statement shortfalls with a bit of effort. Forecasting your Projected Cashflow Statement will help you identify — and plan for — market fluctuations, sales seasonality, and other cases that can lead to unpredictable Startup Cash Flow Projection. Startup Cash Flow Projection can even help you visualize Cash Flow Statement trends with the help of automatically generated charts and graphs.
Great Value for Money
Use a robust and proven Goods And Products Marketplace Excel Pro Forma based on years of experience at an affordable price. This 3 way financial model template has a one-off payment and absolutely no hidden fees or monthly payments.
REPORTS and INPUTS
Loan opt-in
Our Goods And Products Marketplace Cashflow Projection has a loan amortization schedule that will help users track everything related to their loans. You can find this template in the 'Capital' tab.
The loan amortization schedule has proformas with pre-built formulas for internal calculations of the loans, interest, and equity.
Operational KPIs
Our Goods And Products Marketplace Financial Projection Model Template has various operational performance graphs that will help business owners manage their business' finances and measure their overall performance. These operational performance graphs also help in making wise business decisions that consider the company's financial capability.
The financial graphs in this Goods And Products Marketplace 3 Way Forecast help measure the company's financial health showing the operating cash flows' analysis, return on investment, debt to equity ratio, liquidity ratios, and other relevant financial information. Business owners can use these operational performance graphs both for internal and external purposes.
In particular, they can use these graphs to assess the company's overall financial performance or for the assessment of the project's financial feasibility. Such an approach will improve the financial management efficiency of the company. Business owners can also use these charts and graphs for presentations for potential investors and bankers. The operational performance graphs have all the necessary pre-built formulas, and they are fully formatted. So, the users can just print out them and bring them to the meeting with investors.
Break-Even
The Goods And Products Marketplace 3 Way Forecast has an integrated template for the break-even analysis. The break-even Excel calculation helps the company's management understand when the company is expected to become profitable. This Three Way Financial Model will automatically generate y break-even timing, break-even units, and break-even revenue of the company.
Financial KPIs
The Goods And Products Marketplace 3 Way Forecast Excel Template has key financial indicators (KPIs) that show sales and profitability performance: revenue growth rate, gross margin, and EBITDA margin.
It also has KPIs related to cash flows and raising investment: the cash burn rate, runway, and funding need. You can choose the KPIs relevant to your company and industry, and monitor your company's performance. For example, SaaS companies typically monitor and manage customer lifetime value (LTV), customer acquisition costs (CAC), LTV/CAC ratio, and the churn rate. For SaaS businesses, these KPIs are crucial.
Profitability KPIs
The Goods And Products Marketplace Three Way Financial Model contains all performance metrics that correspond with pre-built templates and financial reports. It also has pre-built proformas for pro forma p&l statement, Balance Sheet, and projected cash flow statement, which you can use both for financial planning and presentations for investors.
With these reports, you can easily monitor your company's cash flows, revenues, costs, and profitability, including profitability margins, liquidity analysis, sources and uses, and others. The model calculates profitability ratios and other performance metrics, e.g., customer acquisition costs, and SaaS metrics, if applicable.
Dashboard
The financial dashboard in our 3 Way Forecast Model is a great financial planning tool that helps to display the results of financial analysis. This financial summary in the form of charts and graphs will help analysts to explain clearly the numbers from the financial statements.
With this dashboard's help, users can analyze and present to other stakeholders' revenue forecasts, financial margins, profit charts, and separate items from the balance sheet, pro forma p&l statement, and cash flow statement by month.
Cap Table
In the Five Year Financial Projection Template, capitalization table, or 'cap table', lists a company's securities that include common stock, preferred stock, options, warrants, etc. It also shows who owns those securities. Business owners should keep this information organized and up-to-date to make wise decisions regarding fundraising, employee options, and acquisition offers.
File types:
Excel – Single-User: .xlsx
Excel – Multi-User: .xlsx
Free Demo – .xlsx