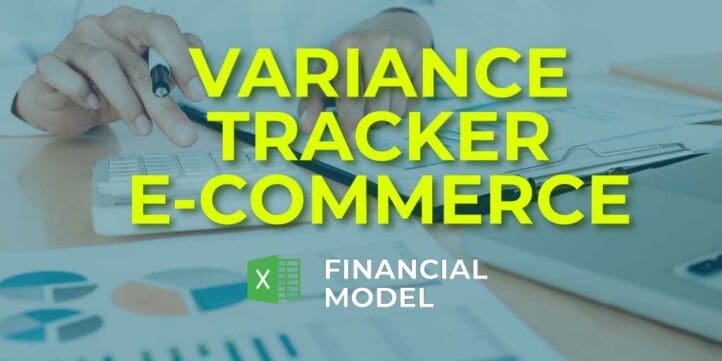 eCommerce & Webshops, Financial Model, Online Businesses & IT
5-year financial projections, Business Valuation, Financial Model, Financial Modeling, Financial Projection, Financial Projections, Free Financial Model Templates, Pro-Forma, Startup Financial Models, Three Statement Model | Three Financial Statements
NOTE: Single-User pertains to a limited Single User License where the template can only be used by one single user; while Multi-User is a license for users sharing the template with up to 20 members. Please refer to Terms of Use and License and Permitted Use for clarification.
E-COMMERCE VARIANCE TRACKER EXCEL FINANCIAL MODEL KEY FEATURES
Simple and Incredibly Practical
Simple-to-use yet very sophisticated E-Commerce Variance Tracker Pro Forma Projection. Whatever size and stage of development your business is, with minimal planning experience and very basic knowledge of Excel you can get complete and reliable results.
Currency for inputs and denomination
In Financial Projection Template Excel define any currency code or symbol and preferred denomination (e.g. 000s) to reflect your preferences.
Identify potential shortfalls in cash balances in advance.
The E-Commerce Variance Tracker Three Way Financial Model works like an 'early warning system.' It is, by far, the most significant reason for a Cash Flow Statement By Month.
Update anytime
With Three Statement Financial Model Template you can easily adjust inputs at the launch stage and throughout the further activities of your store to refine your forecast.
Great Value for Money
Use a robust and proven E-Commerce Variance Tracker Excel Pro Forma based on years of experience at an affordable price. This financial projection has a one-off payment and absolutely no hidden fees or monthly payments.
It is part of the reports set you need.
It doesn't matter you are worried about cash or not, setting up, and managing an E-Commerce Variance Tracker Financial Model should be a cornerstone of your reporting set. It's the main report of your business that must have in place to grow sustainably. Before you rush into rent more office space or making a new hire, you should always run a Projected Cashflow Statement scenario. You can model how that action would impact your cash balance in the nearest future. Knowing whether or not plans are possible is crucial to minimizing risk.
REPORTS and INPUTS
Valuation
This E-Commerce Variance Tracker 3 Way Forecast Excel Template contains a valuation analysis template that will allow users to perform a Discounted Cash Flow valuation (DCF). It will also help users analyze such financial metrics as residual value, replacement costs, market comparables, recent transaction comparables, etc.
Financial Statements
Our E-Commerce Variance Tracker Pro Forma has a pre-built integrated financial summary that contains all the financial information from other spreadsheets, including the primary financial statements: Balance Sheet, Statement of financial position, and projected cash flow statement. Our specialists have already formatted this financial summary for your pitch deck.
Costs
Our E-Commerce Variance Tracker Financial Projection Excel has a well-developed methodology for creating a cost budget. You can plan and forecast your costs from operations and other expenses for up to 72 months. The cost budget has a detailed hiring plan while also automatically handling the expenses' accounting treatment. You can set salaries, job positions, and the time of hiring.
Moreover, the model allows users to calculate hiring as the company scales automatically. Pre-built expense forecasting curves enable users to set how an expense changes over time. These pre-built options include % of revenues, % of salaries, % of any revenue category, growth (or decline) rates that stay the same or change over time, ongoing expenses, expenses that periodically reoccur, expenses that regularly change, and many more. Costs can be allocated to key expense areas and labeled for accounting treatment as SG&A, COGS, or CAPEX.
Financial KPIs
Key performance indicators (KPIs) in the Financial Model Excel Spreadsheet are crucial for both the company owner and for an investor. With the help of these metrics, you track your company's financial performance and assess the efficiency of business models and cost structures. You can use them to make you and your co-founders laser-focused on the targets you set.
Loan opt-in
The start-ups and growing companies need to monitor and manage their loan repayment schedules. Usually, such schedules reflect the company's loan line-by-line breakdown with information about their amounts, maturity terms, and others.
This loan repayment schedule is an important part of a company's cash flow analysis. Also, interest expense in the debt schedule impacts the company's cash flow pro forma, and the closing debt balance flows onto the balance sheet. Moreover, the principal repayments flow through the cash flow statement as a part of the company's financing activities.
Sources and Uses
The sources and uses statement presented in this E-Commerce Variance Tracker Cash Flow Proforma Template show where a company is making money and spending those funds.
Cash Flow KPIs
Cash balance. The cash balance shows the total amount of money in the financial account of the company. Any company needs to hold in reserve enough amount of cash to meet current obligations.
File types:
Excel – Single-User: .xlsx
Excel – Multi-User: .xlsx
Free Demo – .xlsx