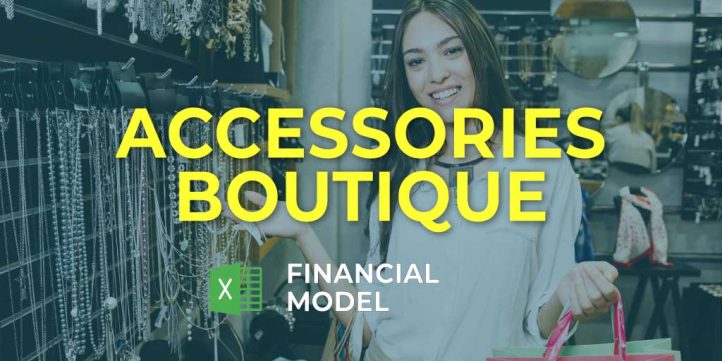 NOTE: Single-User pertains to a limited Single User License where the template can only be used by one single user; while Multi-User is a license for users sharing the template with up to 20 members. Please refer to Terms of Use and License and Permitted Use for clarification.
ACCESSORIES BOUTIQUE 3 WAY FORECAST MODEL KEY FEATURES
Video tutorial:
Build your plan and pitch for funding
Impress bankers and investors with a proven, solid accessories boutique financial model that impresses every time.
Simple-to-use
A very sophisticated Accessories Boutique 3 Way Financial Model, whatever size and stage of development your business is. Minimal previous planning experience and very basic knowledge of Excel is required: however, fully sufficient to get quick and reliable results.
Update anytime
With Financial Model In Excel you can easily adjust inputs at the launch stage and throughout the further activities of your store to refine your forecast.
We do the math
Cash Flow Format In Excel has all the features above ready with no formula writing, no formatting, no programming, no charting, and no expensive external consultants!
Simple and Incredibly Practical
Simple-to-use yet very sophisticated Accessories Boutique 3 Way Forecast Excel Template. Whatever size and stage of development your business is, with minimal planning experience and very basic knowledge of Excel you can get complete and reliable results.
Better decision making
Make better operational decisions with the help of creating Statement Of Cash Flows scenarios in your Excel Template. Perhaps you have to choose between new staff members or investment in equipment, and you are wondering which decision to chose. Variants forecasting will give you the information you need to make these decisions with confidence that you know what impact they will have on your cash balance.
REPORTS and INPUTS
All in One Place
A well-developed and easy-to-use Five Year Financial Projection Template. You do not to be a financial expert to design your start-up Cash Flow Proforma Template. Everything you need is the right set of financial tools, and our Accessories Boutique Pro Forma will give you them.
Dashboard
Our Accessories Boutique Profit Loss Projection has a dashboard that summarizes information from the other spreadsheets of the Excel Financial Model. With this dashboard, you can set your key performance indicators (KPIs), and the dashboard will include them into the calculations and the information from the financial statements. You can create the dashboard with core financial information on a month-by-month basis and change any time you need.
Financial Statements
Our Accessories Boutique P&L Projection has pre-built consolidated financial statements: projected income statement, Balance Sheet, and cash flow statement for 5 years. These financial statements can be presented on a monthly, quarterly, and annual basis.
Users can also import existing financial statements and reports from Quickbooks, Xero, Freshbooks, and other accounting software to create rolling forecasts and to make actuals vs. forecasts comparison.
Performance KPIs
Sales growth year-to-date. Every entrepreneur wants to see the company grow month-over-month. In some industries, sales depend on the season or other external factors. The sales growth year-to-date metric shows the pace at which the company's sales revenue increases or decreases.
Users can monitor sales volumes over various periods – daily, weekly, monthly, or yearly. Sales growth metric helps to manage sales growth goals in the form of a percentage of last month's sales volume or others. If the company has several sales teams, the management can monitor this metric for each team separately. It will help to monitor better each team's achievements.
CAPEX
A capital expenditure ('CapEx' for short) table reflects the company's expenses, either cash or credit, on purchases of goods that are capitalized on the balance sheet. Such capitalized expenses, the company does not reflect directly in the proforma income statement as expenses, and such expenses are considered as an investment in the company's expansion.
Cap Table
In our Accessories Boutique Pro Forma Template Excel, a Capitalization table, or Cap table is a spreadsheet critical for start-ups that shows the company's ownership structure. It lists your company's shares and options, if any. It also shows the prices your investors have paid for these shares and each investor's percentage of ownership in the company.
Break Even
The Accessories Boutique Pro Forma Template has an integrated template for the break-even analysis. The excel break even formula calculation helps the company's management understand when the company is expected to become profitable. This P&L Projection will automatically generate y break-even timing, break-even units, and break-even revenue of the company.
File types:
Excel – Single-User: .xlsx
Excel – Multi-User: .xlsx
Free Demo – .xlsx