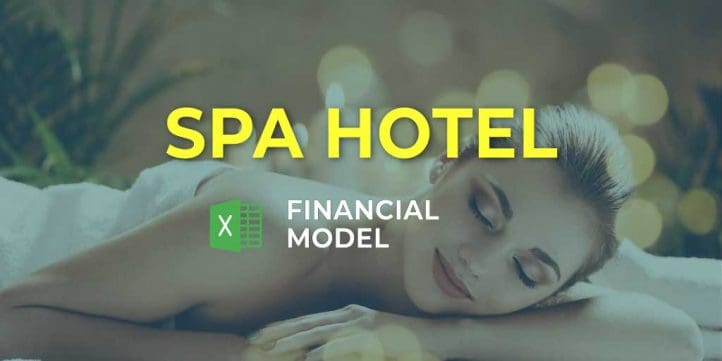 Beauty Shops & Centers, Financial Model, Hospitality, Hotel, Wellness
5-year financial projections, Business Valuation, Financial Model, Financial Modeling, Financial Projection, Financial Projections, Free Financial Model Templates, Pro-Forma, Startup Financial Models, Three Statement Model | Three Financial Statements
NOTE: Single-User pertains to a limited Single User License where the template can only be used by one single user; while Multi-User is a license for users sharing the template with up to 20 members. Please refer to Terms of Use and License and Permitted Use for clarification.
SPA HOTEL EXCEL FINANCIAL MODEL TEMPLATE KEY FEATURES
Video tutorial:
Better decision making
Make better operational decisions with the help of creating Projected Cashflow Statement scenarios in your Excel Template. Perhaps you have to choose between new staff members or investment in equipment, and you are wondering which decision to chose. Variants forecasting will give you the information you need to make these decisions with confidence that you know what impact they will have on your cash balance.
Currency for inputs and denomination
In Pro Forma Template define any currency code or symbol and preferred denomination (e.g. 000s) to reflect your preferences.
Get a robust, powerful financial model which is fully expandable
This well-tested, robust and powerful Spa Hotel Financial Projection Model Template is your solid foundation to plan spa hotel business model. Advanced users are free to expand and tailor all sheets as desired, to handle specific requirements or to get into greater detail.
Print-ready Reports
Solid package of print-ready reports, including a pro forma income statement for startup, pro forma cash flow projection, a balance sheet, and a complete set of financial ratios.
Identify cash gaps and surpluses before they happen.
Forecasting your future cash balance helps you see well in advance when you may have a cash deficit that could hurt your business. Cash Flow Pro Forma will give you enough time to take action to prevent a crisis. It will enable you to access better loan rates or speed up incoming payment to bridge the gap. On the other side, if you know ahead of time that the large lump of cash will lay in your bank account within the next three months. In this case, you might need to explore options to reinvest it in your business to drive growth.
Avoid Cash Flow Shortfalls
Unexpected Statement Of Cash Flows shortfalls can cause significant damage to your business, and it may take months to recover. Negative Cash Flow can appear if you don't continuously track the incoming cash and outgoing of your business. Fortunately, you can solve Cash Flow Statement By Month shortfalls with a bit of effort. Forecasting your Cash Flow Statement Proforma will help you identify — and plan for — market fluctuations, sales seasonality, and other cases that can lead to unpredictable Cashflow Forecast. Pro Forma Cash Flow Projection can even help you visualize Cashflow Forecast trends with the help of automatically generated charts and graphs.
REPORTS and INPUTS
Top Revenue
The top line and bottom line are two of the most important lines on a company's income statement projection. Investors and analysts pay special attention to the company's revenue and profits and carefully monitor any changes regarding these financial metrics from quarter to quarter and year to year.
The top line of the p&l forecast refers to a company's revenues or gross sales. Therefore, when somebody says that the company has 'top-line growth,' it means that the company is experiencing an increase in gross sales or revenues, which should positively impact other company's financials and overall performance.
Break Even
Our Spa Hotel Budget Spreadsheet has proforma for the excel break even formula. Companies use break even formula excel to determine the price for their products or services that will generate enough revenue for the company to cover its costs.
Benchmarks
A benchmarking study as the element of the Finance Projection is usually used to evaluate a business's performance by focusing on one or more particular indicators and comparing them with similar indicators of other companies in the industry.
In respect of the financial benchmarking study, these indicators could be profit margins, cost margins, cost per unit, productivity margins, or others. Later the company's performance indicators should be compared to that of other companies within the same industry.
Benchmarking is a useful strategic management tool, which is essential for start-ups. Companies can evaluate any economic, business, or financial metric or process and compare them to the processes of 'best practice' companies within the same field or industry.
Costs
Our Spa Hotel Financial Model has a well-developed methodology for creating a cost budget. You can plan and forecast your costs from operations and other expenses for up to 72 months. The cost budget has a detailed hiring plan while also automatically handling the expenses' accounting treatment. You can set salaries, job positions, and the time of hiring.
Moreover, the model allows users to calculate hiring as the company scales automatically. Pre-built expense forecasting curves enable users to set how an expense changes over time. These pre-built options include % of revenues, % of salaries, % of any revenue category, growth (or decline) rates that stay the same or change over time, ongoing expenses, expenses that periodically reoccur, expenses that regularly change, and many more. Costs can be allocated to key expense areas and labeled for accounting treatment as SG&A, COGS, or CAPEX.
Financial Statements
The template has a three-statement Financial Projection with integrated proformas. It allows users to create a company's Balance Sheet, profit and loss proforma, and a cash flow statement for 5 years with minimum efforts. For these proformas, users can input either historical or forecasted financial data. Forecasted financial statements show how a company will perform under various circumstances and allow users to integrate different assumptions in the Excel Financial Model Template.
For example, the company's management can see the economic impact of its decisions, such as price changes.
Our well-built Spa Hotel Pro Forma shows stakeholders how the company's functions work together and how management's decisions impact its overall financial performance.
Dashboard
Our Spa Hotel Excel Pro Forma has an integrated all-in-one dashboard. This dashboard consists of statement of cash flows, Balance Sheet, and cashflow forecast, and users can perform the monthly or annual breakdown for these statements. Users can also obtain information from the dashboard, both in the form of figures and charts.
Operational KPIs
Our Spa Hotel Financial Projection Model has various operational performance graphs that will help business owners manage their business' finances and measure their overall performance. These operational performance graphs also help in making wise business decisions that consider the company's financial capability.
The financial graphs in this Spa Hotel Pro Forma help measure the company's financial health showing the operating cash flows' analysis, return on investment, debt to equity ratio, liquidity ratios, and other relevant financial information. Business owners can use these operational performance graphs both for internal and external purposes.
In particular, they can use these graphs to assess the company's overall financial performance or for the assessment of the project's financial feasibility. Such an approach will improve the financial management efficiency of the company. Business owners can also use these charts and graphs for the presentations for potential investors and bankers. The operational performance graphs have all the necessary pre-built formulas, and they are fully formatted. So, the users can just print out them and bring for the meeting with investors.
File types:
Excel – Single-User: .xlsx
Excel – Multi-User: .xlsx
Free Demo – .xlsx