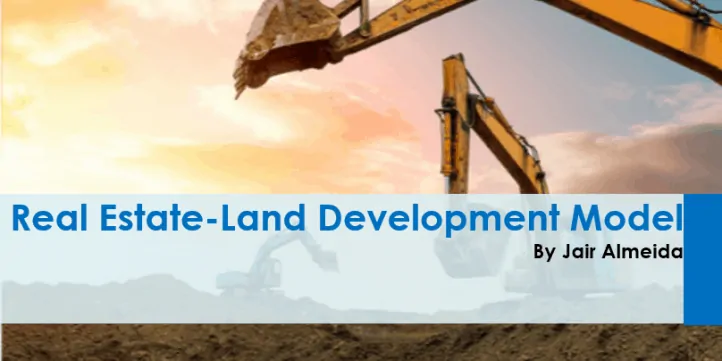 Construction, Development, Financial Model, Real Estate
10-year financial projections, Cash-on-Cash Multiple, Cost Calculation, Cost Projections, Dashboard, Financial Projection, IRR (Internal Rate of Return), Loans, Private Equity Waterfall Distribution Models, Pro-Forma, Real Estate Valuation, Sensitivity Analysis, Sponsors, Uses and Sources of Funds
This is a fully functional, institutional quality, and dynamic real estate Financial Model for quickly calculating the potential returns and/or estimating the land development project. It's a robust model (with only three tabs), yet, very user-friendly, that will provide the user with a very detailed Excel spreadsheet.
The model assumes one phase of horizontal development where the land is purchased, at the entitlement month, and then construction begins. Prior to the purchase, the model assumes that there is a period spent in due diligence with some expenses incurred (evenly split during the diligence period), and at the end of the DD period a land deposit is made.
The sales of the lots unfold in two phases: the pre-sales where the lots are sold at a discount over the average lot sale price and the regular sales period where the discount is no longer applicable. The template assumes a deposit payment in the month of sell and after the closing period, the remaining proceeds are received.
The construction assumptions (hard and soft costs) are also evenly distributed during the construction period.
Finally, the user needs to enter assumptions related to financing, rate, term, and loan-to-cost.
With all assumptions in place, the template runs an analysis of up to 120 months of unlevered and levered monthly cash flows.
Model Options:
• The summary tab is optimized for a dashboard-style overview. All the inputs are shown in bold blue type and everything else is a calculation or a label. All the required assumptions are inputted in the summary sheet.
• Dynamic Monthly & Annual Cash Flow: In order to calculate the key investments metrics needed to determine the feasibility of the project, and the overall value of the deal the cash flows are calculated in a monthly base;
• Dynamic Funding: The model works backward to get the required amount and timing for Equity/loan funding;
• Equity first: The template assumes that the constructions and operating expenses are funded first by equity and then remaining costs of the project are funded via loan draws;
• IRR Sensitivity analysis based on an average sale price, land acquisition cost and construction cost variation;
• Equity Waterfall Model: the template provides a 3 tier Equity waterfall model, so the user will be able to determine how much capital the limited partner and General partner will get, and their respective rates of return