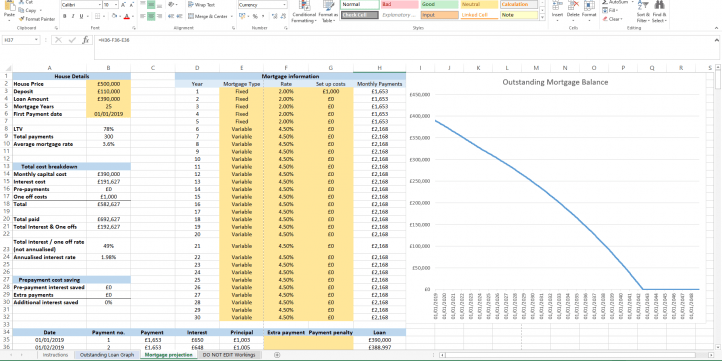 Financial Model, General Excel Financial Models, Loans & Debt, Personal Budgets, Personal Finance, Real Estate, Residential Properties
10-year financial projections, 5-year financial projections, Accounting, Budget, Budgeting, Cash Flow Analysis, Cash Flow Projections, Cost Calculation, Cost Projections, Excel, Financial Debt, Financial Model, Financial Modeling, Financial Planning, Financial Projection, Financial Projections, Financing, Forecast, Forecasting, Loans, Mortgage, Personal finance, Property Appraisals, Property Valuation
This mortgage calculator lets you take an in-depth look at one of the most expensive purchases of your life – your house.
It is set up for one property but can be replicated for a number of different properties in a portfolio. The model does everything you would expect – lets you add details of your house price, LTV, deposit, term length, etc. to see your payment profile, interest over time, and how different mortgage rates and periods will change your interest expenses.
The model can be used to see how early repayments will reduce our overall loan profile and how much money you can save by paying off your mortgage early.