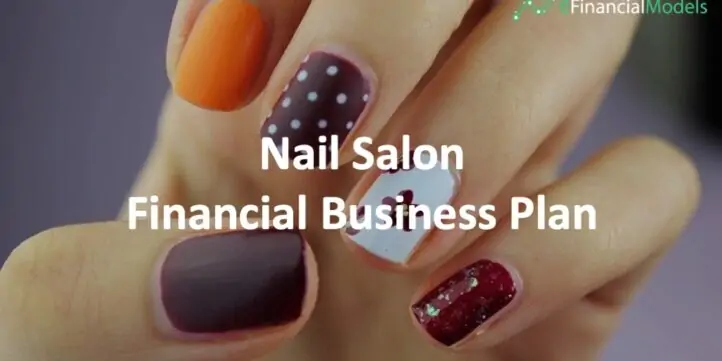 Beauty Shops & Centers, Financial Model, Nail Salon, Retail
10-year financial projections, Average Order Value (AOV), Break-Even, Budget, Cash on Cash Yield, Debt Schedule, Debt Service Coverage, Excel, Finacial Projection, Financial Analysis, Financial Feasibility, Financial Model, Financial Modeling, Financial Planning, Financial Projection, Financial Projections, Financial Ratios, Financial Statements, Forecast, Forecasting, Fundraising, Income Statement, Investor Cash Flows, IRR (Internal Rate of Return), Levered yield, Payback Period, PDF, Startup Financial Models, Three Statement Model | Three Financial Statements, Uses and Sources of Funds
This Excel spreadsheet template facilitates creating a financial business plan for a nail salon. The model contains a detailed multi-year forecast for profits, balance sheet positions, cash flows, financial ratios, debt balance, fixed assets, and much more. The nail salon financial business plan template uses a bottom-up approach to forecast the monthly number of services sold, revenues, costs, cash flows, and the cash position on the balance sheet. Included is also a debt schedule which allows preparing a proposition for a bank on how much debt financing is needed and how the debt can be repaid over the years.
The financial plan results in comprehensive Nail Salon financial statements forecast, break-even analysis and calculates financial metrics such as the Internal Rate of Return (IRR), Payback Period, or Cash on Cash Yield, in assessing the financial feasibility. The financial business plan template could also be used for a hair salon, as the business model is very similar to a nail salon.
This video explains how to start a nail salon business plan:

The Excel spreadsheet template for starting a nail salon contains the following elements:
Terms and Abbreviations
Instructions: outlines a suggested work plan on the order of assumptions to work through to efficiently prepare a business financial plan for the Nail Salon
Assumptions: page sets the stage by defining the following assumptions
– Type of Services sold and price points
–  Number of services sold per month
–  Breakdown how many % of which type of service will be sold per month
–  General assumptions related to the currency, forecast start year, inflation rate, interest rates, Income Tax Rates, Dividend Payout assumptions
– Direct cost assumptions either related to the sales amount (e.g. for credit card fees and for partners) or the sales volume (material costs per type of service delivered)
– Operating cost budgets for the first three years
–  A uses and sources of funds table to define how much funding is required and the envisaged sources of funds – equity and bank debt
–  Shareholder structure allowing to easily model the equity stakes and investments made by up to 5 shareholders
–  Net Working Capital assumptions such as Day Receivables, Payables, and Inventory
–  The depreciation period for three types of Fixed Asset categories
–  Annual CAPEX budget for repairs and maintenance
–  Investment assumptions such as the holding period estimated exit multiple, and the discount rate
–  Some automatic checks built-in the model to check for its technical correctness
5-Year Monthly Plan: A monthly sheet which contains detailed financial projections for 5 years with respect to the monthly and average daily number of services being sold, price forecast which contains inflation adjustments, revenues, calculation of direct costs, operating costs, taxes, CAPEX, drawdown, and repayment of bank debt, interest calculation, etc. The model also forecasts a detailed monthly Income Statement, Balance Sheet, and Cash Flow Statement in order to track the available cash balance on the Balance Sheet. A detailed monthly Free Cash Flow Forecast is included as well.
10-Year Yearly Plan: A yearly sheet aggregates the monthly forecast in a 10-year annual forecast including forecasted Profit & Loss Statement, Balance Sheet, Cash Flow Statements, Fixed Asset Schedule, Debt Schedule, Financial Ratios, Free Cash Flows for both types of cash flows – unlevered and levered, Enterprise Value calculation, Cash Flow by Investor.
A Break-Even Analysis calculates as per the selected financial Year
– How many services need to be sold to get to break even?
– At what price point the planned services as per the Nail Salon Business plan need would minimum need to be sold to achieve break-even?
An Executive Summary containing numerous charts and financial tables to explain the financial plan for the Nail Salon, Included is also a uses and sources of funds table, and a summary of the financial metrics such as the Payback Period, the Internal Rate of Return (IRR), and Cash on Cash Yield which are calculated on a levered and unlevered basis. This spreadsheet template can play an essential role in how to start a nail salon business plan and takes you through all the relevant financial aspects to consider. The template works out the monthly and yearly profits, cash flows, and relevant financial ratios to banks and capital providers. The calculation of key financial metrics and break-even analysis round-up the analysis offering deep insights into the economics and profitability of a nail salon financial plan.
The nail salon business plan template comes in two versions, a fully editable MS Excel spreadsheet template and a PDF Demo file. This spreadsheet template could be considered for both, a hair and nail salon business plan.
File Types:
.pdf (Adobe Acrobat Viewer)
.xlsx (MS Excel)