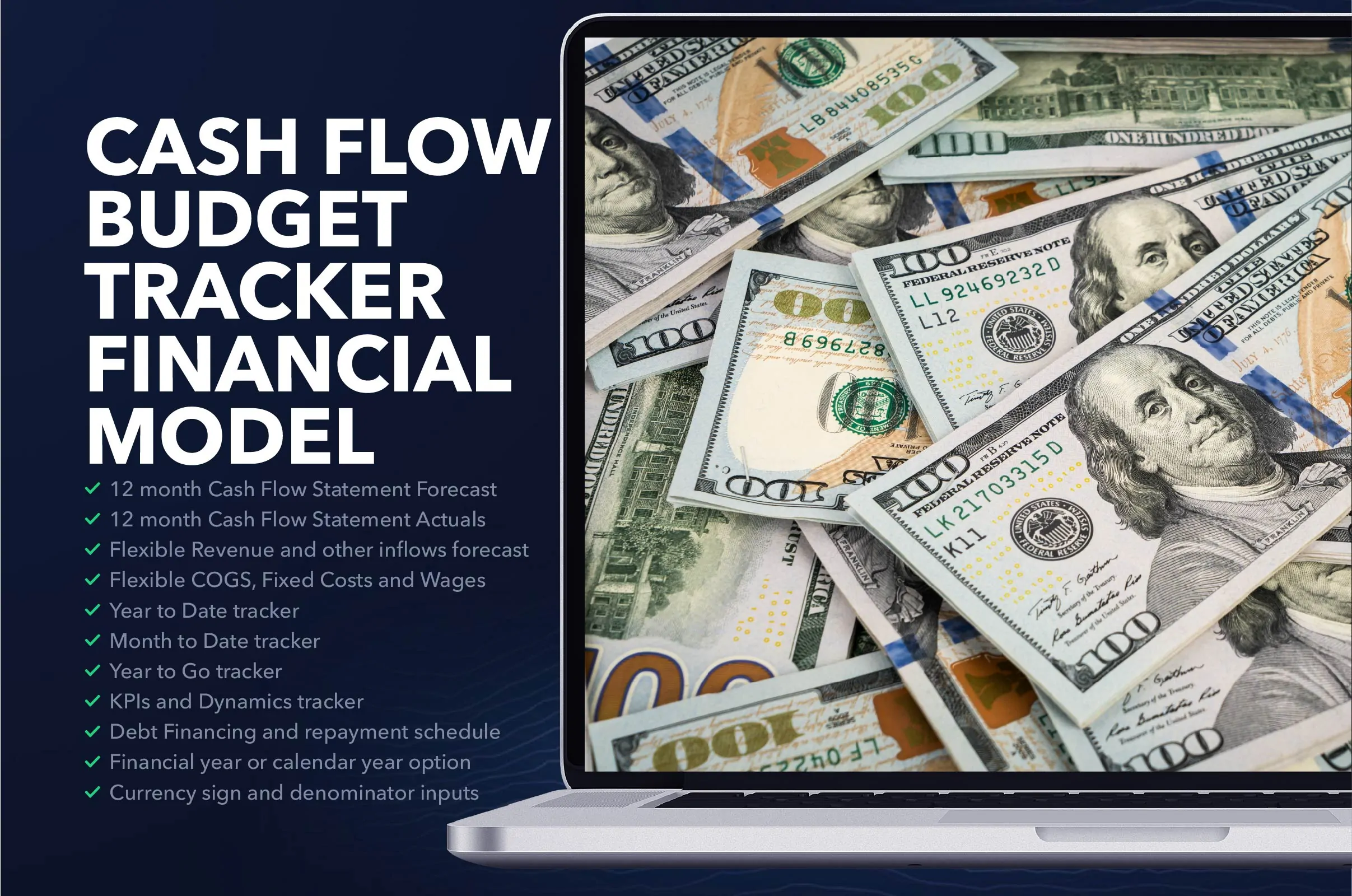 All Industries, Financial Model, General Excel Financial Models
Budgeting, Cash Flow Analysis, Cash Flow Projections, Controlling, Dashboard, Excel, Financial Model, Financial Planning, Financial Projections
SETTING UP PURPOSES AND FORMING A PLAN
The main questions Cash Flow Statement Template Actual vs Budget Variance Tracker Excel template can answer are as follows:
– to forecast the cash flow statement for a year;
– to see how your actual numbers are doing against the budget;
– to track multiple revenue streams, COGS and expenses;
– to analyze YTD (Year to Date) and MTD (Month to Date) variance;
– to track Cash Flow KPIs.
The model consists of:
– 12 month Cash Flow Statement Forecast
– 12 month Cash Flow Statement Actuals
– Flexible Revenue and other inflows forecast
– Flexible COGS, Fixed Costs and Wages forecast
– Year to Date tracker
– Month to Date tracker
– Year to Go tracker
– KPIs and Dynamics tracker
– Debt Financing and repayment schedule
– Financial year or calendar year option
– Currency sign and denominator inputs
BENEFITS OF USING CASH FLOW STATEMENT TEMPLATE WITH ACTUAL VS BUDGET VARIANCE TRACKER
First and foremost, we did not hard-code any assumptions.
It is very helpful both for the client and financial modeler, as all the inputs could be edited directly from the forecast or from the expense tabs.
Besides it, the action period of budget modeling was editable.
File Types:
Full Excel Model – .xlsx
PDF Demo – .pdf