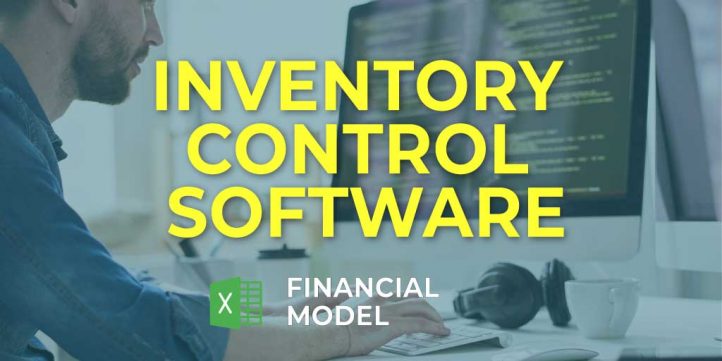 All Industries, Financial Model, General Excel Financial Models
5-year financial projections, Business Valuation, Financial Model, Financial Modeling, Financial Projection, Financial Projections, Pro-Forma, Startup Financial Models, Three Statement Model | Three Financial Statements
NOTE: Single-User pertains to a limited Single User License where the template can only be used by one single user; while Multi-User is a license for users sharing the template with up to 20 members. Please refer to Terms of Use and License and Permitted Use for clarification.
INVENTORY CONTROL SOFTWARE PRO FORMA TEMPLATE EXCEL KEY FEATURES
Avoid cash flow problems.
Cash flow, and especially Pro Forma Cash Flow Projection from operations, is the lifeblood of your business – do not ignore it! The level of cash flow in your company dictates the decisions you can make and how quickly you can grow your business. So you should monitor and manage cash flow regularly. Monthly cash flow forecasting will give you a current view of the cash inflows and outflows within your business and also what the next period looks like. Regular Cash Flow Statement Proforma forecasting can highlight where cash gaps will be in the future and where there could be improvements made. Most importantly, a Statement Of Cash Flows will give you a good idea of the health of your business cash flow at a glance. Finding potential cash flow gaps ahead of time can save you and your business both time and money. You can make decisions and take actions before things get too bad, ensuring your Cash Flow Statement By Month is maintained, based on your forecasts.
Gaining trust from stakeholders
Investors and financing providers tend to think in terms of the big picture. They want the c-level of the companies they invest in to do the same to ensure they maintain a clear idea of the future. Providing stakeholders with a monthly projected cashflow statement will demonstrate a level of awareness that leads to confidence and trust and will make it easier to raise more investment.
Predict the Influence of Upcoming Changes
Does your company plan to purchase new equipment or to launch a new product? Cash Flow Statement Forecast enables you to obtain a complete picture of the effect that specific changes will have on your Pro Forma Cash Flow Projection. When planning your finances in the Cash Flow Projection, you will forecast cash inflows and outflows based on future invoices, bills due, and payroll. You can then create multiple 'what if' scenarios, such as buying new equipment to choose the best way for you. Forecasting shows you how the upcoming changes will affect your cash balance.
Identify potential shortfalls in cash balances in advance.
The Inventory Control Software Financial Model Excel works like an 'early warning system.' It is, by far, the most significant reason for a Cash Flow Pro Forma.
Plan for Future Growth
Cash Flow Statement By Month can help you plan for future growth and expansion. No matter you're extending your company with new employees and need to take into account increased staff expenses. Or to scale production to keep up with increased sales, future projections help you see accurately where you're running — and how you'll get there. Forecasting is also a well-known goal-setting framework to help you plan out the financial steps your company has to take to reach targets. There's power in Projected Cash Flow Statement and the insight they can provide your business. Fortunately, this competitive advantage comes with little effort when you use the Cash Flow Statement Proforma.
All necessary reports
When creating an Inventory Control Software Pro Forma Template Excel, you will not need to independently prepare financial reports and study the requirements for them. Our Excel template contains all the necessary reports and calculations that correspond with the lender's demand.
REPORTS and INPUTS
Loan opt-in
Similar to the amortization of the Inventory Control Software 3 Way Financial Model assets, a loan amortization reflects the spreading out the repayment of a loan for a certain period that covers several reporting periods. The process of loan amortization includes a series of fixed payments over time. Usually, companies make these payments on a monthly basis, but there may also be quarterly or annual payments.
CAPEX
CapEx is important both for the start-ups and actively growing companies that put their efforts into investing in a new property, plant, and equipment (PP&E), as well as new products and new technologies. Such capital expenditures usually make a significant part of the company's expenditures; therefore, financial analysts and investors pay close attention to this financial report.
The company should reflect its capital expenditures in the Balance Sheet, and this type of expenditure does not significantly impact cash flows.
Financial KPIs
Key performance indicators (KPIs) in the Financial Projection Template are crucial for both the company owner and for an investor. With the help of these metrics, you track your company's financial performance and assess the efficiency of business models and cost structures. You can use them to make you and your co-founders laser-focused on the targets you set.
Operational KPIs
Our Inventory Control Software Budget Spreadsheet has convenient, informative, and easy-to-use operational performance graphs. Here you may visually track your company's key operational performance indicators (KPIs) in the form of charts. These operational performance graphs show the stakeholders the financial information related to the company's liquidity, revenues, expenses, cash flows, and other financial metrics. This financial information in the form of graphs will help a business owner to create presentations for banks and investors with minimum effort.
Financial Statements
Our Inventory Control Software Pro Forma Template has pre-built consolidated financial statements: statement of profit and loss proforma, Balance Sheet, and cash flow forecast. These financial statements can be presented on a monthly, quarterly, and annual basis.
Users can also import existing financial statements and reports from Quickbooks, Xero, Freshbooks, and other accounting software to create rolling forecasts and to make actuals vs. forecasts comparison.
Dashboard
The All-in-one dashboard in this Inventory Control Software Profit Loss Projection contains all core financial inputs and core start-up metrics critical for the companies' financial analysis. It reflects the financial data from a Balance Sheet, an pro forma profit and loss statement, and a projected cash flow statement format. Moreover, users can obtain financial information in the form of graphs or charts.
All in One Place
This Inventory Control Software Financial Projection Excel will give the entrepreneurs financial assumptions regarding costs and income that can be brought together to get the business's full picture.
File types:
Excel – Single-User: .xlsx
Excel – Multi-User: .xlsx
Free Demo – .xlsx