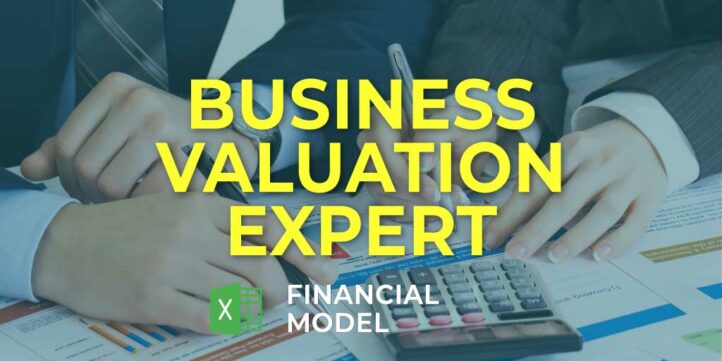 All Industries, Financial Model, General Excel Financial Models
5-year financial projections, Business Valuation, Financial Model, Financial Modeling, Financial Projection, Financial Projections, Free Financial Model Templates, Pro-Forma, Startup Financial Models, Three Statement Model | Three Financial Statements
NOTE: Single-User pertains to a limited Single User License where the template can only be used by one single user; while Multi-User is a license for users sharing the template with up to 20 members. Please refer to Terms of Use and License and Permitted Use for clarification.
BUSINESS VALUATION EXPERT FIVE YEAR FINANCIAL PROJECTION TEMPLATE KEY FEATURES
Video tutorial:
Identify cash gaps and surpluses before they happen.
Forecasting your future cash balance helps you see well in advance when you may have a cash deficit that could hurt your business. Statement Of Cash Flows will give you enough time to take action to prevent a crisis. It will enable you to access better loan rates or speed up incoming payment to bridge the gap. On the other side, if you know ahead of time that the large lump of cash will lay in your bank account within the next three months. In this case, you might need to explore options to reinvest it in your business to drive growth.
Gaining trust from stakeholders
Investors and financing providers tend to think in terms of the big picture. They want the c-level of the companies they invest in to do the same to ensure they maintain a clear idea of the future. Providing stakeholders with a monthly cash flow statement will demonstrate a level of awareness that leads to confidence and trust and will make it easier to raise more investment.
Convince investors and lenders
Enhance your pitches and impress potential financiers with a Cash Flow Proforma delivering the right information and expected financial and operational metrics. Facilitate your negotiations with investors for successful funding. Raise money more quickly and refocus on your core business.
Track your spending and staying within budget
Have you written a vague idea of cash inflows and cash outflows on the back of a napkin? All is well and good. Looking at the profit and loss statement proforma will give you a snapshot of the past business performance, but it won't show the future in terms of the Cash Flow Projection. With a startup cash flow projection, you can plan future cash inflows and cash outflows and compare it to the budget, which can be invaluable information.
Investors ready
Print ready (including a profit and loss statement, a Projected Cash Flow Statement, a balance sheet, and a complete set of financial ratios).
Saves you time
Allows you to spend less time on Startup Cash Flow Projection and more time on your products, customers and business development
REPORTS and INPUTS
Performance KPIs
Sales growth is year-to-date. Every entrepreneur wants to see the company grow month-over-month. In some industries, sales depend on the season or other external factors. The sales growth year-to-date metric shows the pace at which the company's sales revenue increases or decreases.
Users can monitor sales volumes over various periods – daily, weekly, monthly, or yearly. Sales growth metric helps to manage sales growth goals in the form of a percentage of last month's sales volume or others. If the company has several sales teams, the management can monitor this metric for each team separately. It will help to monitor better each team's achievements.
Break-Even
Break Even Analysis usually involves revenue and sales analysis. At the same time, it is essential to differentiate sales, revenue, and profit in the financial planning process. Revenue shows the total amount of money from sales of a product, and the profit is the revenue less all fixed and variable expenses.
Top Expenses
In the Top expenses section of our Business Valuation Expert Cash Flow Format In Excel, you can track your more significant expenses divided into four categories. The model also has an 'other' category, and you can expand or change this table according to your needs.
You can reflect your company's historical data or make a Financial Projection Excel for the five years.
Financial Statements
Our Business Valuation Expert Finance Projection has pre-built consolidated financial statements: projected P&L statement, Balance Sheet, and startup cash flow statement. These financial statements can be presented on a monthly, quarterly, and annual basis.
Users can also import existing financial statements and reports from Quickbooks, Xero, Freshbooks, and other accounting software to create rolling forecasts and to make actuals vs. forecasts comparison.
Operational KPIs
Our Business Valuation Expert Three Statement Financial Model has various operational performance graphs that will help business owners manage their business' finances and measure their overall performance. These operational performance graphs also help in making wise business decisions that consider the company's financial capability.
The financial graphs in this Business Valuation Expert Pro Forma Template Excel help measure the company's financial health showing the operating cash flows' analysis, return on investment, debt to equity ratio, liquidity ratios, and other relevant financial information. Business owners can use these operational performance graphs both for internal and external purposes.
In particular, they can use these graphs to assess the company's overall financial performance or for the assessment of the project's financial feasibility. Such an approach will improve the financial management efficiency of the company. Business owners can also use these charts and graphs for presentations for potential investors and bankers. The operational performance graphs have all the necessary pre-built formulas, and they are fully formatted. So, the users can just print out them and bring to the meeting with investors.
All in One Place
Our integrated Business Valuation Expert Pro Forma Template Excel includes and connects everything you need for investors' meeting. It has financial assumptions, proformas, calculations, cash flow forecasts, and other templates. Moreover, our P&L Projection presents it in an investor-friendly way.
Cash Flow KPIs
Cash conversion cycle (CCC). The cash conversion cycle (CCC) is a financial metric that expresses the time it takes for a company to convert its resources in the form of inventory and other resources into cash flows. The cash conversion cycle is also called the Net Operating Cycle.
CCC measures how long each dollar that the company inputted is tied up in the production and sales process before it gets converted into cash.
The cash conversion cycle metric accounts for various factors, such as how much time it takes to sell inventory, how much time it takes to collect accounts receivable, and how much time it takes to pay obligations.
File types:
Excel – Single-User: .xlsx
Excel – Multi-User: .xlsx
Free Demo – .xlsx