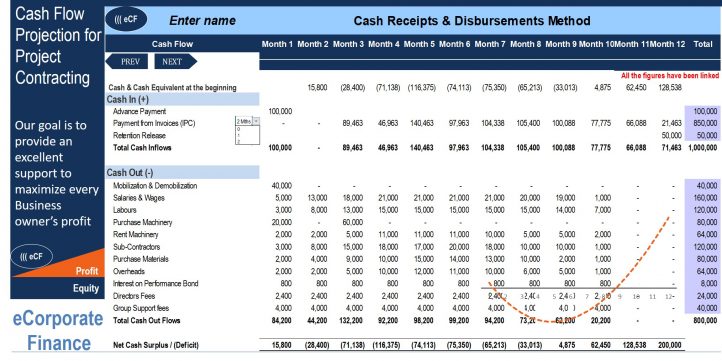 General overview
The importance of steady fund income is crucial in construction projects. Cash flow can procure the material, pay salaries, fund new projects, and finance other functions of the companies' day to day operations. … This can be catastrophic for a project in terms of time and money.
The cash flow in a contracting project is more complicated than any other industry because of the many finance elements such as advance payment, retention, performance bond, etc.
The model helps the user to project the cash flow for the total period and identify when the project will face cash flow deficit in order to cover the deficit from banks or a third party to keep the operation going on and avoid losing time and money.
Inputs
Update the general info in the Front Page
Fill the green cells in the "Input Data" sheet
Outcome
Cash inflow from invoices
Cash inflow from advance payment
Cash inflow from retention
Cash outflow from different expenses
Net cash balance
Conclusion and customization
Highly versatile, very sophisticated financial template, and user-friendly.
If you have any inquiries, need help with the modification of an existing financial model template, or creating from scratch a financial model for your specific business case, please reach us through: [email protected]
Users who purchased Cash Flow Projection for Project Contracting, also purchased:
Get these templates too for a discount!