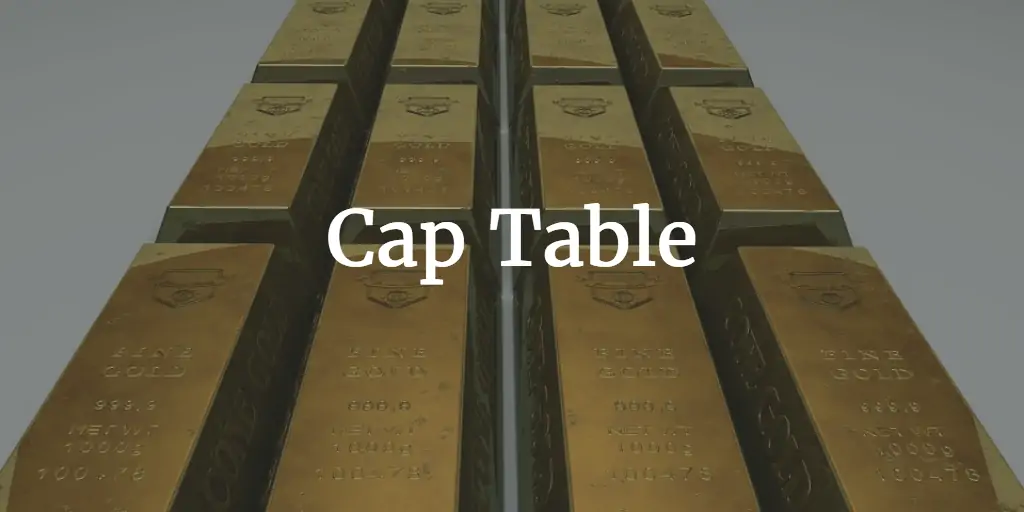 Creating a capitalization table or also known as the cap table can be very important for startup companies mainly when planning several rounds of raising funding. This is to help anticipate the ownership stakes in a company by its shareholders when going through several rounds of raising financing which inevitably will lead to dilution of existing shareholders when issuing common equity shares, but also preferred shares, share options, employee stock options, convertible bonds etc.
A simple cap table can be helpful and beneficial for:
Raising Financing – By creating a cap table, you will have an overview of your business. Thus, you will have a better understanding of what equity stakes can be offered to interested partners and/or for other programs. This will also prevent you from over drafting shares that your business is capable of giving out.
Employee Shares or Stock Option Programs – This is included in the cap table. To compensate, retain, and attract employees, getting a better understanding of the effect of employee shares or stock options program on shareholder's stake is beneficial for your business.
Financial Modeling – The cap table can help you calculate the dividends, exit proceeds, and returns (IRR) by investors.
Controlled shares – By using the simple cap table, it is easier to understand who controls the company (>51% stake) and at which time this might change. You'll also be able to determine how much shares are left, given, and the total. Hence, providing you with a well-controlled and managed share capital.
Good Practice – By practicing to create a cap table for your business, it becomes beneficial in the future in cases where you need to explain the shareholder situations to the tax authorities and regulators.
Below we provide a simple cap table template which allows entrepreneurs to understand the dilution effect when issuing new equity when dealing with capital raisings or a simple stock option plan.
The cap table example financial model template includes the following elements:
Capital raising rounds from Seed to Series A – C until exit
% of share ownership and equity ownership calculation
Stock option pool
Total # of shares and Financing
Pre-/Post money valuation
Equity Valuation
Calculation of Exit Market Value
Calculation of investors' Cash on Cash Multiple ratio
IRR calculation for shares of the management and the different investors
Executive Summary and Charts
This model gives you a simple cap table example you can work with and the best thing about it is, it is FREE to download. So, start creating a capitalization table to list down your company's securities such as stocks, options, warrants, etc.
This simple cap table template is recommended and available to download for users all over the world. Especially in countries such as the US, UK, Canada, Japan, Australia, and many more. But if you're not sure what kind of cap table you need, you should consult with an experienced startup company lawyer.
Filetype: .xlsx (Microsoft Excel 2008 for Mac)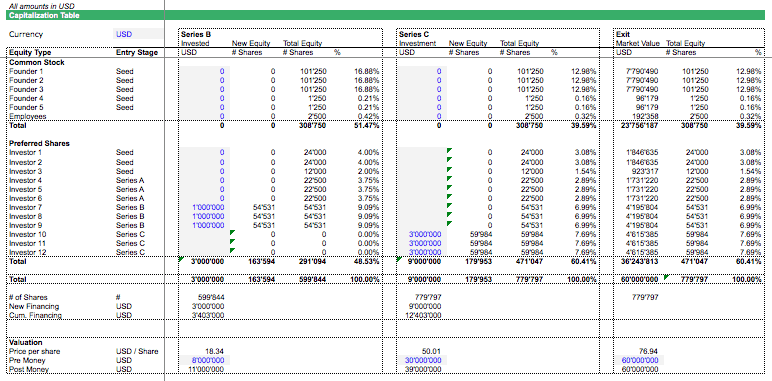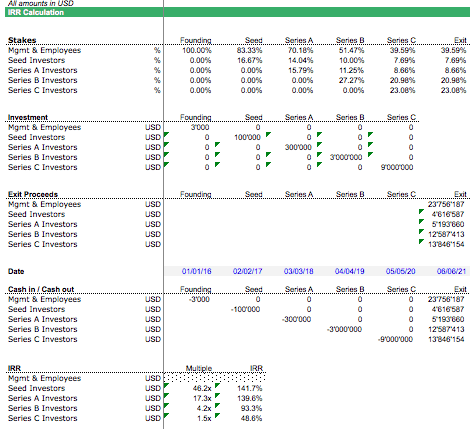 Reviews
The Main CapTable sheet is exactly what we were looking for…no nonsense, simple inputs clear outputs.
The other sheets, IRR and Summary had some issues with the formulae and formatting.
It is also a little of work to be done to add new investment rounds as the formulae are direct and do not reference ranges. Easy fix for anyone with an ounce of excel experience.
Job well done, and mission accomplished
Write a Review