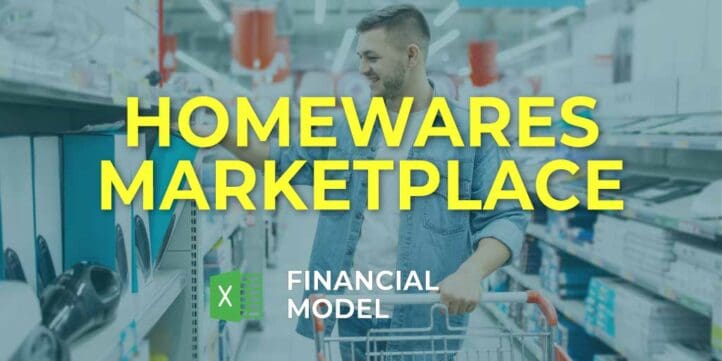 Financial Model, Marketplaces, Online Businesses & IT
5-year financial projections, Business Valuation, Financial Model, Financial Modeling, Financial Projection, Financial Projections, Free Financial Model Templates, Pro-Forma, Startup Financial Models, Three Statement Model | Three Financial Statements
NOTE: Single-User pertains to a limited Single User License where the template can only be used by one single user; while Multi-User is a license for users sharing the template with up to 20 members. Please refer to Terms of Use and Licenses and Permitted Use for clarification.
HOMEWARES MARKETPLACE THREE STATEMENT FINANCIAL MODEL KEY FEATURES
Generate growth inspiration
By running various scenarios and looking at the effects they could have on your cash balance, you will begin to see which options are best for your business. Ones that are possible, and what is involved in making them work. Organic growth isn't the only option – there are growing funding options becoming available, and Statement Of Cash Flows could be a way of looking at the impact an injection of cash could have on your business and its growth plans.
All necessary reports
When creating a Homewares Marketplace Finance Projection, you will not need to independently prepare financial reports and study the requirements for them. Our Excel template contains all the necessary reports and calculations that correspond with the lenders' demand.
Confidence in the future
Using our financial model, you can effectively plan, prevent risks, manage stocks and Cash Flow Statement and foresee your prospects for the next 5 years.
External stakeholders, such as banks, may require a regular forecast.
If the business has a bank loan, the bank will ask for a Homewares Marketplace Startup Financial Model regularly.
Saves you time
Cash Flow Proforma Template allows you to spend less time on finances and more time on your products, customers, and business development
5 years forecast horizon
Generate fully-integrated Homewares Marketplace Financial Model Excel Spreadsheet for 5 years (on a monthly basis). Automatic aggregation of annual summaries on outputs tabs.
REPORTS and INPUTS
Financial Statements
The template has a three-statement Financial Projection Model with integrated proformas. It allows users to create a company's Balance Sheet, p&l projection, and a statement of cash flows with minimum effort. For these proformas, users can input either historical or forecasted financial data. Forecasted financial statements show how a company will perform under various circumstances and allow users to integrate different assumptions in the Financial Model Excel.
For example, the company's management can see the economic impact of its decisions, such as price changes.
Our well-built Homewares Marketplace Financial Projection Model shows stakeholders how the company's functions work together and how management's decisions impact its overall financial performance.
Benchmarks
A benchmarking study as the element of the Pro Forma Template Excel is usually used to evaluate a business's performance by focusing on one or more particular indicators and comparing them with similar indicators of other companies in the industry.
In respect of the financial benchmarking study, these indicators could be profit margins, cost margins, cost per unit, productivity margins, or others. Later the company's performance indicators should be compared to that of other companies within the same industry.
Benchmarking is a useful strategic management tool, which is essential for start-ups. Companies can evaluate any economic, business, or financial metric or process and compare them to the processes of 'best practice' companies within the same field or industry.
Operational KPIs
Our Homewares Marketplace Financial Model In Excel Template has various operational performance graphs that will help business owners manage their business' finances and measure their overall performance. These operational performance graphs also help in making wise business decisions that consider the company's financial capability.
The financial graphs in this Homewares Marketplace 3 Way Forecast help measure the company's financial health showing the operating cash flows' analysis, return on investment, debt to equity ratio, liquidity ratios, and other relevant financial information. Business owners can use these operational performance graphs both for internal and external purposes.
In particular, they can use these graphs to assess the company's overall financial performance or for the assessment of the project's financial feasibility. Such an approach will improve the financial management efficiency of the company. Business owners can also use these charts and graphs for the presentations for potential investors and bankers. The operational performance graphs have all the necessary pre-built formulas, and they are fully formatted. So, the users can just print out them and bring for the meeting with investors.
Financial KPIs
A Homewares Marketplace Excel Financial Model Template outputs include both company and sector-specific key performance indicators KPIs. These KPIs include profitability metrics, cash flow metrics, and liquidity metrics. It also has KPIs crucial for the attraction of investments.
Burn and Runway
The cash burn rate shows the difference between the cash inflows and cash outflows of the company. It is essential to monitor this metric because it shows how long the company will last with its current funding level. Business owners can also see a clear picture of how various business strategies change the cash burn rate.
Cap Table
The Homewares Marketplace P&L Projection has built-in proformas to calculate discounted cash flows and various sales' and EBITDA valuations. Business owners can use these valuations to assess the exit value and perform the financial projections of returns to investors.
Users can use the Cap table or ignore it; it will not have a negative impact on the other financial calculations in the model.
Dashboard
The financial dashboard in our Excel Financial Model is a great financial planning tool that helps to display the results of financial analysis. This financial summary in the form of charts and graphs will help analysts to explain clearly numbers from the financial statements.
With this dashboard's help, users can analyze and present to other stakeholders' revenue forecasts, financial margins, profit charts, and separate items from the balance sheet, profit and loss statement, and projected cash flow statement format.
File types:
Excel – Single-User: .xlsx
Excel – Multi-User: .xlsx
Free Demo – .xlsx