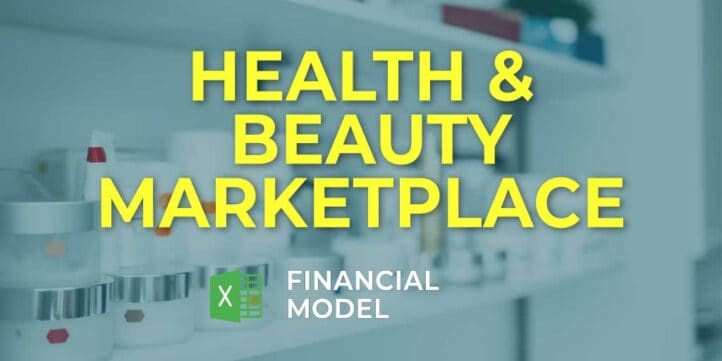 Financial Model, Marketplaces, Online Businesses & IT
5-year financial projections, Business Valuation, Financial Model, Financial Modeling, Financial Projection, Financial Projections, Pro-Forma, Startup Financial Models, Three Statement Model | Three Financial Statements
NOTE: Single-User pertains to a limited Single User License where the template can only be used by one single user; while Multi-User is a license for users sharing the template with up to 20 members. Please refer to Terms of Use and Licenses and Permitted Use for clarification.
HEALTH AND BEAUTY MARKETPLACE PROFIT LOSS PROJECTION KEY FEATURES
We do the math
Financial Model Excel has all the required features ready with no formula writing, no formatting, no programming, no charting, and no expensive external consultants! Concentrate on the task of planning rather than programming.
Convenient, All-In-One Dashboard
Includes all required forecasting reports, including assumptions, profit and loss statement, startup cash flow statement, balance sheets, performance reviews, and summaries for months and years (incl. numerous graphs and KPIs).
Investors ready
Print-ready (including a pro forma income statement for a startup, a Cash Flow Forecast, a balance sheet, and a complete set of financial ratios).
Generate growth inspiration
By running various scenarios and looking at the effects they could have on your cash balance, you will begin to see which options are best for your business. Ones that are possible, and what is involved in making them work. Organic growth isn't the only option – there are growing funding options becoming available, and Cash Flow Statement Forecast could be a way of looking at the impact an injection of cash could have on your business and its growth plans.
Run different scenarios
A Startup Cash Flow Projection shows you what your cash balance will look like taking into account the numbers you put into the template. It means you can play with the various variables that impact your cash flow forecast, i.e., wages, sales inflow, supplier payments, taxes, and so on. By adjusting the input amounts, you will be able to see what impact they will have on your businesses' cash flow and when this impact is likely to occur. A well-known example of this is the ability to forecast the effect a new member of staff might have on your cash flow over different periods. Increase the wage costs and see what happens to your cash flow. Running different scenarios in your Cash Flow Statement By Month can have several benefits.
Works for startups
Excel Pro Forma Template creates a financial summary formatted for your pitch deck
REPORTS and INPUTS
Valuation
With our pre-built valuation template in the Health And Beauty Marketplace Pro Forma Template Excel, you will receive all the data your investors might need.
The weighted average cost of capital (WACC) will show your stakeholders the minimum return on enterprise funds invested in its activities capital. Free cash flow valuation will show a cash flow available to all investors, including shareholders and creditors. Discounted cash flow will reflect the value of future cash flows in relation to the current time.
All in One Place
This Health And Beauty Marketplace 3 Way Financial Model Template reflects all the main aspects of your business. It will be a roadmap that enables entrepreneurs to understand their business and their perspectives. As a start-up Financial Projection Excel, it will help understand cash flows and determine the cash burn rate. This is very important for any business because it shows how long money will last and which milestones the business owner can achieve with these expenditures.
Cap Table
The Cap table in our Health And Beauty Marketplace Cash Flow Format In Excel is integrated into the cash flows. It maps the funding rounds to the financial instruments, such as equity or convertible notes. The Cap table also shows the impact of the company's decisions on share ownership and dilution.
Break Even
breakeven analysis calculation is a part of this Health And Beauty Marketplace Financial Projection Template. This financial indicator is essential for every start-up to understand whether it is appropriate for doing this kind of business.
Break-even analysis shows the company's required revenue level that will cover all the business costs, including taxes. When this revenue level is reached, the company begins to bring in profits, which means that the start-up investments start to pay off.
Profitability KPIs
EBITDA. Earnings before interest, tax, depreciation, and amortization (EBITDA) measures a company's operating performance based on the Income Statement figures. It is calculated by deduction from the earnings such expenses as interest, taxes, depreciation, and amortization. The formula is: EBITDA = Revenue – Expenses (excluding interest, taxes, depreciation, and amortization).
Financial Statements
Our Health And Beauty Marketplace 3 Way Forecast Model has pre-built consolidated financial statements: statement of profit and loss proforma, Balance Sheet, and startup cash flow statement. These financial statements can be presented on a monthly, quarterly, and annual basis.
Users can also import existing financial statements and reports from Quickbooks, Xero, Freshbooks, and other accounting software to create rolling forecasts and to make actuals vs. forecasts comparisons.
Dashboard
The All-in-one dashboard in this Health And Beauty Marketplace Financial Projection Template Excel contains all core financial inputs and core start-up metrics critical for the companies' financial analysis. It reflects the financial data from a Balance Sheet, a p&l proforma, and a pro forma cash flow projection. Moreover, users can obtain financial information in the form of graphs or charts.
File types:
Excel – Single-User: .xlsx
Excel – Multi-User: .xlsx
Free Demo – .xlsx