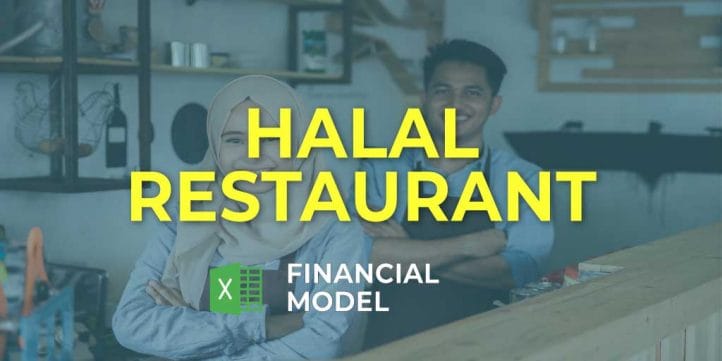 Financial Model, Hospitality, Restaurant
5-year financial projections, Business Valuation, Financial Model, Financial Modeling, Financial Projection, Financial Projections, Pro-Forma, Startup Financial Models, Three Statement Model | Three Financial Statements
NOTE: Single-User pertains to a limited Single User License where the template can only be used by one single user; while Multi-User is a license for users sharing the template with up to 20 members. Please refer to Terms of Use and License and Permitted Use for clarification.
HALAL RESTAURANT FINANCIAL PROJECTION MODEL TEMPLATE KEY FEATURES
Video tutorial:
Simple-to-use
A very sophisticated Halal Restaurant Financial Projection Model Template, whatever size and stage of development your business is. Minimal previous planning experience and very basic knowledge of Excel is required: however, fully sufficient to get quick and reliable results.
Better decision making
Make better operational decisions with the help of creating Cash Flow Statement By Month scenarios in your Excel Template. Perhaps you have to choose between new staff members or investment in equipment, and you are wondering which decision to chose. Variants forecasting will give you the information you need to make these decisions with confidence that you know what impact they will have on your cash balance.
Avoid Cash Flow Shortfalls
Unexpected Cashflow Forecast shortfalls can cause significant damage to your business, and it may take months to recover. Negative Cash Flow can appear if you don't continuously track the incoming cash and outgoing of your business. Fortunately, you can solve Projected Cash Flow Statement Format shortfalls with a bit of effort. Forecasting your Cash Flow Statement will help you identify — and plan for — market fluctuations, sales seasonality, and other cases that can lead to unpredictable Cashflow Forecast. Cash Flow Statement can even help you visualize Projected Cashflow Statement trends with the help of automatically generated charts and graphs.
Get a robust, powerful financial model which is fully expandable
This well-tested, robust and powerful Halal Restaurant 3 Way Forecast Excel Template is your solid foundation to plan halal restaurant business model. Advanced users are free to expand and tailor all sheets as desired, to handle specific requirements or to get into greater detail.
Get a Robust, Powerful and Flexible Financial Model
This well-tested, robust and powerful Halal Restaurant Pro Forma is your solid foundation to plan a business model. Advanced users are free to expand and tailor all sheets as desired, to handle specific requirements or to get into greater detail.
Update anytime
With Excel Pro Forma Template you can easily adjust inputs at the launch stage and throughout the further activities of your store to refine your forecast.
REPORTS and INPUTS
Cash Flow KPIs
Operating cash flow. Operating cash flow calculation shows how much cash the company generates from the business operations. This calculation does not include secondary sources of revenue, like interest or investments.
Costs
Our Halal Restaurant Financial Projection Template has a well-developed methodology for creating a cost budget. You can plan and forecast your costs from operations and other expenses for up to 72 months. The cost budget has a detailed hiring plan while also automatically handling the expenses' accounting treatment. You can set salaries, job positions, and the time of hiring.
Moreover, the model allows users to calculate hiring as the company scales automatically. Pre-built expense forecasting curves enable users to set how an expense changes over time. These pre-built options include % of revenues, % of salaries, % of any revenue category, growth (or decline) rates that stay the same or change over time, ongoing expenses, expenses that periodically reoccur, expenses that regularly change, and many more. Costs can be allocated to key expense areas and labeled for accounting treatment as SG&A, COGS, or CAPEX.
Valuation
With our Halal Restaurant Excel Financial Model Template, you will get proformas for valuation analysis. You will be able to perform a Discounted Cash Flow (DCF) valuation analysis and other valuations you may need.
Operational KPIs
Our Halal Restaurant Excel Pro Forma has convenient, informative, and easy-to-use operational performance graphs. Here you may visually track your company's key operational performance indicators (KPIs) in the form of charts. These operational performance graphs show the stakeholders the financial information related to the company's liquidity, revenues, expenses, cash flows, and other financial metrics. This financial information in the form of graphs will help a business owner to create presentations for banks and investors with minimum efforts.
Loan opt-in
A Halal Restaurant Cash Flow Proforma consist a table that provides the stakeholders with the information about the periodic payments for an amortizing loan.
The loan amortization schedule includes information about the loan amount, interest rate, term to maturity, payment periods, and amortization method. In particular, loan amortization methods include the straight line, declining balance, annuity, bullet, balloon, and negative amortization.
CAPEX
Capital expenditures reflect the company's amount on long-term assets expected to bring value for more than one year. For example, the cost of a computer may be capital expenditure included in the balance sheet. In contrast, the electricity cost to run this computer is an expense included in the pro forma profit and loss
.
All long term assets have a useful life, and part of the cost of the asset is written off each year to the projected income statement as an expense. Users can find these expenses in the profit and loss statement under the heading of depreciation. The depreciation expense amount reduces the value of the asset shown in the balance sheet for the year.
Simultaneously, the CAPEX report shows the company's stakeholders the full picture of the company's expenditures on assets.
Financial Statements
Our Halal Restaurant 3 Way Forecast Model has a pre-built integrated financial summary that contains all the financial information from other spreadsheets, including the primary financial statements: Balance Sheet, Statement of financial position, and projected cash flow statement format. Our specialists have already formatted this financial summary for your pitch deck.
File types:
Excel – Single-User: .xlsx
Excel – Multi-User: .xlsx
Free Demo – .xlsx