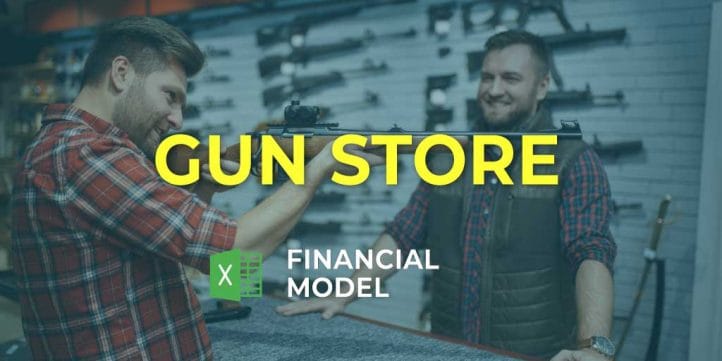 NOTE: Single-User pertains to a limited Single User License where the template can only be used by one single user; while Multi-User is a license for users sharing the template with up to 20 members. Please refer to Terms of Use and License and Permitted Use for clarification.
GUN STORE 3 WAY FORECAST EXCEL TEMPLATE KEY FEATURES
Video tutorial:
Graphical visualization in a convenient dashboard all in one
All necessary reports and calculations, including variable data for your easement, are displayed on a convenient Excel Pro Forma dashboard tab. You do not need to move between sheets to compare important data – everything is visible immediately.
Saves you time
Allows you to spend less time on Pro Forma Cash Flow Projection and more time on your products, customers and business development
We do the math
Finance Projection has all the required features ready with no formula writing, no formatting, no programming, no charting, and no expensive external consultants! Concentrate on the task of planning rather than programming.
It is part of the reports set you need.
It doesn't matter you are worried about cash or not, setting up, and managing a Gun Store Financial Model Excel Spreadsheet should be a cornerstone of your reporting set. It's the main report of your business that must have in place to grow sustainably. Before you rush into rent more office space or making a new hire, you should always run a Cash Flow Statement Proforma scenario. You can model how that action would impact your cash balance in the nearest future. Knowing whether or not plans are possible is crucial to minimizing risk.
Get it Right the First Time
Funding is a binary event: either you succeed or you fail. If you fail, most investors won't give you a second chance. Learn about the pros and cons with Gun Store Excel Pro Forma Template.
Manage surplus cash
Most companies don't have excess cash in the bank. It is a well-known situation. But managing surplus cash for reinvestment in new market opportunities, or debt repayments can be essential to keeping stay in the business. Managers are entirely ready to plan for what to do with the cash surplus if they have the forecast of when and where the business will have surplus cash in the bank account. Cash Flow Pro Forma will provide supplementary guidance on what to do with a cash surplus.
REPORTS and INPUTS
Loan opt-in
Our Gun Store Financial Projection has a loan amortization schedule that will help users track everything related to their loans. You can find this template in the 'Capital' tab.
The loan amortization schedule has proformas with pre-built formulas for internal calculations of the loans, interest, and equity.
Costs
Our Gun Store Financial Model Excel Spreadsheet has a well-developed methodology for creating a cost budget. You can plan and forecast your costs from operations and other expenses for up to 72 months. The cost budget has a detailed hiring plan while also automatically handling the expenses' accounting treatment. You can set salaries, job positions, and the time of hiring.
Moreover, the model allows users to calculate hiring as the company scales automatically. Pre-built expense forecasting curves enable users to set how an expense changes over time. These pre-built options include % of revenues, % of salaries, % of any revenue category, growth (or decline) rates that stay the same or change over time, ongoing expenses, expenses that periodically reoccur, expenses that regularly change, and many more. Costs can be allocated to key expense areas and labeled for accounting treatment as SG&A, COGS, or CAPEX.
Cap Table
The capitalization table helps business owners to calculate shareholder's ownership dilution. The Cap table in our Gun Store Financial Projection Template has four rounds of funding, and users can apply all of them or one or two rounds for their financial projections.
Profitability KPIs
EBITDA. Earnings before interest, tax, depreciation, and amortization (EBITDA) is the primary measure of a company's operating performance.
Sources and Uses
This Gun Store Financial Model Excel Template has a Sources and Uses template. This tab shows users the company's funding structure and sources and uses of these funds.
Financial Statements
The Gun Store Three Statement Financial Model Template has a pre-built integrated financial statement structure. It has pre-built templates for the primary financial statements: Balance sheet, proforma income statement, cash flow statement forecast, and Statement of Shareholders' Capital. All these financial statements are precisely defined and interconnected with the inputs and other spreadsheets within the model.
Performance KPIs
Return on assets. The return on assets financial metric can be calculated based on the information from two main financial statements: Balance Sheet and pro forma profit and loss. Return on assets measures the accomplishment of earnings to the assets, i.e., the amount of money used to get those earnings.
File types:
Excel – Single-User: .xlsx
Excel – Multi-User: .xlsx
Free Demo – .xlsx