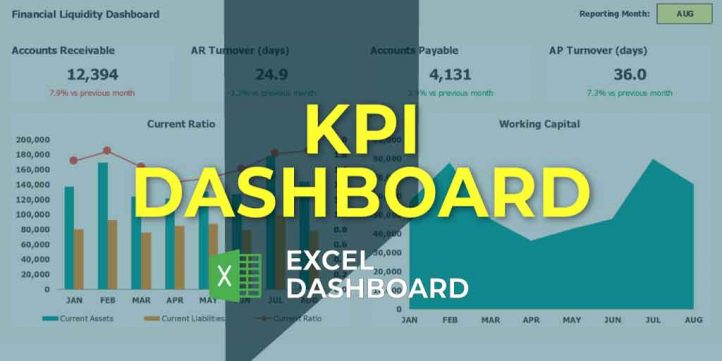 NOTE: Single-User pertains to a limited Single User License where the template can only be used by one single user; while Multi-User is a license for users sharing the template with up to 20 members. Please refer to Terms of Use and License and Permitted Use for clarification.
Set your KPI objectives and your month-to-month financial results and Financial Dashboard Excel Template will take care of creating the beautiful Graphs and Metrics!
The spreadsheet will produce 3 Dashboards that can be seen month by month with growth comparisons and trends.
Efficiency Metrics Dashboard – most demanded KPIs to measure the efficiency of your business, like Revenue, Cash Conversion Cycle and Budget versus Actuals analysis of Income Statement
Liquidity Metrics Dashboard – essential KPIs to track liquidity like Accounts Receivable and Accounts Payable Turnover and Current Ratio
Profitability Metrics Dashboard – core indicators to measure are Gross Margin and Net Profit
Financial Dashboard
Key Features
o The smooth dashboard can be effortlessly interpreted for quick decision-making
o Track KPIs (Month to Month and Year to Date)
o See Month to Month information side-by-side to effectively pinpoint vital budget adjustments.
Simple and Professional
o Dynamic charts
o Completely opened template
o No VBA code or Macro
o Ready for print
o Support after your purchase
o Immediate download
o No monthly fees
What is included?
Efficiency
o DIO – Days of inventory outstanding
o DSO – Days sales outstanding
o DPO – Days payable outstanding
o CCC – Cash conversion
o Revenue YTD – Year to Date, MTD, Growth
o Budget Variance YTD, MTD – Revenue, Expenses, Net Profit
Liquidity
o Accounts Receivable MTD, Growth
o Accounts Receivable Turnover (days), Growth
o Accounts Payable MTD, Growth
o Accounts Payable Turnover (days), Growth
o Current Ratio
o Working Capital
Profitability
o Gross Margin MTD, YTD, Growth
o Net Profit MTD, YTD, Growth
File types:
Excel – Single-User: .xlsx
Excel – Multi-User: .xlsx